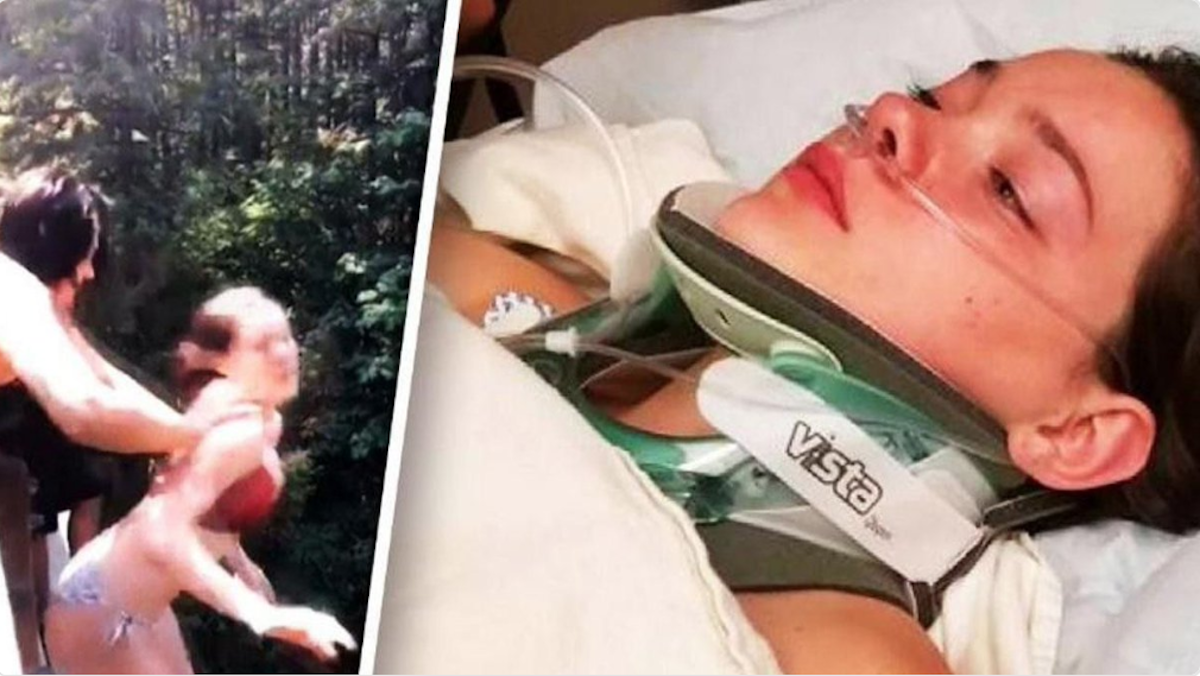 Taylor Smith reckless endangerment: An 18 year old Washington state girl faces up to a year in jail after pushing her friend off Moulton Falls Bridge, leading to the girl suffering egregious injuries. 
Taylor Smith the 18 year old teen who was filmed pushing 16 year old friend, Jordan Holgerson off a 60 foot bridge along Moulton Falls has pleaded not guilty to reckless endangerment.
Appearing in Washington state's Clark County District for her arraignment on Friday, the teen girl who it was claimed was non repentant entered her not guilty plea, The Columbian reported. 
Smith's court appearance follows authorities decision last month to move forward and charge the girl with reckless endangerment following video of the unsettling, August 7 incident going viral.
While conceding that she had initially climbed the Moulton Falls Bridge with the aim of jumping off it, Holgerson at the last moment changed her mind only to be pushed in unawares by Smith.
NOW: Taylor Smith in court. She's the teen accused of shoving her friend, Jordan Holgerson, off a bridge that is about 60 ft. above the Lewis River. Holgerson had serious injuries after hitting the water and had to be hospitalized. Smith is charged with reckless endangerment. pic.twitter.com/o8YrRbwjVN

— Tyler Dumont FOX 12 (@TylerDumontNews) September 7, 2018
Taylor Smith reckless endangerment: Is sorry just enough? 
Video showed the girl landing awkward belly flop style with a loud dull thud, with fellow hikers exclaiming audibly upon the realization of what had just happened.
The 'playful' push led to Holgerson suffering five cracked ribs and a punctured lung. Other injuries included a bruised esophagus, an injured trachea and air bubbles in her chest.
Immediately following the incident, Holgerson's family had said that the teen didn't want her friend, Smith, to be charged. However, she later changed her mind.
'Now that I've thought about it more, I'm kind of wanting her to sit in jail and think about at least what she did,' Jordan said in an interview with Today. 
Smith in an interview with NBC News said she 'felt really bad about what happened', and hadn't didn't intended to hurt Holgerson and had since apologized to her.
Following her Friday court appearance, Smith was granted supervised release and told she couldn't contact Holgerson or leave the area except to attend school in Lane County, Oregon.
Reckless endangerment is a gross misdemeanor. The maximum penalty is up to a  year in jail and/or a $5,000 fine.  
Smith's next court date was scheduled for December 4. 
Moulton Falls Bridge teen charged over Jordan Holgerson push.
Prosecutors consider charging friend who pushed Moulton Falls girl off bridge
Woman who pushed Jordan Holgerson 60ft off bridge identified: 'I don't care.'
Video: Washington teen breaks 5 ribs after being pushed 60 ft from bridge by pals