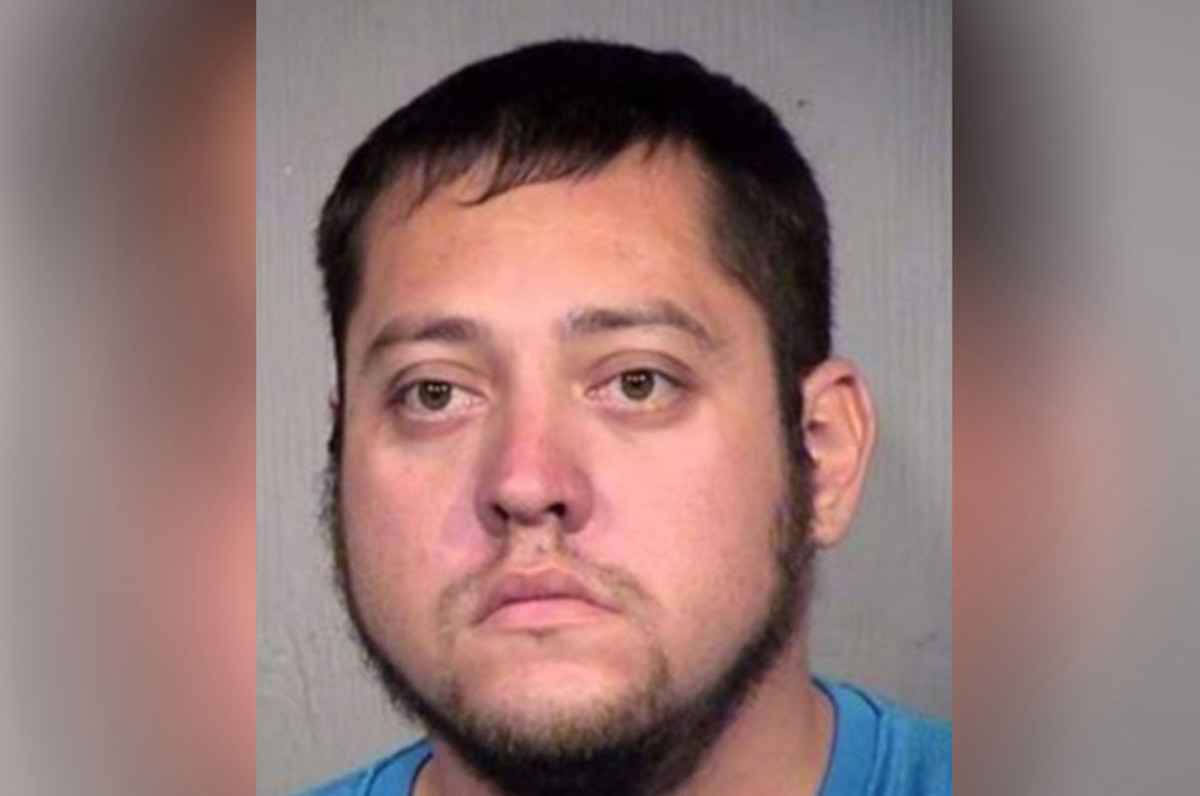 Paul Anthony Menchaca a Gilbert, Arizona man arrested after pretending to have Down syndrome- tricking caregivers into bathing him and changing his diapers.
An Arizona man has been arrested after pretending to have Down syndrome so he could hire caregivers into bathing him and changing his diapers. A state of affairs that his caregivers noticed leading to the man being specifically aroused. 
Police arrested Paul Anthony Menchaca, 31, at his parents' home in Gilbert on Sept. 6 after his female caregivers discovered he didn't have special needs KTNV reported.
The first caregiver responded in May to an ad on CareLinx, a site designed to help families find licensed help.
'He needed shower and grooming, he couldn't use the bathroom himself, he couldn't really be alone by himself. He acted like a child; his whole demeanor was childlike. He would act in tantrums, talk like a child, act like a child,' the caregiver told via abc15.com. 'Why would you do that? Why would you make us change you knowing you didn't have to. Why didn't you give us a choice?'
But here's where things get bizarre.
Paul Anthony Menchaca exposed and confronted:
Menchaca contacted and hired the helper while allegedly posing as a woman named 'Amy,' who claimed to be the mother of a man with Down syndrome, according to AZFamily.
"'Amy' asked all three victims to 'punish' [Menchaca] when he soiled his diaper by putting him in timeout and taking away his privileges,' an arrest affidavit obtained by AZFamily said.
The caregiver told police that she helped bathe and change the man's diapers on 30 separate occasions. In five separate incidents, Menchaca reportedly told her that his genitals were not cleaned well enough.
She then referred the second caregiver in July and the third the following month.
All three women agreed to the same terms, and claimed that Menchaca would become sexually aroused when he was being washed.
The first victim told police she became suspicious and followed Mechaca back to his parents' home.
Follow this way….
Noted a police report, '[The victim] was greeted by [Menchaca's] actual mother and father and discovered [Menchaca] did not have Down syndrome and did not require diaper changes'. 
When the three caregivers confronted Menchaca, he reportedly admitted to lying about having Down syndrome.
'It has affected my work as well,' said one of the alleged victims via fox10phoenix.com. 'I've actually missed work for that, and I think that it should be held with either a substantial bond amount, or where he would not be released until the next court date, because I fear for my safety, in regards to that as well, as well as my family and friends, because I did bring my family and friends around him.'
'I do have a low IQ level,' said Menchaca in court. 'My mom and dad both have paperwork to prove that, and started to talk to my dad about getting me some help, and getting me a counselor.'
Of disconcert, Menchaca's employment was listed as that of a school crossing guard for the Chandler Unified School District– where he had worked for the last two years in support staff positions prior to resigning Aug. 31. The district clarified that he didn't work with students directly without the supervision of certified staff.
Menchaca faces 10 counts of sexual abuse, among other charges. He will be back in court on September 17.