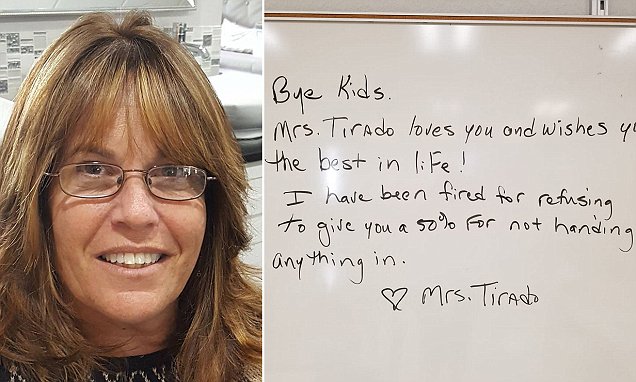 Right decision? Was a Port St Lucie, Florida history teacher, Diane Tirado wrongfully terminated for giving zeros when students didn't hand in homework? 
A Port St Lucie, Florida history teacher has told of being fired after refusing to give half credit to students who didn't turn in their assignments, with the educator handing out zeros to students. 
Diane Tirado's ouster follows West Gate K-8 School having a 'no zero' policy requiring teachers to give students no less than a 50 percent grade on assignments.
A policy which led to the 52 year educator leaving a farewell message to students which has since gone viral.
According to an interview with WPTV, Tirado said she was fired September 14 after refusing to follow the policy after several students didn't turn in a homework project she had assigned two weeks earlier. 
Explained Tirado: 'I'm so upset because we have a nation of kids that are expecting to get paid and live their life just for showing up and it's not real'. 
Before leaving, Tirado left a handwritten message on a whiteboard for her students that read: 'Bye kids. Mrs. Tirado loves you and wishes young the best in life! I have been fired for refusing to give you a 50% for not handing anything in. [Love] Mrs Tirado.'
A farewell post which Tirado later copied on to her Facebook page, where it has since been shared more than 1.2K times.
Diane Tirado fired: Raising the question of how students are educated vs real world realities.
Tirado again took to social media on Tuesday to share her thoughts on the controversy.
'The reason I took on this fight was because it was ridiculous,' she wrote. 'Teaching should not be this hard. Teachers teach content, children do the assignments to the best of their ability and teachers grade that work based on a grading scale that has been around a very long time. 
She continued: 'teachers also provide numerous attempts to get the work collected so they can give a child a grade. By nature, most teachers are loving souls who want to see students succeed. 
'We do above and beyond actual teaching to give them the support they need. Are we perfect? NO. We make mistakes like all other human beings, but I know teachers work their butts off to help children to be the best people they can be!!!' 
No specific cause was given in her termination letter from the principal at West Gate school, since Tirado was still on probation.
The married mother-of-one has worked in education for many years but was hired to teach eighth-grade history at West Gate only on July 30.   
The principal deferred comment to the school district.
A spokeswoman for St. Lucie Public Schools says there is no district policy prohibiting teachers from giving a grade of zero.
The West Gate student and parent handbook contains a grading rubric that includes the line, written in red all-caps: 'NO ZERO'S-LOWEST POSSIBLE GRADE IS 50%'
The rubric, however, allows for an 'Incomplete' grade that is the equivalent of 0 per cent, according to the table included in the handbook, which Tirado argues creates confusion.   
Diane Tirado has since shared on Facebook that a wrongful termination lawsuit may be possible.
@1SLPS In regards to your recent firing of Diane Tirado, are you able to comment on if the "No Zeros" policy is an attempt to pad your students scores, thus padding your own scores? Do you feel students should not be accountable for their actions (or in this case, their lack of?)

— Kyle Rains (@KyleRains6) September 25, 2018
This is why American students are behind: too much handholding and not enough academic challenging. What the heck?? #teachers #dianetirado #MakeAmericaSmartAgain https://t.co/3dfYSP03JU

— Robyn Squire (@RealRobynSquire) September 25, 2018
#DianeTirado I hope that you get another job very quick upon the realization that low/no expectations do not encourage student's personal excellence. Good luck, Thanks for sticking to your principles at #WestGate.

— Carole Henson (@CaroleHensonCO) September 25, 2018