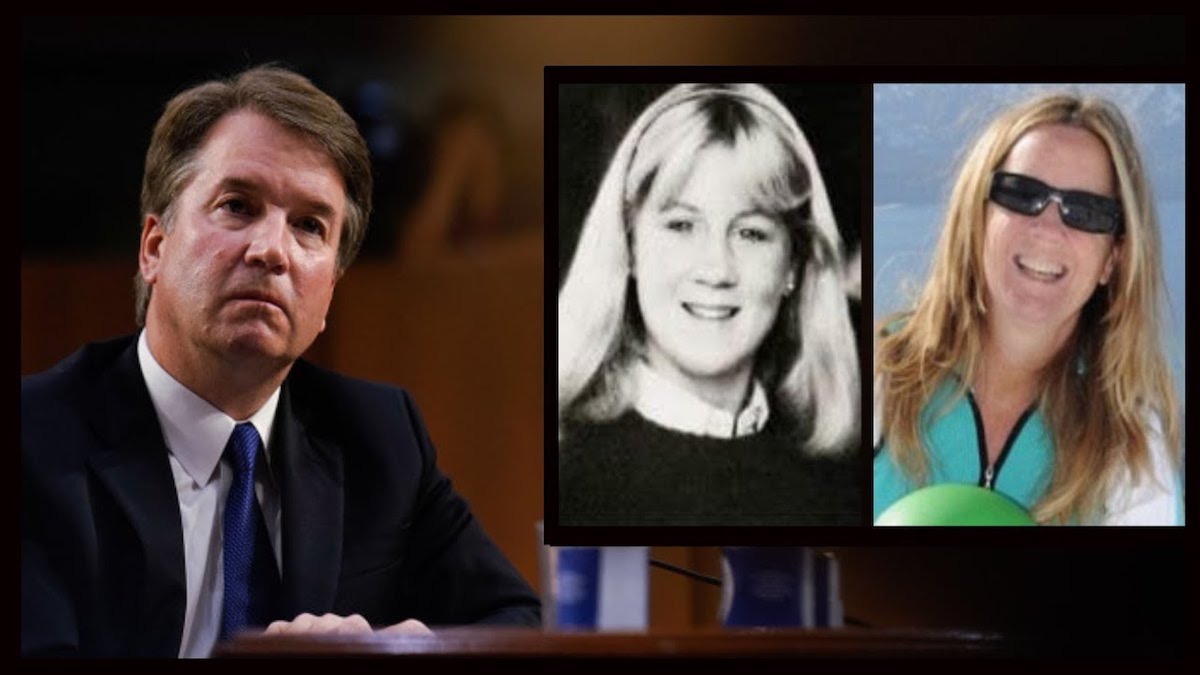 Brett Kavanaugh sexual assault claim Supreme Court nomination turmoil as California professor, Dr Christine Blasey Ford comes forward with sexual misconduct/assault allegations.
A California woman accusing Supreme Court nominee Brett Kavanaugh of sexual misconduct while they were in high school has come forward, alleging the then teen pinning her to a bed at a Maryland house party and clumsily tried to remove her clothing.
In an interview with the Washington Post, Christine Blasey Ford claims Kavanaugh, 53 and a friend, both 'stumbling drunk' and corralling her into a bedroom during the party in the early 1980s. She says Kavanaugh groped her over her clothes, grinded his body against hers and tried to take off her one-piece swimsuit and the outfit she wore over it.
Kavanaugh is alleged to have covered her mouth with his hand upon the then student trying to scream.
'I thought he might inadvertently kill me,' said Ford, 51, a clinical psychology professor  at Palo Alto University in California. 'He was trying to attack me and remove my clothing.'
Ford claims being able to get away after Kavanaugh's friend jumped on top of them and everyone tumbling off the bed.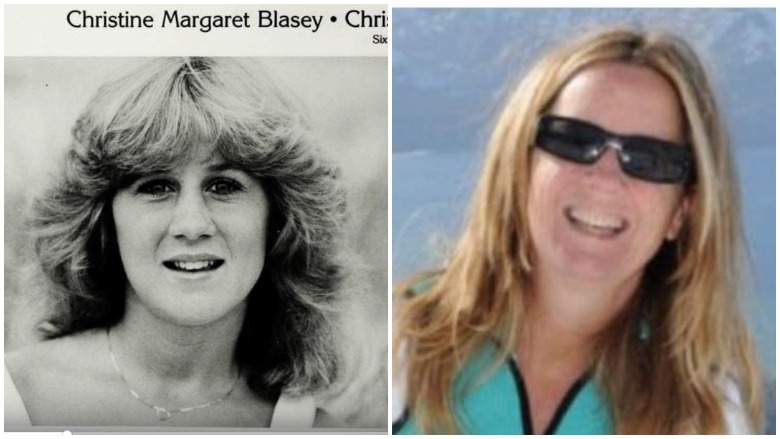 Christine Blasey Ford allegations: Tenuous timing? 
The allegation comes at a tenuous time as a vote is scheduled as to whether to confirm Kavanaugh, a contentious choice as the next Supreme Court Judge.
To date, Kavanaugh's nomination has sharply divided an already closely split Senate, with most Democrats opposing him and most Republicans supporting him.
Of note, the allegations of sexual misconduct, particularly coming amid the #MeToo movement against sexual harassment and a whose who of male power brokers who've been taking down, could complicate Republican's bid to have the staunch conservative tipping the Supreme Court scales ever rightward.
Underpinning concerns against Kavanaugh's nomination as a justice is the federal judge could seek to undercut the Roe v Wade ruling legalizing abortion.
Responding to the allegation against him, the Washington based federal appeals judge vehemently denied Ford's claims.  
'I categorically and unequivocally deny this allegation. I did not do this back in high school or at any time,' Kavanaugh said over the weekend. 
Reported the nytimes: 'Ms. Ford's account comes as Democrats are already raising questions about Judge Kavanaugh's truthfulness during his confirmation hearings this month. They have accused him of dissembling on a range of issues from his time in the George W. Bush White House, including a breach of secret Democratic files on judicial nominations and discussions about detainee policy and torture.'
People are doxxing Christine Blasey Ford and publishing her home address and phone number. This is why women don't come forward and why women REALLY don't come forward when it involves SCOTUS nominees. Also, if you see this happening, please report it.

— Amee KavaNOPE Vanderpool (@girlsreallyrule) September 16, 2018
Because I feel now is an important time to stand strong with Christine Blasey Ford. I was 14. I blamed myself. Never told anyone because I was ashamed of MYSELF. I'm 40 now. But if I found out this POS was running for any form of public office I would absolutely come forward.

— Jennifer Sammis (@momof3liny) September 17, 2018
I believe Women.

I believe Christine Blasey Ford.

I don't believe the Republican party who has now supported a sexual predator for the White House (Donald Trump), the Senate (Roy Moore) and the Supreme Court (Brett Kavanaugh). #PostponeTheVote

— Ryan Knight ? (@ProudResister) September 17, 2018
Christine Blasey Ford: victim of sexual misconduct and standing up to 'bro behavior':
Ford in her expose claims not having previously revealed what had happened to her until 2012, when she and her husband sought couples therapy.
Portions of her therapist's notes, which Ford provided to the Post, do not mention Kavanaugh by name but say Ford reported being attacked by students 'from an elitist boys' school' who went on to become 'highly respected and high-ranking members of society in Washington.'
The sexual assault claim follows current US president, Donald Trump nominating Kavanaugh in July to replace retiring Justice Anthony Kennedy on the US Supreme Court.
The therapist's notes say four boys were involved, but Ford says that was an error by the therapist. Ford says four boys were at the party, but only two boys were in the room at the time.
Ford a registered Democrat who has previously donated to the party- had contacted the Post through a tip line in early July after it had become clear that Kavanaugh was on President Trump's shortlist to fill a vacancy but before the Republican president nominated him.
A registered Democrat, Ford contacted her representative in Congress, Democrat Ann Eshoo, around the same time.
In late July, Ford sent a letter through Eshoo's office to Sen. Dianne Feinstein of California, the top Democrat on the Judiciary Committee.
Ms Feinstein revealed late last week that she had received a letter, but said the author did not want to come forward.
Ford told the Post she decided to come forward after watching portions of her story come out without her permission. She said if anyone was going to tell her story, she wanted it to be her.
Brett Kavanaugh no longer the certain choice:
The latest revelations has since led to Democrats calling for a delay in a key committee vote set for this week along with at least one Republican panel member, Jeff Flake of Arizona saying he he was 'not comfortable voting yes' on the nomination until he learned more about Ford's account.
A single Republican objection on the committee, which has 11 Republicans and 10 Democrats, could force a delay.
In considering their options, Republicans are being forced to gambit whether Ford's story alone was not enough to delay Kavanaugh's confirmation. It remained unclear if Ford would be asked to testify as new found political jostling behind the scenes took place.
And then there were these reactions on social media that caught this author's eye- see what you think?
AXE TO GRIND? MOTIVE TO SMEAR? Brett Kavanaugh's Mom was Judge in Foreclosure case of Christine Ford's parents, Paula & Ralph Blasey in 1996 #Qanon #MAGA #FISAGATE #Kavanaugh#SpyGate #ObamaGate #DeclassifyFISA #Treason #LockThemAllUp #WWG1WGA #WalkAway #GreatAwakening pic.twitter.com/NZEfm0uQ5H

— Super Elite Deplorable Dreg (@BarbaraERhodes) September 17, 2018
There is no reason to disbelieve Christine Blasey Ford. Kavanaugh's apologists want to try to redefine sexual assault, but the nominee himself isn't questioning that. He says he didn't do it. That it never happened. He is calling her a liar. I believe her. https://t.co/QE8H2jeAl6

— Jamil Smith (@JamilSmith) September 17, 2018
They say Christine Blasey Ford coming forward is, "too timely".

Well, I tell you what, if a wound I had spent decades trying to heal, & leave in my past was brought into the present by the nomination of my perpetrator to a position of power over others, f*ck that sh*t.#metoo

— Matthew W. Parsons (@CajPaLa) September 17, 2018
First Stormy Daniels and now Christine Blasey Ford. It's always the same with the liberal scum. When they cant win on facts they revert to Democratic/Alinsky tactics of fake Racism or false Sexual accusations.

……Have the Democrats no shame !!??

— USA NEWS (@USANEWS007) September 16, 2018
I believe Christine Blasey Ford. No matter what age you are when you're assaulted, it changes your life forever. And no matter what age you are when you assault someone – and no matter what decade it was – you're a predator. #metoo

— Shannon Watts (@shannonrwatts) September 17, 2018