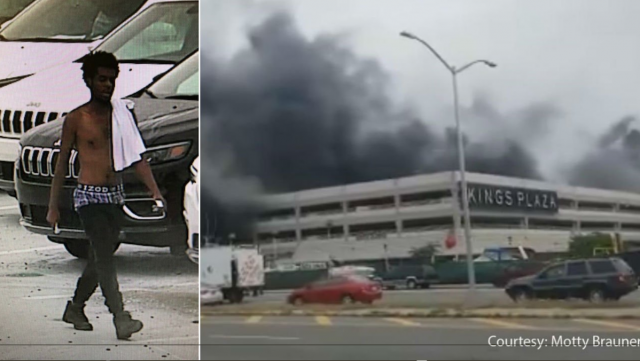 Avon Stephens, Brooklyn homeless man charged with arson over Kings Plaza parking garage fire blaze that destroyed 137 luxury cars at the shopping mall. 
A homeless man is in custody after allegedly setting a Brooklyn parking garage on fire, Monday morning leading to 137 luxury cars being damaged along with 21 injured, 18 of them firefighters.
The inferno which was set by Avon Stephens, since charged with arson- began shortly after 8.30 am at Brooklyn's Kings Plaza Shopping Center – after the 23 year old man of no fixed address set two levels on fire.
The nypost reported the blaze tearing through two floors of the parking garage in the Mills Basin neighborhood, damaging 137 luxury cars and forcing scores of mall workers to evacuate.
'I heard, 'Boom! Boom! Boom!' ' told local resident Mike Wright, referring to the explosion of the cars' tires via Pix11. 'The next thing I know, firetrucks are coming out. I look up, and there is this huge plume of smoke all over the neighborhood.'
The seven-alarm blaze erupted on the second floor of the four-level 4,000-space garage before spreading to the third floor, shutting down the Marine Park mall before it opened to the public, authorities said.
Brooklyn. big fire at the Kings Plaza shopping mall @FDNYAlerts @FDNY pic.twitter.com/MCUtnjyBEG

— Motty Brauner (@motty58) September 17, 2018
Avon Stephens Kings Plaza fire suspect: 'I'm sorry. I apologize.'
Garage security cameras captured the arson suspect sauntering from the scene moments before the blaze broke out. The suspect, since identified as Avon Stephens had a T-shirt hanging over his left shoulder and pants falling off his hip to reveal Izod boxers.
As Stephens was being led by the 63rd Precinct by police, he muttered to reporters, 'I'm sorry. I apologize.'
About 250 firefighters battled the flames for nearly three hours before it was under control.
'The black, toxic smoke, the heat, the limited area firefighters had to work in all made it very difficult to quickly extinguish the fire,' FDNY Commissioner Daniel Nigro said at a press conference.
Eighteen firefighters ended up receiving medical treatment, as did three civilians. All were in stable condition, officials said.
'Our members have various levels of smoke inhalation and heat exhaustion,' Nigro said. 'Working under those conditions with this amount of smoke and this amount of heat, wearing what they wear, one can only imagine what they went through.'
Several area car dealerships — including Mercedes, Dodge, Toyota and Nissan — use the garage for storage, employees said.
Law-enforcement sources said that of the 137 cars damaged, 132 were Benzes — or nearly all of the Mercedes-Benz of Brooklyn dealership's garaged inventory of around 150 vehicles.
'It's a lot of money,' a dealership employee said. 'The most expensive car we have there is $126,000 and that's the S-Class.'
The others included C-Class, E-Class, S-Class, SUVs and GLS models, which another worker said cost at least $70,000, each.
'We're going to be hurting for awhile,' another dealership worker said.
Kings Plaza has more than 120 stores, including Macy's, Best Buy, Sears, H&M, Michael Kors, Express and Foot Locker.
Yet to be necessarily understood is how Avon Stephens managed to set the parking garage on fire and what ultimately motivated him.
Top: #Yesterday
Below: #Today
Side: #AvonStephens, 23 year old man accused of setting #fire that injured more than 20 ppl (including #firefighters) & destroyed dozens of cars.

We're #LIVE from @KingsPlazaMall on @News12BK -> https://t.co/dI17GvJBoF #kingsplaza @NYPD63Pct pic.twitter.com/BctgV03XOe

— Katie Lusso (@KatieLusso) September 18, 2018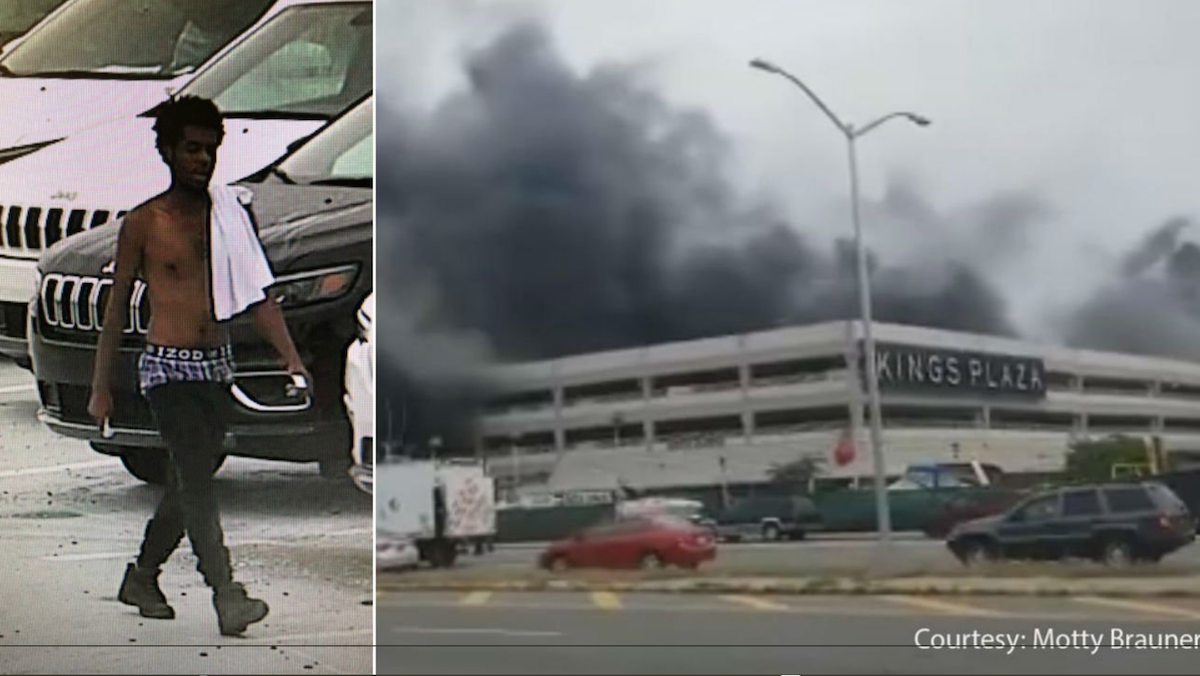 ?Large Fire in Kings Plaza Mall/Parking Garage in Brooklyn, N.Y. Destroys/Damages over 120+ Vehicles, Building Structure, & Injuries 22 Firefighters & 6 Civilians. Suspect in Mall Fire arrested by NYPD. The
Fire went to 7 Alarms & Burnt for hours. Over 250 Firefighters on Site. pic.twitter.com/uVbiNK9qu5

— ??Dale☘️Robin?? ? USA?? Ireland??? (@DaleRobin_) September 18, 2018