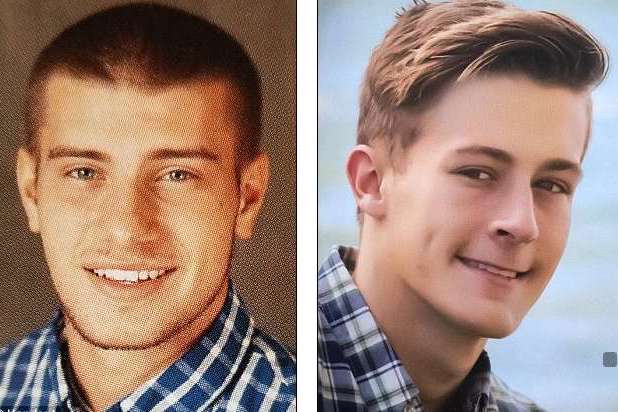 Alexander Allen Cease Burrow and Bruce Kane two former star high school swimmers are killed in what in apparent targeted double homicide – but why? 
Two former high school swimming stars found dead in a burned-out car on Monday in upstate New York were both shot in a targeted attack according to police. 
The bodies of Alexander Allen Cease Burrow, 20, and Bruce Kane, 18, were discovered inside the gutted red Ford Focus sedan behind a warehouse in Hamlin.
The teens were described as being close friends and former star swimmers at Brockport High School.
Monroe County Sheriff Todd Baxter said both men had sustained gunshot wounds and the case is being investigated as a double homicide. However the medical examiner hadn't revealed their cause of death reported The Democrat and Chronicle. 
During a Thursday press conference, police said they wanted to speak to the driver of a dark-colored pick-up truck that made a U-turn by a convenience store during the time the crime is thought to have occurred. 
Police say the likely time window of the 'target hit occurred between 11pm, Sunday night and 1.30am, Monday morning'. 
The young men's burned out vehicle wasn't reported until late Monday morning when the owner of the property happened upon the scene.
'Because of the proximity of the store to the crime, we do want to speak to that operator of that vehicle and see if perhaps they saw something out of the ordinary that could help us with this investigation,' said Chief Deputy Michael Fowler of the Monroe County Sheriff's Office.
Police do not think the driver was involved in the murders, which they believe were 'an isolated incident'.
Police declined to provide additional details about the gunshot wounds or circumstances of the fire. Investigators said they were pursuing numerous leads and did not want to jeopardize their work.
#Breaking: This is now a homicide. Two burned bodies found in a car in Hamlin, identified as Bruce Kane and Alexander Burrow. Found evidence of gunshot wounds. #roc @DandC pic.twitter.com/SMPh2MWV0R

— Will Cleveland (@WillCleveland13) September 12, 2018
Alexander Burrow and Bruce Kane remembered:
Kane, from Sweden, was driving the Ford Focus while Burrow, of Clarkson, was a passenger. The car was registered to Kane's father and caught fire at some point between Saturday afternoon and Monday morning, cops said.
Both men swam on the Brockport High School swim team and set the 200-yard freestyle relay record at a 2016 meet.
Burrow graduated in 2016 and was going into his second year at the University of Buffalo. 
His brother, Shane Cease, called him the 'light of everybody's world'. 
Courtney DiGennaro, a friend, messaged him after hearing about the car fire to check if he was ok, but the message was never returned.
'I want people to know about him because he was a one-of-a-kind person,' the teen told via 13wham.
Brockport Central School District tweeted its condolences on Wednesday.
'We are saddened to learn of the loss of two former students. Bruce Kane graduated from BHS this past June and Alex Burrow in 2016. We offer our heartfelt condolences to the families, friends and all those affected by this tragedy. Counselors will be available throughout the week.'
Kane graduated from the high school in 2018. A vigil for both men will be held on Sunday.  
To date it remained unclear who would have wanted the youths dead and whether their deaths was the result of an isolated incident or the result of a calculated target hit?
Some photos of the second victim in the Hamlin burned car found Monday, 18-year-old Bruce Kane @SPECNewsROC pic.twitter.com/3Vc03KI70h

— Andrew Freeman (@AFreemanNews) September 12, 2018
It's becoming more and more real and I don't even know what to say right now. I lost 2 of my closest brothers. Bruce Kane and Alex Burrow you 2 were the kindest people I really have ever known. Bruce we been through thick and thin and been there swimming together since we were 10

— Brandon Amthor (@shamrockmadness) September 11, 2018