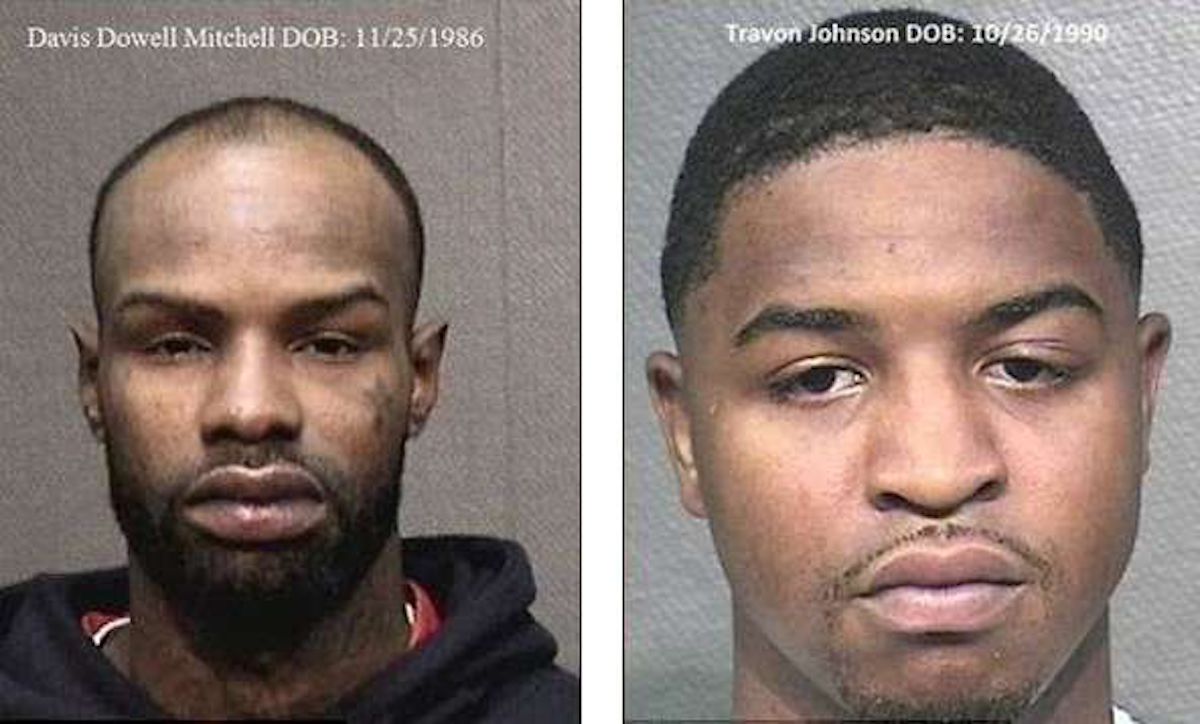 Travonn Johnson and David Dowell Mitchell implicated in the Texas robbery of a woman after withdrawing $75K from her bank and walking to Valero gas station she owns.
Video has been released showing a pair of men running over a woman with a car and making off with her purse in Texas. Inside the woman's purse is $75K she had momentarily just withdrawn from a Houston area bank.
Upon having made the bank withdrawal the would be thieves followed the un-named woman to the Valero gas station she owns before sweeping on her.
Security footage taken on Friday shows the brunette woman, wearing patterned pants and an orange top, about to open the gas station door when a man jumps out of a vehicle pulling up and attempting to snatch her purse.
'The victim fought hard and refused to give up her purse containing the money', told Harris County Constable Precinct 4 Mark Herman explained via KPRC-TV.
Adding, 'These criminals out there, they are watching and they are looking for easy targets'.
Video  shows the woman clutching her bag tightly as the robber drags her across the ground in an attempt to get it out of her hands. Eventually, the woman's husband comes . out of the store to help only for the thief to pound him with punches.
During the altercation, a black Chrysler 300 pulls up and a second thief jumps out to help his partner beat the couple. He then gets back into the car and backs up over the couple over as they lay on the ground.
Cops arrested David Dowell Mitchell, 31 on charges of Aggravated Robbery with a Deadly Weapon and he is being held in Harris County Jail without bond.
They're looking for the second perp, a man named Travonn Johnson, 27, who they suspect ran the couple over, Herman said on Saturday.
Reiterated Herman, 'They've done this before. They're brutal. Folks like this all they understand is brute force against brute force'. 
The un-identified woman remains in critical condition. The husband suffered minor injuries, and was left with bumps and bruises from the fight.