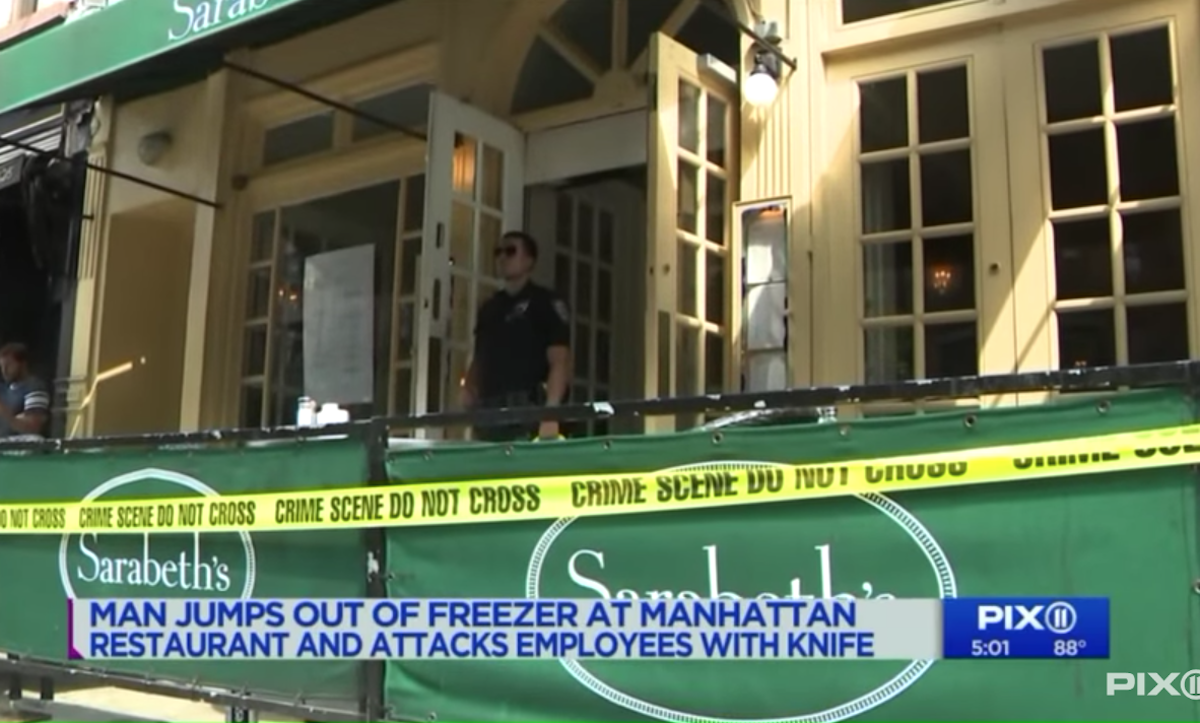 Sarabeth's Restaurant attack: What led to a 54 year old Arizona man jumping out of a popular UWS freezer during brunch and stabbing at employees?
NYC authorities have told of a 54 year old man jumping out of a popular Upper West Side restaurant's walk-in freezer, grabbing a knife and attacking employees only to later die at hospital, Sunday morning.
The attack happened at the height of the brunch rush around 11 a.m. at Sarabeth's Restaurant on Amsterdam Avenue at West 80th Street.
Police say the kitchen staff did not recognize the person, with management saying the individual not working at the eaterie, nor a former employee.
After being discovered, the man picked up a kitchen knife and attempted to attack employees, who were able to disarm him and wrestle him to the ground.
Shortly afterwards, the man tried to talk with kitchen staff only to suffer some kind of medical emergency, possibly a cardiac arrest reported ABC 7.
At one point, the 54 year old Arizona man is heard to have yelled, 'Away, Satan!'
Police responding to the scene found the 54-year-old unconscious and unresponsive. Emergency medical responders took the man to St. Luke's Roosevelt Hospital where he was pronounced dead reported CBS2.
Sarabeth's Restaurant attack motive? 
Of mystery is how the man, since revealed hailing from Arizona, getting into the freezer without being spotted, with some wondering if the man had broken into the premises overnight or earlier that morning through a back delivery entrance.
Told local resident, Suzanne O'Brien via pix11, 'If they were there overnight, well obviously you can't be there in freezer overnight, but if somebody had broken in it's not like you would see them at 11 for the first time or around that time. You would have done that way earlier because you have to prepare the food'. 
The incident heightened concerns why the individual sought to harm workers and if he had been a previous customer who bore a grudge or in fact a former employee.
The NYC Medical Examiner will determine cause of death and the investigation is ongoing.
Police are withholding the man's identity until his family are notified, with police saying the man was from Cave Creek, Arizona and appeared to have mental health issues reported the nytimes and no obvious connection to New York. 
Sarabeth's declined to comment following media overtures.
Crime scene unfolding at Sarabeth's on the UWS. Witnesses being interviewed now. pic.twitter.com/Aay68hT4dg

— Elizabeth Bert (@elizabeth_bert) August 5, 2018