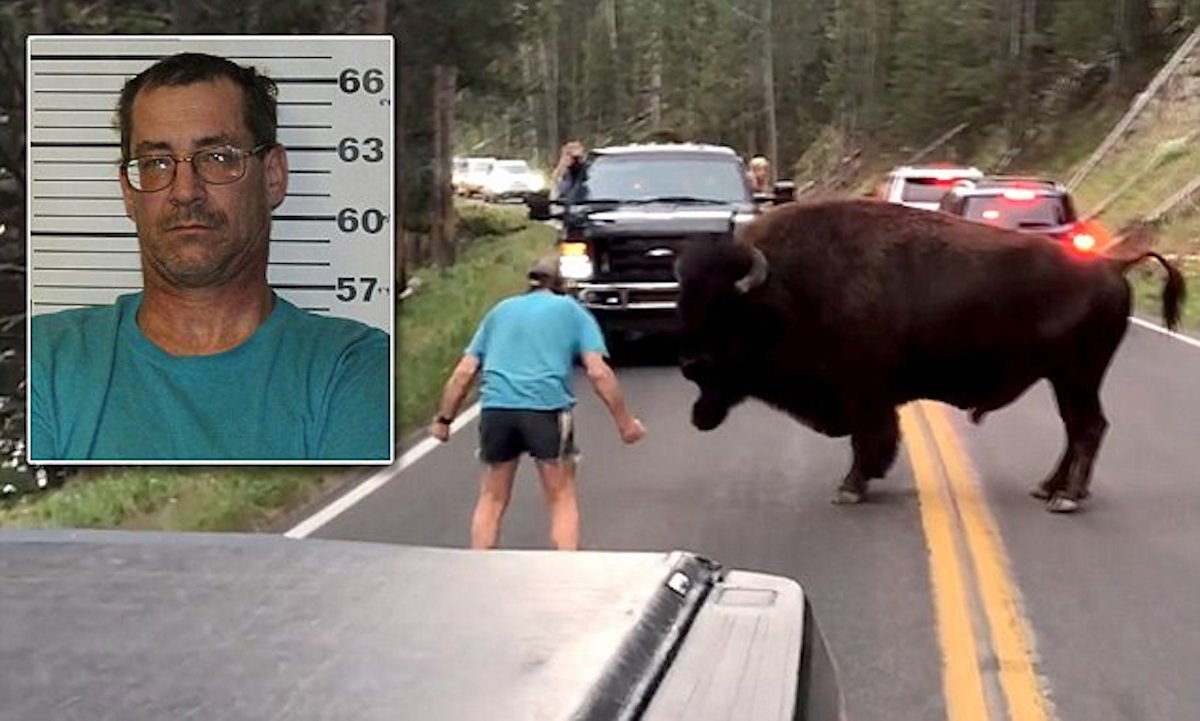 Raymond Reinke Yellowstone bison tormentor arrested. Oregon man had spent the week causing disturbances in other national parks. 
## Update August 8:
Raymond Reinke is to remain jailed until his bench trial, August 23, after being arrested after causing disturbances in three national parks, including harassing a bison in Yellowstone.
Reinke's application for bond was denied after a judge on Wednesday, cited the Oregon man's criminal history (see below) and his disregard for previous bond conditions after being charged with drunk and disorderly conduct in Grand Teton National Park.
Reinke was cited in Yellowstone for having an open container of alcohol and intentionally disturbing wildlife.
The order follows Reinke pleading not guilty Wednesday to five charges stemming from citations issued in Grand Teton and Yellowstone national parks in late July.
## Original Story August 3rd:
Also making his way into tabloid headlines is 55 year old Pendleton, Oregon man, Raymond Reinke following video of him taunting a 2000 pound bison at Yellowstone National Park earlier this week.
The video as posted by witness, Lindsey Jones showed (see below) Reinke harassing and taunting the beast as it attempted to cross the street. Undeterred, Reinke is seen beating his chest and screaming at the 'agitated' wild animal. So infuriated had the animal become at its tormentor, that the bison was seen at two different time charging the since identified man. 
While the video itself caused many to wonder about the capriciousness of Reinke, it wasn't until Thursday that the universe finally caught up with the Oregon man following Reinke being taken into custody after an incident at a hotel dining room according to Glacier National Park, Montana rangers.
Upon his arrest, Yellowstone officials revealed Reinke having spent the past week traveling to different national parks causing disturbances.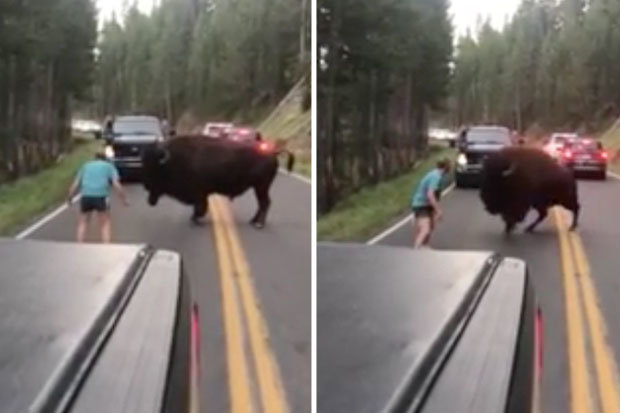 Raymond Reinke Yellowstone bison tormentor: A week of ongoing agitation.
He was arrested on July 28 by rangers at Grand Teton National Park in Wyoming for 'drunk and disorderly conduct'. He spent the night in the Teton County jail and was released on bond. 
Following his release, he traveled to Yellowstone where he stopped by park rangers for a traffic violation on July 31. Officials said Reinke 'appeared to be intoxicated and argumentative' and was cited as a passenger for failure to wear a seat belt. 
He encountered the bison after the traffic incident. 
Yellowstone said several park goers called in complaints about a man harassing wildlife. They found Reinke later that evening and issued a citation for him to appear in court, but were unaware of the video at the time. 
Officials said Reinke told them that he planned to travel to Glacier National Park next. After the video at Yellowstone surfaced, park officials contacted rangers at Glacier.  
Reinke was found at the Many Glacier Hotel after rangers received a call about two guests arguing and creating a disturbance in the hotel dining room. 
Reinke was arrested and taken to the Yellowstone jail and scheduled to make a court appearance on Friday.
Told Yellowstone officials in a statement: 'The individual's behavior in this video is reckless, dangerous, and illegal,' 
'We need people to be stewards of Yellowstone, and one way to do that is to keep your distance from wildlife. Park regulations require people to stay at least 25 yards from animals like bison and elk, and 100 yards from bears and wolves. These distances safeguard both visitors and the remarkable experience of sharing a landscape with thousands of freely-roaming animals. People who ignore these rules are risking their lives and threatening the park experience for everyone else.'
It's not clear what charges Reinke may face.  
#Raymond Reinke-Obviously you don't know the Rules & Regulations of our National Parks. Most important Rule "All Animals in the Parks have the Right of Way" which means you sit & wait for them to move. You don't try to move them. That's their Home, not yours.

— Lynn Bowman (@LBowman1122) August 4, 2018
#Raymond Reinke should be Banned from every National Park. When a 55 yr old person harrases an animal like that, their Not too Smart. This is their Home, your just visiting. Your very lucky that Bison didn't kill you.

— Lynn Bowman (@LBowman1122) August 3, 2018
https://t.co/TBS38p5Kaa
Fu*k this guy, 3 arrests in national parks in a week, drunk and diorderly jacka*s. At 55YO you should know better by now. #RaymondReinke

— KeithWMetsFan (@cadillacclifton) August 3, 2018