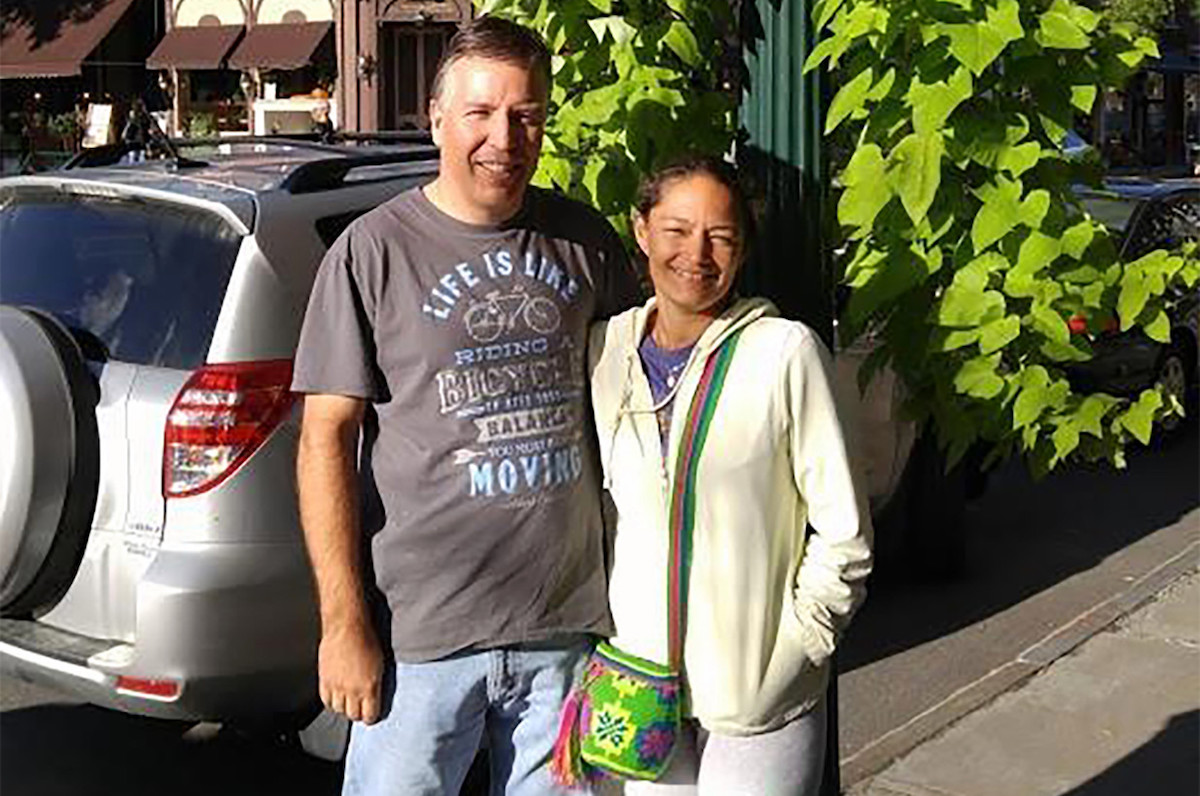 Avoidable deaths? Laura Cote and Michael Cote, a Methuen, Massachusetts couple die after getting caught in 

rip currents in Seabrook, New Hampshire. 
A Massachusetts husband and wife have been identified as two swimmers who died upon getting caught in strong rip currents in Seabrook, New Hampshire on Sunday.

Forty-seven-year-old Laura Cote, of Methuen, Massachusetts, died Monday after being hospitalized with life-threatening injuries. Her husband, 49-year-old Michael Cote, died Sunday. Both husband and wife were pulled out of waters unconscious. 
Despite fellow beachgoers being able to pull out all six swimmers caught in the undertow, the Cotes didn't make it.
Father Sean Maher of Saint Francis Church in Dracut, Massachusetts, identified the victims as members of their community.
'We are deeply saddened to have learned last night and today that Michael and Laura Cote, both truly devoted followers of Christ, have passed away following the swimming incident at Seabrook, New Hampshire,' read a statement from Maher on Facebook. 'They did so much to come to know Jesus and His and our Father in this life that they are truly going to meet a Friend.'
Father Maher told NBC10 Boston the couple being deeply involved in the church.
'They were involved in parish activities, feeding the homeless,' said Maher.
A day at the beach, ends with tragedy after seven people had to be rescued Sunday from the rough water at Seabrook Beach in New Hampshire. One person died, another is still fighting for her life this morning. The story coming up, on @wbz pic.twitter.com/HozdZ5Cgl1

— MichelleReneeFisher (@Michelle_WBZ) August 20, 2018
Large turnout tonight at church in #Dracut, MA where Michael & Laura Cote were heavily involved. Private prayer service being held to remember them. The married couple was killed after getting caught in rip current in #Seabrook #WMUR pic.twitter.com/yCMvjxXeuh

— Mike Cronin Jr. (@MikeCroninWMUR) August 20, 2018
Laura Cote and Michael Cote Methuen, Mass. couple much beloved:
The Cote's neighbor, Jerry August, told NBC10 Boston he saw husband and wife packing for their weekend getaway. He said the couple was generous and always available to help.
'You couldn't ask for better people and better neighbors,' August said.
Neighbor Jairo Naranjo said despite the Cote's not having children of their own always being generous with plenty of treats on Halloween for the neighborhood kids.
'We have three kids and we usually go trick or treating,' Naranjo said. 'They're going to be missed.'
Good Samaritan Matthew Tomaszewski, 29, is one of a few who helped the swimmers. Acting quickly, Tomaszewski a former basketball player for Syracuse University, raced into the waters with his paddle board and fought against the powerful waves.

'It looked like there were some people caught up in a really bad undertow and riptide,' Tomaszewski told NBC10 Boston.
Tomaszewski managed to help two people grab his board. Emergency crews eventually responded with a boat and found Michael Cote in the water, who later was taken to Anna Jaques Hospital where he was later pronounced dead.
Cote's wife, Laura, who was also found unconscious, was also taken to Portsmouth Regional Hospital with life-threatening injuries. She died on Monday.
'I'm glad I was able to help any way I could,' told Tomaszewski. 'My heart and prayers go out to those families affected.'
Second person pulled from rip current at Seabrook beach dies https://t.co/UNVmdLh3GM pic.twitter.com/4FNHu89M23

— WCVB-TV Boston (@WCVB) August 20, 2018
Laura Cote and Michael Cote Methuen couple death: Why were there no warnings for the potential of strong rips?
Authorities said choppy waters caused by rip currents were responsible for Sunday's tragedy. Officials stressed surf on Monday had been expected to be calmer, while warning swimmers to always take precautions, including swimming near lifeguards.
Meanwhile, yellow flags are up at Hampton Beach, where lifeguards are warning the surf is still a bit rough.
While there were signs on the beach warning swimmers that there were no lifeguards were on duty, Seabrook Town Manager William Manzi III told via the nypost that no signs existed about the potential for a rip current. It remained unclear why such warnings in the height of the summer swimming season were not placed.
Alerts on the rough currents and an advisory to avoid swimming were put on the local police department's social media accounts afterward.
Rip currents sometimes referred to as riptides, usually form in low spots on a beach, near breaks in a sandbar or around piers and jetties. The water currents are described as narrow channels of water that move as fast as 8 feet a second and occur at any beach with breaking waves. They move away from the shore. Anyone caught in them is advised to swim parallel to shore to escape their pull.
The investigation into the incident is ongoing.
A Methuen man is dead and a woman remains in critical condition after police say they were among several swimmers caught in rip currents Sunday at Seabrook Beach. Live reports from New Hampshire this a.m. @boston25 pic.twitter.com/CgSEad7YcX

— Joy Dumandan (@JoyDumandanTV) August 20, 2018