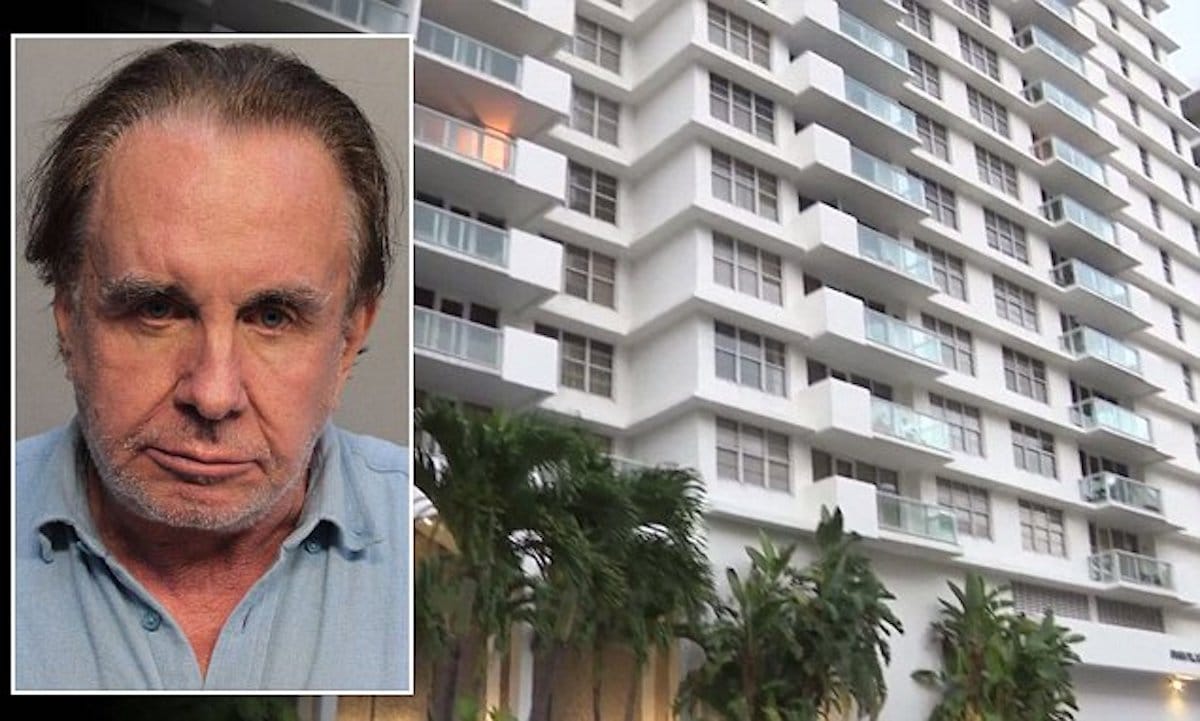 'Kill all Jews!' Walter Stolper a Miami Beach resident is charged with attempted arson after planning on burning down condo residence after believing his Jewish neighbors were responsible for his imminent eviction. 
A 72 year old Miami Beach resident was on Friday arrested after allegedly starting a fire at his condominium building ahead of his upcoming eviction over the belief that Jewish neighbors were responsible for his imminent ouster.
Arrested and charged with attempted arson was Walter Stolper of 5601 Collins Avenue after allegations the disgruntled resident threatening to burn down the building and 'kill all Jews'.
The resident's arrest followed Miami police received an anonymous tip about Stopler's threats, only to find him in the building's parking garage with two plastic containers filled with gas. Police later described the man's actions as an 'imminent crises'.
ABC7 reported Stolper saying he planned on filling plastic containers with gas, pour the gas down the main drain line of the building, and ignite it. From there the man according to a witness planned using two electrical fans to fan flames and cause 'maximum damage'.
Leading up to the arson plan, Stopler purchased padlocks and painted them red to lock up the fire hoses in order to prevent the fire department from putting out the flames, according to the witness.
1/2 – MBPD has arrested 72yr old, Walter Stolper. Stolper is charged w/ 1st Degree Attempted Arson after dumping several gasoline filled containers down a trash chute. His motivation appears to be triggered by an upcoming eviction and anger towards Jewish neighbors. pic.twitter.com/WsvRSRzCaT

— Miami Beach Police (@MiamiBeachPD) July 13, 2018
Walter Stolper: 'I bought the gas to make a small BBQ.'
Officers found Stolper, a business owner originally from Wisconsin in the parking garbage pushing two plastic containers in a shopping car. The cart and Stolper's vehicle smelled like gas, police said.
A second witness told investigators that several residents reported smelling gasoline in the hallways and elevators.
Police turned up eight gasoline-filled plastic containers in the garbage chute dumpster, according to an arrest report. They determined these were identical to the ones possessed by Stolper, and that these had been poured from a 15th floor trash chute, where the defendant lived.
Upon his arrest, Stolper gave written consent for cops to look through his apartment, with a search turning up artifacts that included, 'swastikas and books of Nazi ideology.'
Cops later determined that Stolper destroyed the fire detector hardwired into the building's fire system.
After being issued his Miranda rights, the defendant allegedly told cops, 'I bought the gas to make a small BBQ.'
Police say Stolper could face additional charges including hate crime charges.
Just Reduced at 5601 Collins Avenue #702 1 bedroom, 1.5 bath condo with direct views of the ocean and beach. – Asking $499,999 pic.twitter.com/tuwW4CAsDm

— Darrell Burks (@DarrellBurks) January 6, 2017