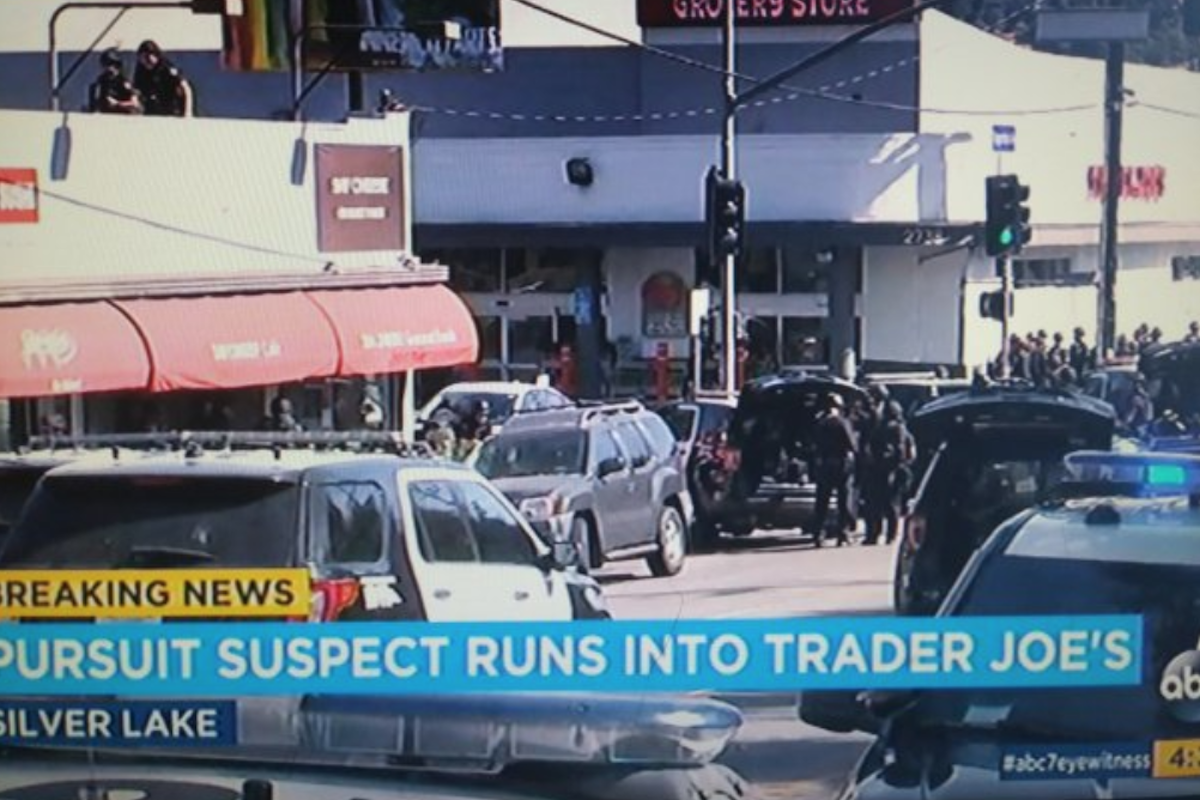 Silver Lake Trader Joe's hostage standoff: Gunman barricaded inside with reports of at least 20 hostages as police return fire following stolen car chase.
Update: The suspect is in custody (see video below) after surrendering to police in the hours-long barricade. One woman is confirmed dead following a barricade situation involving a shooting and chase suspect who held hostages inside a Trader Joe's in Silver Lake on Saturday.
Subsequent reports revealed the deceased woman as store worker Melyda Corado, with 'Mely' having worked at Trader Joe's since 2014. LAPD sources told ABC7 Mely was the store manager.
The woman was said to have died early into the hostage situation. It's thought Corado's death came as a consequence of becoming caught in the crossfire of bullets exchanged between the gunman and LAPD police.
Original story: LAPD police have descended on a Trader Joe's in Silver Lake, Los Angeles, Saturday afternoon in an 'active' situation after a 28 year old gunman opened gunfire outside the store at the end of a police pursuit sending dazed shoppers diving for cover.
The Latimes reported Los Angeles police swarming the gourmet food outlet on Hyperion Avenue around 4pm as a suspected car thief and his girlfriend led police on a car crash starting from Hollywood before the gunman crashed next to the store.
From there witnessed told of running for their lives as the gunman, an African American man opened gunfire on pursuing police before running inside and believed to have taken hostages.
At the height of the stand-off, between 40 and 50 others were trapped inside, with a three-hour hostage negotiation ensuing. During that time, the suspect allowed some to leave while others sneaked out. Some crawled out of windows. 
Deadline reported a 20-year-old woman taken to hospital in fair condition with unspecified injuries. Multiple ambulances remained on the scene, along with a SWAT Bearcat armored vehicle, which was set up at the entrance.
RT @NBCLA: Video: Conclusion of the hostage situation at a Trader Joe's in Silver Lake, as five hostages and what appears to be the suspect walk out of the front door. https://t.co/1TQNkOxhTL pic.twitter.com/mHKgTB3BU5

— Trixy Wh (@trixywh) July 22, 2018
Officers rescued a group of children after an armed suspect opened fire and barricaded himself inside a Trader Joe's in the Hollywood area. Live updates: https://t.co/tbjgPmD5iq pic.twitter.com/873SgyQwsj

— NBC Los Angeles (@NBCLA) July 21, 2018
A young hostage is released from the Trader Joe's shooting/barricade in Silver Lake. Live Updates on NBC4 News Now: https://t.co/pMgERwjqyD pic.twitter.com/rbyQn5tJ4j

— NBC Los Angeles (@NBCLA) July 22, 2018
Video posted on social media showed police helping children  and families flee from the store.
A woman at a Gelson's supermarket across the street said gunfire was heard in that store and that everyone dove to the floor. She said employees eventually let shoppers out. She was not aware of anyone was hurt at the Gelson's.
An unconfirmed scanner report told of 20 people trapped in a supply closet at Trader Joe's at the Silver Lake location along with the gunman inside, with sightings of several people  climbing through windows and down a ladder to get out of the store.
Addressing the media,
LAPD Sgt. Barry Montgomery
said
police
'simply do not know'
how many people remained in the store. The suspect was believed to be wounded.
'He is armed and we can't get in there right now,' Montgomery said.
Preliminary reports told of gunman described as 'African American in late teens.' A police chase followed after a domestic incident in South L.A, after the suspect shooting his grandmother 'up to seven times' and another female. From there the gunman suspect left in his grandmother's 2015 Toyota Camry vehicle with female victim as passenger. The female in question was taken in custody.
LAPD Chief Michael Moore during a Saturday afternoon press conference revealed the suspect's grandmother being transported to hospital in 'grave condition' and undergoing several surgeries and remaining in a critical condition.
Welcome to a bold brave new America…..
Standoff at Trader Joe's in Silver Lake after gunman opens fire at end of police pursuithttps://t.co/WtzpZnMZE2 pic.twitter.com/DtR3NIaf9s

— Top News Today (@topnewstodayx) July 22, 2018
It is understood some customers and staff ran out of Trader Joe's at Silver Lake at the time.Twenty-two people are believed to be hiding in a closet and are currently texting police.While, another 20 people are locked inside a cooler.A 20-year-old woman believed to have been shot pic.twitter.com/6VpeWwHuRj

— ????? (@MANACATOSLOUIS) July 22, 2018
The guy helping employees out the Trader Joe's in Silver Lake is Sean a Trader Joe's employee. #TraderJoe Please make sure he is celebrated for his selflessness. Sean is what a hero looks like. pic.twitter.com/oCWJjgYaJV

— Geoff Fox (@geofffox) July 22, 2018
#Breaking Unconfirmed scanner report: 20 people trapped in supply closet at Trader Joe's in LA neighborhood of Silver Lake. Gunman inside. At least one person shot and classified as "grave condition" @KevinTakumi in #Skyfox overhead. Too many black and whites to count.

— Jen Buesinger Sperry (@jenbuesinger) July 21, 2018