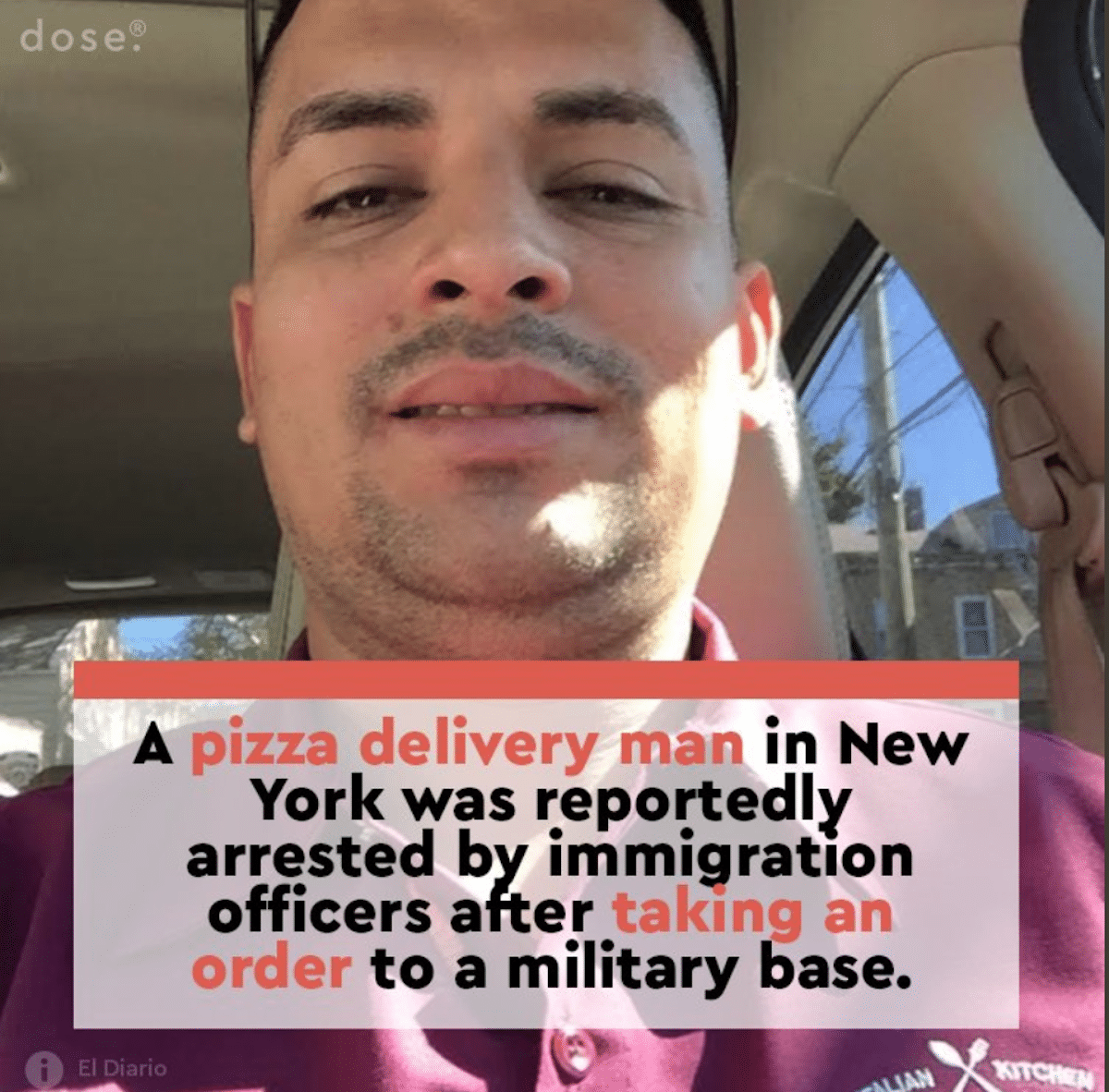 Pablo Villavicencio: Should an illegal pizza delivery worker be deported? Debate erupts following the arrest of an illegally documented worker by ICE  facing imminent deportation despite having no criminal history. 
An undocumented worker faces imminent deportation after 'unexpectedly' being arrested while delivering pizza to a Brooklyn army base.
Arrested was married father of two, Pablo Villavicencio whose family is pleading for the man's case, arguing that he should not have to be deported after having become a functioning member of society.
Told the father from a New Jersey detention center via the nydailynews, 'My only crime is to work and be a family man, a father to my daughters'.
Adding, 'They don't want to give me a chance.'
Villavicencio's case has inspired heated debate as to whether the illegal immigrant should accept the consequences of having been in the United States illegally, irrespective of his intent of being a productive member of society, marrying an American citizen and having two daughters with his wife.
This GoFundMe for Pablo Villavicencio's family is legit—his wife mentioned it by name at the press conference. https://t.co/N4H2EzAKkU

— Angus Johnston (@studentactivism) June 6, 2018
Pablo Villavicencio: 'Is our city, state and nation any safer today because they took a pizza delivery guy off the streets?'
Come Wednesday, a GoFundMe account was set up to assist Villavicencio, his wife of five years and their two girls as city officials demanded his release.
'You're tearing families apart for what?' asked City Councilman Justin Brannan (D-Bay Ridge) who backs the native Ecuadoran's freedom.
'Is our city, state and nation any safer today because they took a pizza delivery guy off the streets?'
Adding,  'If our country provided them with any sort of real pathway to legal residency, I know they would jump through a million hoops to get there. But we don't. Our immigration system is completely broken, and instead of fixing it, Donald Trump has decided to invest in deporting women, children, and asylum seekers with no criminal record back to countries where their lives are at risk – in turn tearing apart their families.'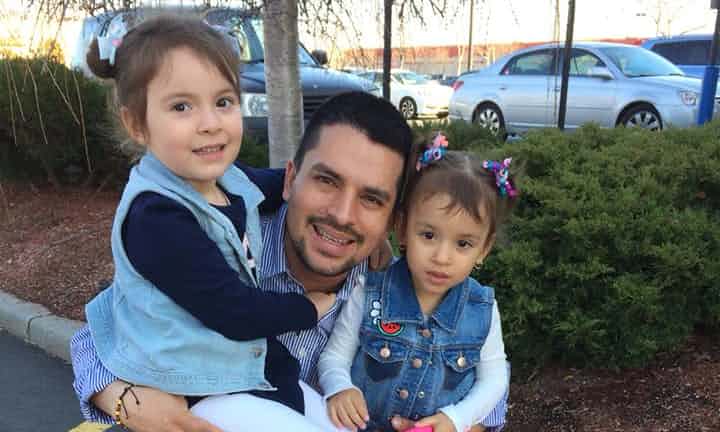 Pablo Villavicencio arrest: hostile climate for illegal immigrants.
Villavicencio's arrest comes in the wake of the increasingly hostile climate for immigrants under the Trump administration.
The undocumented worker's undoing followed a guard at the Fort Hamilton Army Base 'grilling' the deliveryman before calling the NYPD and then ICE. It wasn't immediately clear what inspired the guard to 'target' the pizza delivery man. 
Following his arrest by Immigration and Customs Enforcement (ICE) last week, Villavicencio now faces the very real prospect of being deportation as soon as next week.
Told the arrested man via the nypost, 'I have been there before and always go in and never have had any problems, they actually know me and the sergeant knows me for some time doing delivery'. 
Adding, 'Last Friday there was a different security guard and he told me I needed to go get another pass to enter'. 
pablo villavicencio was detained by military police while delivering them PIZZA, and was handed over to ICE last week. he is facing deportation and his wife and two adorable daughters miss him very much.

"in one day your life changes. now i'm all alone with two kids." pic.twitter.com/LSvcRYzkYs

— zainab iqbal (@planetzainab) June 6, 2018
Pablo Villavicencio didn't follow the rules says ICE: 
Telemundo 47 reported Villavicencio, 35, living with his wife and their daughters Luciana, 3, and Antonia, 2, in Hempstead, L.I., until his arrest Friday at the base where he'd brought pizza to service members many times before.
A statement from officials at Fort Hamilton said Villavicencio lacked a valid Department of Defense identification, and was sent to get a day pass.
An active ICE warrant was discovered after Villavicencio signed a waiver okaying a background check before he could drop off the pies, the statement read.
ICE spokeswoman Rachael Yong Yow said Villavicencio is 'illegally present' in the country and agreed to voluntarily leave in 2010, but did not, becoming an 'ICE fugitive.'
The jailed man said he was locked up for 72 hours without so much as a glimpse of sunlight.
'This is torture,' the undocumented worker told via the nydailynews. 'They have treated me like a criminal . . . Now I don't even have a right to face a judge, to defend myself.'
According to Villavicencio, the married father of two filed for a green card and permanent U.S. residency in February given his marriage to American citizen Sandra Chica, 38.
'In one day, your life changes,' told Chica via the nydailynews. 'It's cruel that they separated my daughters from him. He was supporting the family. Now I'm going to be alone with these two babies.'
This is the statement we just received from NY Candidate for Governor @CynthiaNixon on the arrest at @FortHamiltonMWR of Pablo Villavicencio #FreePablo pic.twitter.com/yAhKoIFlSU

— Pablo Gutierrez (@PablogtzT47) June 7, 2018
Immigration arrests soar since Trump takes office: 
Of note, annual immigration arrests have soared since Trump took office in January 2017, from 110,568 in 2016 to 143,470 last year, although they still remain below the height of arrests under the Obama administration.
Of disconcert, the Trump administration has vastly expanded the powers of Ice officers to target any undocumented migrant, irrespective of whether they have a criminal record or not. The number of non-criminals arrested by Ice has tripled in the first year of the Trump administration, compared with the last year of Obama's presidency.
By Wednesday evening, protesters gathered outside the main gate of the base called for the undocumented worker's release.
'This guy was doing everything right. He was just doing his job,' demonstrator Dan Hetteix said. 'Why are we deporting people for doing the right thing?'
Or was he doing the right thing? And then there were the following comments on social media that caught this author's attention, see what you think?
Today @BPEricAdams and I stood with Sandra and her two daughters. Her husband and their dad Pablo is facing deportation because he delivered a pizza to an army base. Tell me how this is American. Tell me how taking Pablo off the street makes our nation safer. I'm listening. pic.twitter.com/L2xqv940tg

— Justin Brannan (@JustinBrannan) June 6, 2018
From what I've been told, Pablo Villavicencio showed his @IDNYC, as he always he'd before at the base, and the MP demanded a driver's license. This is exactly what's not supposed to happen.

— Angus Johnston (@studentactivism) June 6, 2018
Nobody seems to know whether what happened to Pablo Villavicencio was the result of a shift in policy or just someone playing god. Either answer is terrifying.

— Angus Johnston (@studentactivism) June 6, 2018
'Why should we be accountable because he got married, had children, knowing full well of his status? We all play by the rules, why should we feel bad, because since you cannot get citizenship, marry an American but for the meantime, have babies so when your caught you can use them as leverage.
The woman is even dumber, she knew of the situation but yet she moved forward, bearing children. Now she has to raise the kids by herself but you knew of the consequences.'
"Villavicencio did come to the U.S. illegally from Ecuador in 2008. In 2010, according to ICE, he was granted voluntary departure. He was ordered to leave the country by July of that year. He never did." We are a country of laws to be followed and adhered to…ample opportunity was given and ignored.'
'Yeah he broke the law by coming illegally but it says he has no criminal record if he isn't harming anyone he should stay but that's my opinion.'
'You must follow the law. No one is above the law. Too bad for his family. Hopefully they can reunite in his native country.'