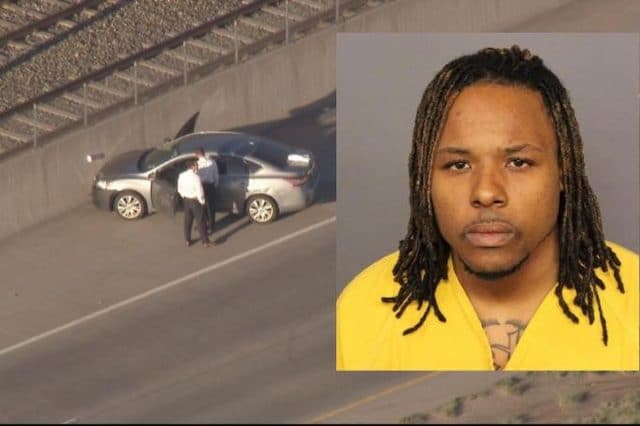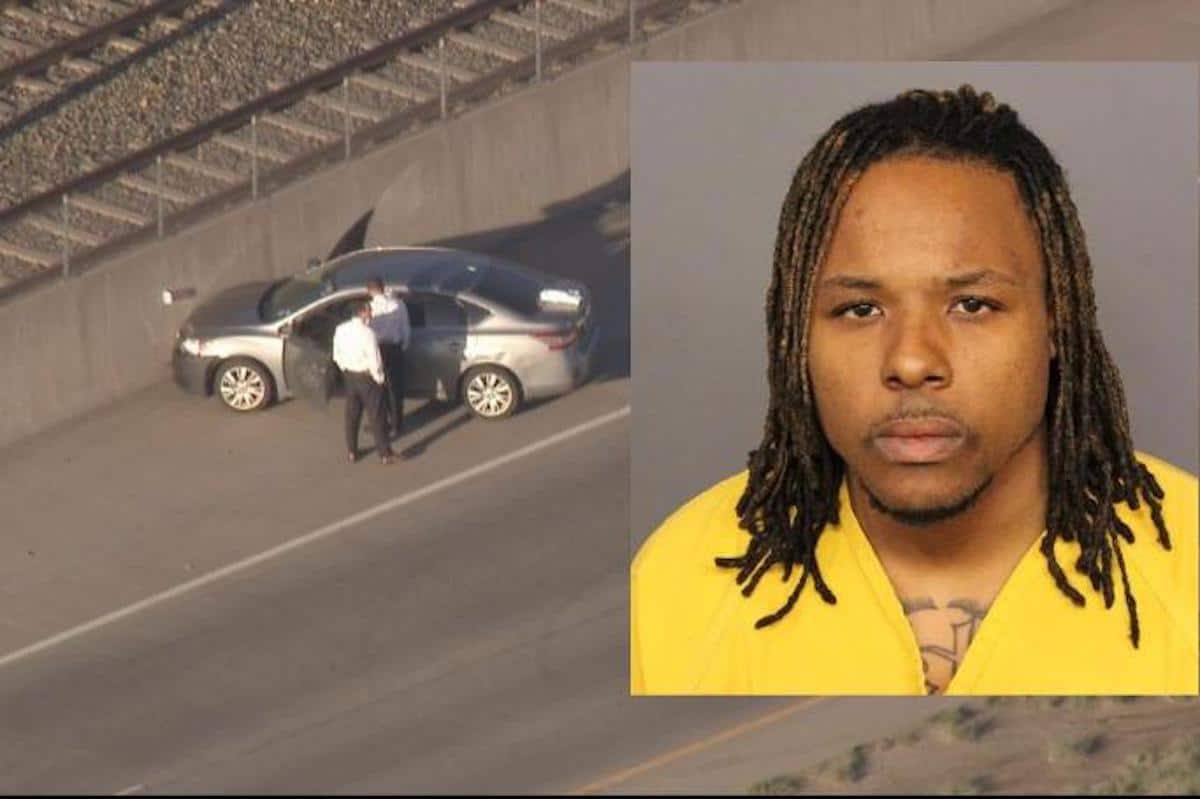 Michael Hancock Uber Denver driver fatally shoots passenger during argument. Passenger believed to have also been armed but unclear whether driver was working for Uber at time of shooting. 
An Uber driver has been arrested after fatally shooting a male passenger while the two men were traveling in a vehicle on an interstate in Denver.
The driver and victim, who was shot multiple times inside a silver sedan were transported to hospitals.  Denver authorities pronounced the passenger dead, the driver was treated and released shortly after. 
The driver, since identified as Michael Hancock, 29 was taken into custody and booked on a charge first-degree murder, police tweeted.
The passenger's identity was not immediately identified nbcnews reported.
The Denver Channel reported Hancock calling emergency services to report the shooting following the man's sedan crashing and striking a wall on an exit ramp.
Denver police department spokesman Sonny Jackson says preliminary information points to a conflict between the driver and passenger. He says shots were fired by the driver on Interstate 25 shortly before 3 a.m Friday. I-25 is the primary north-south route through the city. It wasn't clear if the passenger was similarly armed. 
'This is very preliminary, but it appears there was an Uber driver and his passenger got into a conflict inside his vehicle, shots were exchanged, shots were fired and the passenger it appears was shot,' Denver Police spokesperson Sonny Jackson told KUSA-TV in Denver.
While cops said the driver worked for Uber, they could not confirm whether he was working for the car driving service at the time of the shooting.
'We do know this person was an Uber driver. We're going to determine if he was actually on a ride when this happened. We're going to determine what the relationship was between what appears to be a passenger and a driver prior to this particular ride,' reiterated Jackson. 'That's the one thing I would stress anyone that was on the highway at this time ….if they saw a conflict going on inside this vehicle please let us know.'
Of note, the Denver Post, cited police saying ten bullet cartridges were found at the scene of the shooting'.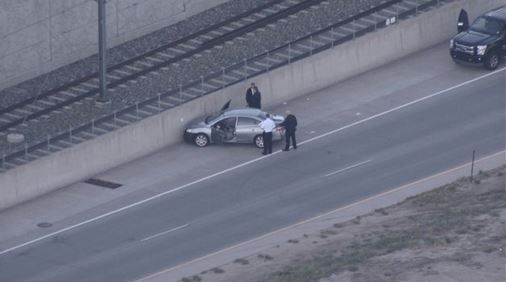 Michael Hancock Uber Denver had gun concealed carry license: 
Michael Hancock's mother spoke to 9NEWS revealing her son working as a counselor in a youth group home. As with many Uber drivers, Hancock was driving for the ride sharing service to make some extra money on the side.
The mother said her son is a hard-working married father.
"He's a husband, a father, a college student. He works two jobs," Stephanie Hancock told 9NEWS. 'It's a terrible, terrible thing that happened. We don't know anything else.'
According to 9NEWS, the victim was found 'on the floorboard of the front passenger seat suffering from gunshot wounds.'
Hancock's mother also told 9NEWS that her son has a concealed carry permit. That's because he used to work as a security guard, she said. The mother also said Michael Hancock was attending college but didn't specify which school.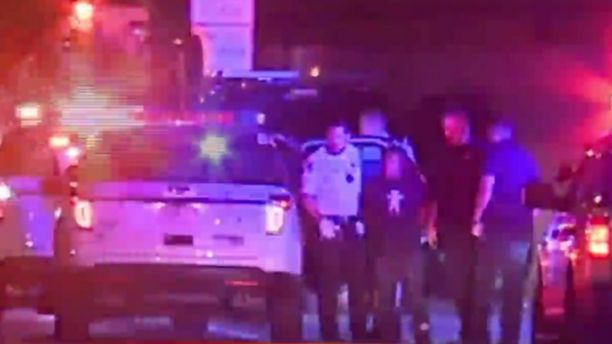 Uber previously fined $8.9m for breaking regulations in Colorado: 
In a statement to USA TODAY, Uber said, 'We are all deeply troubled by the events in Denver today. Our thoughts are with the families of those involved, and we will continue working closely with police.'
Firearms are not allowed in Uber vehicles, the company wrote on its website.
'Our goal is to ensure that everyone has a safe and reliable ride,' the website reads. 'That's why Uber prohibits riders and drivers from carrying firearms of any kind in a vehicle while using our app.'
Colorado permits open carry for most types of guns, with that right protected with some exceptions within the state's constitution.
In a 2016 case in Kalamazoo, Michigan, an Uber driver was charged with fatally shooting six people and wounding two others — apparently at random — and blaming the car service's mobile app for turning him into 'a puppet.' He remains jailed while awaiting trial.
Another episode, as recently as last month saw a Philadelphia passenger claiming that their Uber driver pulled a gun on him after he told him where to turn.
Friday's fatal shooting follows the Colorado Public Utilities Commission last year fining Uber $8.9 million after regulators found 57 Uber drivers over the previous year and a half were on the job despite having felony convictions, major moving violations or were driving with a suspended, revoked or cancelled driver's license.
The commission in April reduced the fine to $4.5 million after some violations were dismissed and a judge has not ruled on Uber's petition that the commission exceeded its authority with the penalty. 
Not clear is whether the unidentified Uber driving involved in Fridays shooting had prior convictions or violations and how he came to be carrying a gun during his ride….
Welcome to a brave new America…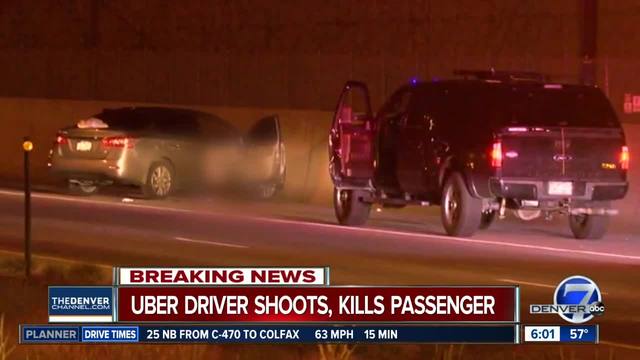 UPDATE: 29 YO Michael Hancock has been arrested for investigation of first degree murder for the early morning shooting on I-25 and Unversity. pic.twitter.com/YVvKFVy5ge

— Denver Police Dept. (@DenverPolice) June 1, 2018