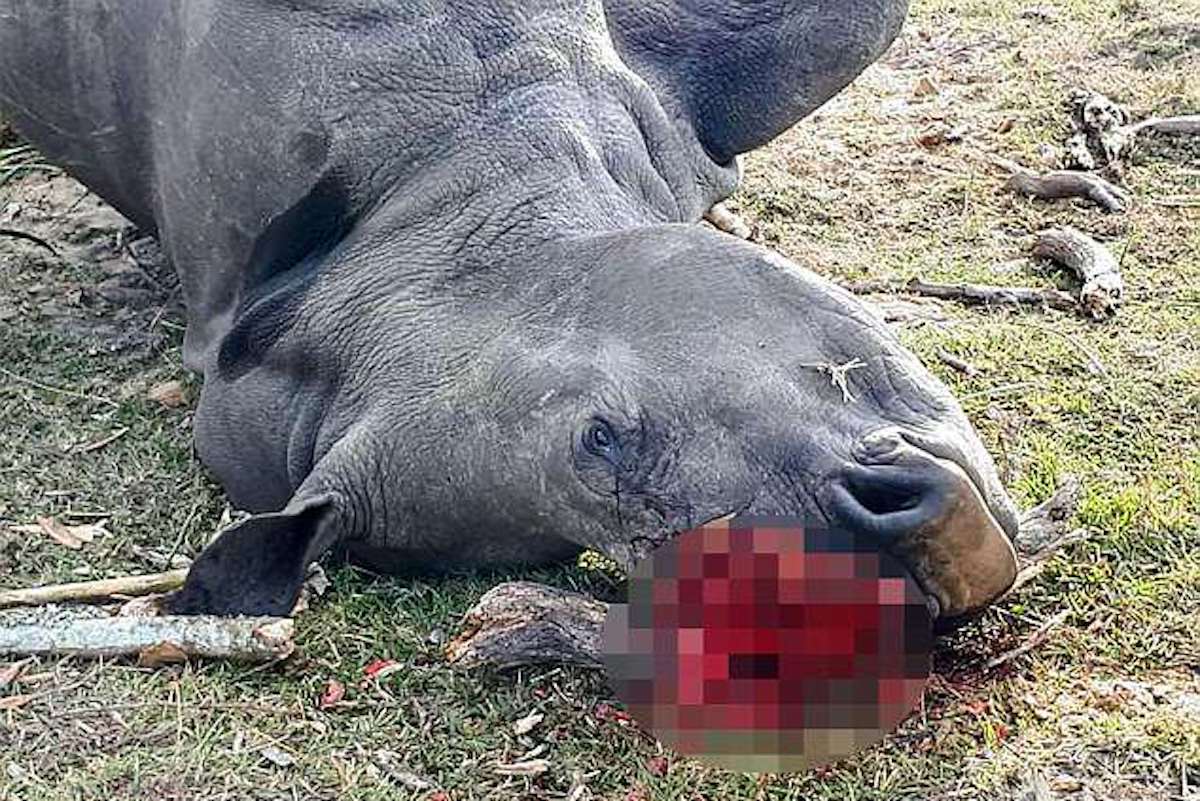 Bella white rhino poached at Kragga Kamma Game Park for less than one inch horn leaves 16 month old calf bereft of his mother and able to feed off her milk.
South African animals rights activists have released pictures showing the mutilated acts of poachers preying on wildlife for their ivory horn.
The latest act of outcry comes with the blood letting of 20 year old rhino, Bella who had her face literally ripped off by poachers as they shot and killed the wild beast, taking off with both horns of the mother of four. The horns were less than an inch long. 
The attack occurred at Kragga Kamma Game Park in Eastern Cape, Thursday night- just a week after game rangers purposefully dehorning three other rhinos in a bid to dissuade poachers. 
A report via South Africa's Herald Live cited keepers saying following the gruesome attack, Bella's youngest, Tank, was observed trying to befriend another mother and calf while mourning his dead parent in the protected site. The young bull at only 16 months old has been left bereft of feeding off his mother's milk. 
A Rhino Story: Two weeks ago, I had the privilege to visit Kragga Kamma Game park and witness this amazing family of white rhino. If you listen carefully you can hear the baby calling for its mother, Bella. pic.twitter.com/3X3fOBdU8G

— Josh Avsec (@Wes_03) June 30, 2018
Bella white Rhino poached: 'We cannot comprehend the waste of it all'.
The attack led to Ayesha Cantor, who runs the park posting on Facebook, 'Its just so unreal, for 1cm of horn – we cannot comprehend the waste of it all,'
'We have always been acutely aware that these rhino are everyone's rhino, that we are merely their custodians, this has been evident in your outpouring of emotions. 
'Thank you dear friends, we know that you are as devastated by this as we are.' 
Noted the animal reserve in a facebook post, 'Like all rhino owners, we knew that it was simply a matter of when …'
Adding, 'We have no choice but to continue to do the very best we can for our remaining rhino. We will also be watching Tank closely to make sure that he is getting enough sustenance, no longer having access to his mothers milk. Rhino are usually weaned at around two years of age, at 16 months old he is not too far off the mark so he should be fine.'
The white rhino is the only one of the five types not to be endangered, but is classified as 'near threatened' by conservationists.