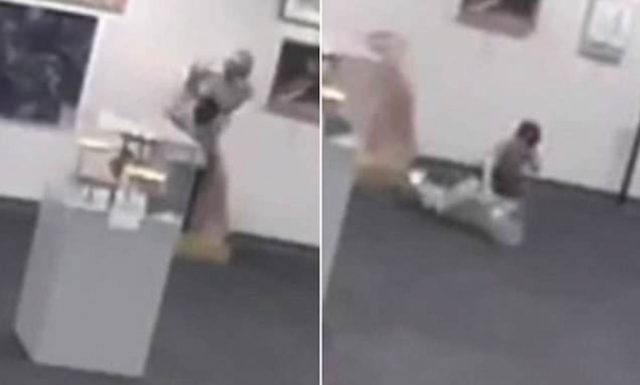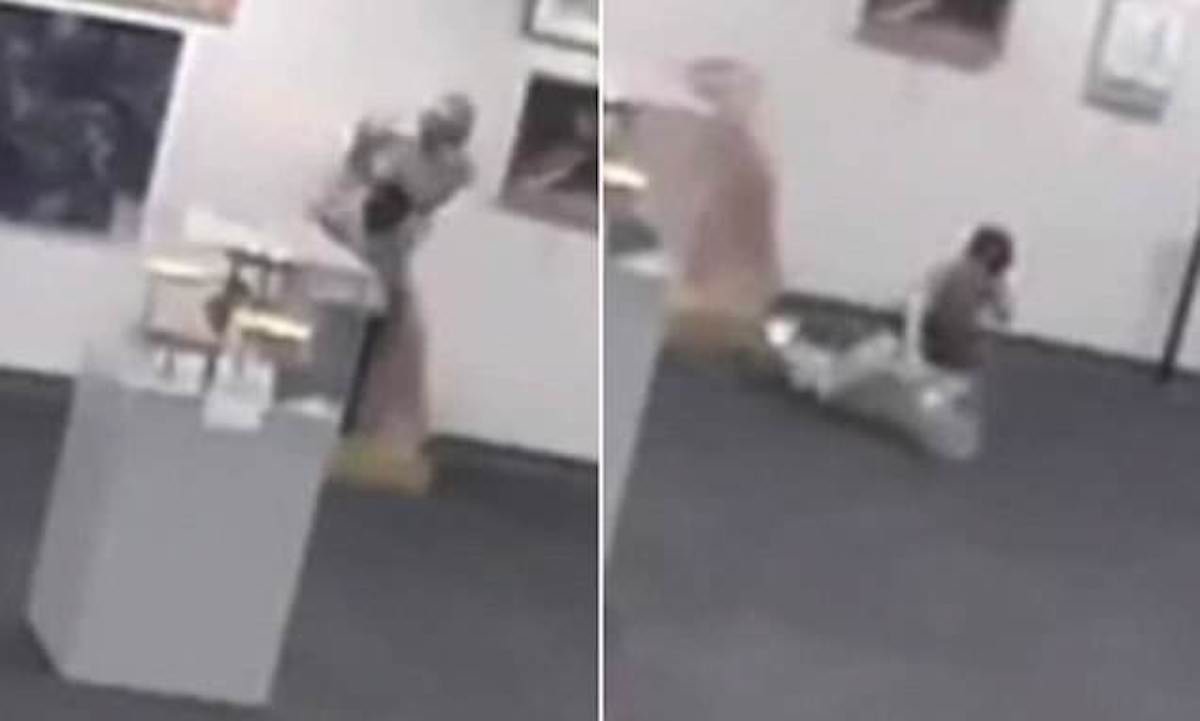 Aphrodite di Kansas City: Should Shannon Goodman be made to pay $132K for a broken glass sculpture after her five year old son accidentally broken it?
A five year old Kansas parents boy's parents have been left with a $132,000 bill after the child accidentally broke a glass sculpture while hugging it.
The boy was at a wedding reception at Overland Park community center in Kansas City, where Aphrodite di Kansas City, a glass and mirror sculpture, was on display on May 19. 
Surveillance footage showed the child approaching the art piece and wrapping his arms around it while his mother Shannon Goodman and other adults chat on sofas nearby. At no time does it appear the parent is particularly aware of her son's actions as she allows the boy to roam the area unchecked. 
At some point, the five year old moves towards the art piece, as if to climb it only to accidentally pull the glass sculpture towards him, leading to it toppling over him, causing damage to the back of the figure's head and arms. 
The incident left the boy with scratches on his face. Video shows (see below) the five year old sheepishly looking towards his mother after the accident. 
Not particularly thrilled was artist Bill Lyons who now demands being reimbursed for the money he says he has lost because he can't sell it. Or to be precise, presuming 'if' he could have sold it. 
He estimated its worth to be $132,000. 
Shannon Goodman presented with $132K bill for broken Aphrodite di Kansas City glass sculpture by Kansas City:
Lyons had loaned the sculpture to the city of Overland Park to put on display. It was the city's representatives who contacted Goodman asking for her to pay. 
The mother according to a report via The Kansas City Star told of expecting the sculpture to be much less valuable and was stunned when she received a letter from the city's insurance company. 
Told Goodman, 'It's clear accidents happen and this was an accident. I don't want to diminish the value of their art. But I can't pay for that'. 
While offering via WGN, 'This glass mosaic torso is laying on the ground and someone is following me around demanding my personal information'. 
The mom explained she was saying goodbye to the bride's father when her son wandered off towards the statue while insisting he and his three siblings, who were also there, are always well behaved.
Told Goodman, 'He probably hugged it. 
'Maybe my son hugged a torso because he's a loving, sweet nice boy who just graduated from preschool.'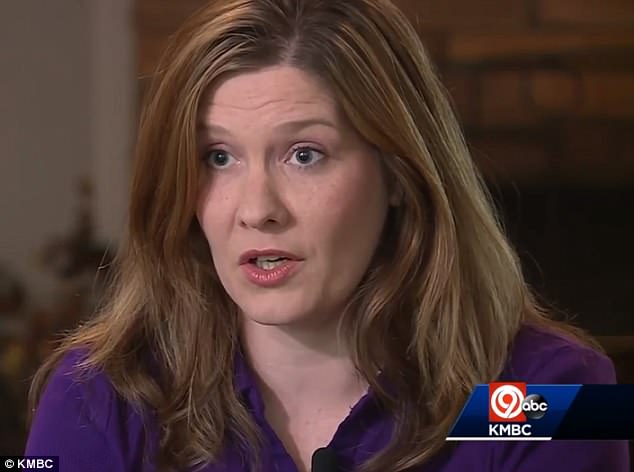 In defense of Shannon Goodman or not?
In her defense, Goodman has since argued she shouldn't be on the hook, instead blaming the recreation center, saying there was no glass buffer around the sculpture or even a sign around it saying 'Do not touch.'
A spokesman for the city of Overland Park said it had filed a claim with Travelers, its insurance company. 
'The city has a responsibility to file a claim with our insurance company, and we do that any time city property is damaged. 
'It will be up to the insurance companies to get this worked out,' they said. 
Fat luck one supposes. Do art pieces on loan count as city property? Why wasn't the art piece specifically insured in the first place- and who bears culpability for that decision?
Lyons went on to say the sculpture was  made of glass and other materials and had taken him two years to complete and that it was his most ambitious work to date.
Told Lyons,  'I want to be reimbursed for the amount of time that I spent on it and for what I think it is worth.'  
Should Shannon Goodman be on the hook? Commentators responds.
Which raises the awkward question what exactly is a glass sculpture actually worth anyway, and then there were these comments on the web which made this author wonder too….
'Why was this child allowed to run around and even touch things? Mommy, no matter how sweet and precious Jr is, this is YOUR RESPONSIBILITY!!!'
'First keep an eye on what your children are doing, even after it fell you continued talking!'
'Whoever installed the statue should have made sure it was securely anchored so that it wouldn't fall on anyone. Any person, large or small, could have toppled it over. It could have seriously injured someone when it fell.'
'A large or small person doing exactly what to it would make it topple over? There is no way to anchor it to the pedestal to make it unmovable. You are NOT supposed to actually touch art objects, but the kid was curious like kids are and didn't know no to touch it.'
I say he's entitled to $50 for materials. It has NO ADDITIONAL VALUE. Garbage modern "art."