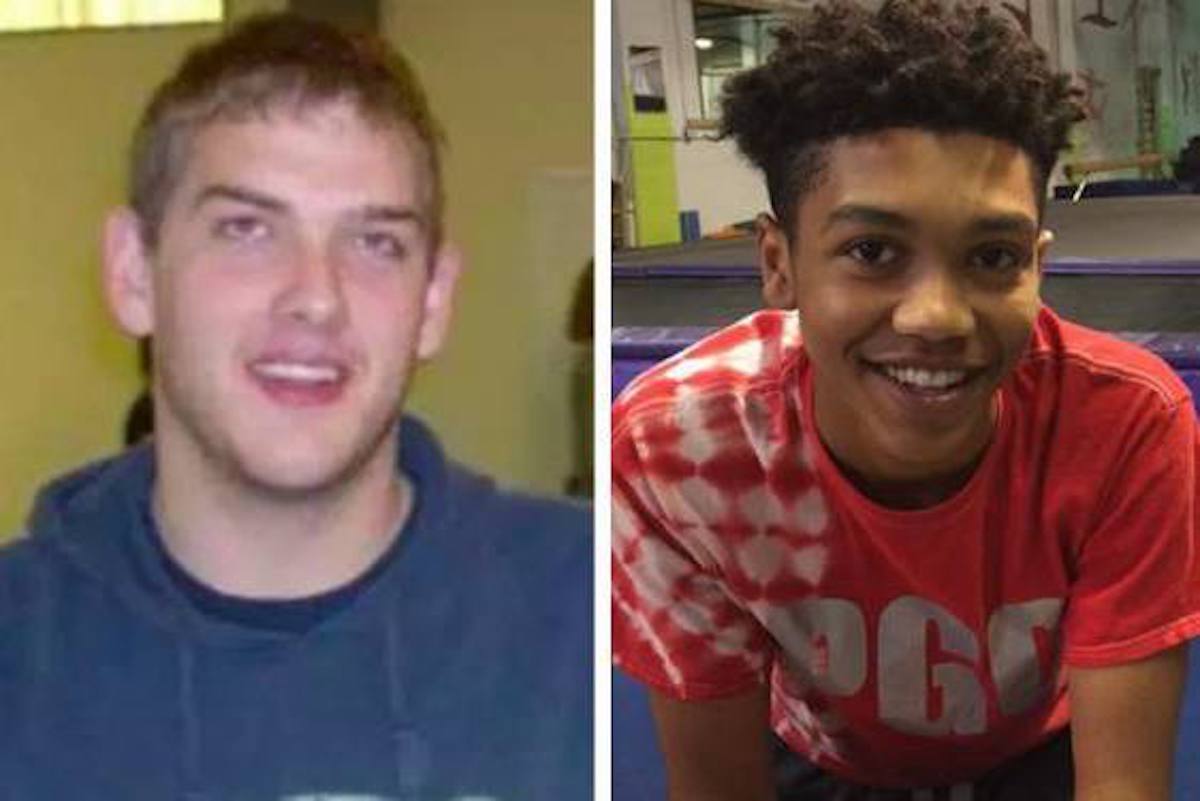 Pennsylvania 

East

Pittsburgh Officer Michael Rosfeld is indicted in the shooting death of unarmed black teen, 

Antwon Rose Jr. who was shot in the back. 
A Pennsylvania police officer who shot and killed an unarmed black teenager has been been charged with one count of criminal homicide according to court records.
Arraigned was East Pittsburgh Officer Michael Rosfeld, 30, with the police officer turning himself into authorities around 6:30am, Wednesday morning. Rosfeld was freed after posting $250,000 bond, CBS Pittsburgh reported.
Rosfeld, who is white, is charged in the death of 17-year-old Antwon Rose Jr. on June 19. 
Rose's shooting death occurred after Rosfeld had only been on duty in East Pittsburgh for three weeks, with the police officer formally sworn in about 90 minutes before the fatal shooting. Rosfeld had been working as a police officer in the region since 2011.
Allegheny District Attorney Stephen Zappala told of planning a press conference at 11am to release more details on the case against Rosfeld. 
The black teen's death followed Rose being a passenger in a car pulled over by Rosfeld on the evening of June 19th, after police said it matched the description of a car wanted in a shooting in a nearby town.
It was while Rosfeld was taking the driver into custody, Rose and a second passenger fled.
A video taken from a nearby house shows them running from the car. Three gunshots are heard, with video showing the passengers either falling or crouching as they pass between houses. It is unclear from the video if Rosfeld yelled for them to stop. Rose was shot three times. 
Authorities said two handguns were retrieved from the car, and District Attorney Stephen Zappala said an empty gun clip was found in Rose's pocket.
Of note, the other man who fled the scene, Zaijuan Hester, was charged this week with attempted homicide and other counts related to the drive-by shooting. The driver was not charged, with the individual saying he had been operating as a jitney driver.
The officer involved has been identified as Michael Rosfeld. He was sworn-into the department about 90 minutes before the deadly shooting but he had been on duty in east Pittsburgh for three weeks and has been an officer elsewhere in region since 2011. https://t.co/lMIaSu8JNH pic.twitter.com/5NS8nLZDMc

— CBS This Morning (@CBSThisMorning) June 22, 2018
Antwon Rose Jr. was 17 years old when he was shot three times in the back by East Pittsburgh police officer, Michael Rosfeld. The car Antwon and another young man was riding in was suspected to be involved in a shooting, but it was a false accusation. We want Justice. pic.twitter.com/dXUX1Ewswb

— Scintillating Queen of Zamunda (@BrownEyed_Babee) June 21, 2018
Antwon Rose Jr. family lawyers release statement:
Lawyers for Rose's family released the following statement on Rosfeld's arraignment.  
'The family views the indictment with guarded optimism. We realize that conviction is a long road ahead and it will require our continued advocacy on behalf of Antwon. We echo the sentiments that this officer with a history of violence and a history of manipulating evidence to obscure his violence at previous jobs, there should have been safeguards in place to ensure that he wasn't hired in the first place. Although it feels like we are moving in the direction of justice, the kind of evidence that existed at the time of the shooting, this is justice delayed for the family,' said Lee Merritt, family attorney for Antwon Rose's family.
'The Rose Family views the filing of criminal homicide charges with guarded optimism. There is a long road ahead to a conviction and proper sentencing which is the only thing we will accept as justice,' said Antwon Rose family attorneys Fred and Monte Rabner.
#BREAKING now on @ABC7: East Pittsburgh Officer – Michael Rosfeld – is charged with one count of criminal homicide in the shooting death of Antwon Rose, according to court documents. He was sworn in just hours before the shooting. pic.twitter.com/p8IoMhjYgK

— Brandi Hitt (@ABC7Brandi) June 27, 2018
Officer Michael Rosfeld: history of repeated violations.
Rosfeld has been on administrative leave since the shooting occurred.
He told WTAE-TV last week he could not discuss the shooting but said he was getting a lot of support from law enforcement. He also said he's stayed away from watching news reports and was not aware of the bystander video posted to social media.
Along with the newly sworn police officer working for the department for approximately three weeks, and working in other police capacities since 2011, Rosefield had previously been dismissed for cause from the university. The cause of dismissal was given as Rosefeld allegedly being violent and falsifying reports.
Rose's mother, Michelle Kenney, decried Rosfeld as having 'murdered my son in cold blood.'
'If he has a son, I pray his heart never has to hurt the way mine does,' she said. 'But I think he should pay for taking my son's life.'
Told Kenney via ABC: 'A cop killed him. The same person that should have protected him, the same person who I taught my son to respect and always have the most respect for, never be disrespectful, murdered my son.'
The mother told of her son having traveled around the world and teaching himself how to ski and play hockey. He dreamed of one day becoming a chemical engineer, she said. 
'I knew Antwon was destined for greatness,' she added.
Kenney said the shooting was even more tragic because she had always taught her son to have the utmost respect for the law and police.
Officer Michael Rosfeld: Justifiable use of force? 
Civil rights attorney S Lee Merritt, who is representing Antwon's family, said he does not see justification for the use of deadly force by the rookie cop against the teen.
Merritt said the teen was unarmed and did not pose an immediate threat.
The case is among several across the country in recent years that have ignited a national debate over race and policing.
Protestors have decried police use of force and gun violence as others held signs that read: 'Justice for Antwon.' 
From 2005 to 2017, 82 police officers across the United States have been charged with murder or manslaughter resulting from on-duty shootings, according to research by Philip Stinson, an associate professor of criminal justice at Bowling Green State University in Ohio. In the last 13 years, only one officer was convicted of intentional murder, according to Stinson.
Rosfeld's next court date is scheduled for July 6.
We just received this anonymous submission. Officer Michael Rosfeld murdered 17yo Antwon Rose on Tuesday.#Pittsburgh #antwonrose #acab pic.twitter.com/MF0nUCJglr

— Filler PGH (@PghAutonomy) June 21, 2018
Officer Michael Rosfeld should be made to feel as afraid as Antwon did when he was running from him. I hope he fears for his life just like Antwon did. I hope can't eat. I hope he can't sleep. I hope he never recovers from this.

— Felicity Williams (@FelicityWill) June 21, 2018