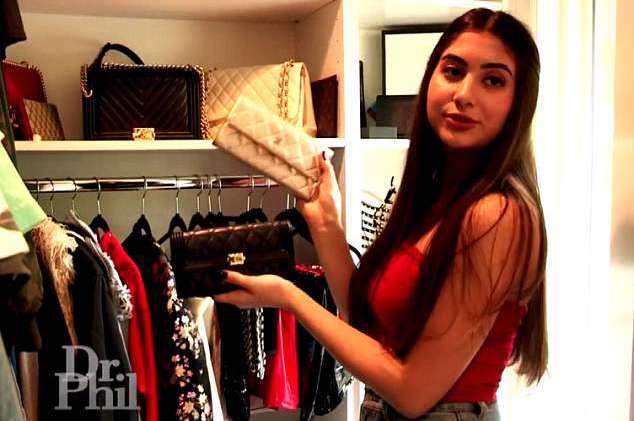 Nicolette Beverly Hills Princess: My ideal monthly allowance should be $10K. A well to do 15 year old teen appears on the Dr Phil show with her mother who she berates for having the audacity to cut her monthly allowance from $5K to $1K. 
Also making her impeccable tabloid appearance (and how!) was 15 year old Beverly Hills princess, Nicolette who appeared along with her mom, Nina on the Dr Phil show where the teen told of her disbelief after 'mommy' cut her monthly allowance from $5K to a mere $1K. Ouch!
Appearing in front of a disbelieving Dr Phil (and he thought he's seen it all), Nicolette chastised her mother for forcing her to downgrade and having to do without the essential 'must have' items (more on that below) that a Beverly Hills teen needs circa 2018 in Modern 'I am damn rich and you're not, never mind' America.
With a poise and veneer reserved for veteran diamond crusted socialite dames, Nicolette explained how she was willing to compromise with mom and settle for a mere $2,500 monthly allowance. But would mom bite and most importantly could Dr. Phil our collective hero and savior of demented souls knock some sense into our deluded Beverly Hills princess?
Explained a poised Nicolette on Tuesday's episode of human freak vignettes, ' 'I want my mom to understand that I can't live off $1,000 a month, and I grew up on a certain lifestyle. She can't just take that away from me immediately'. 
Before her magic appearance on the talk show, Nicolette told the cameras that her mother raised her with everything she ever wanted, including 'amazing schools,' a driver, a nanny, and personal trainers.
'It's the only life I've ever known,' she said.
All of which is a backhand way of saying, 'I was born to deserve it and damn if you cut me off now that I come to enjoy it too much.' 
Nina admitted giving Nicolette her daughter credit cards without any credit limit at a 'very young age,' (yes mommy time to accept the consequences of hand making your very own Caligula). So delicious were the credit bill run ups, Ninia told of some months bills being as high as $10,000 — despite her daughter's already having a $5,000 allowance.
'Feed me now mommy!'
Nicolette Beverly Hills Princess shows off her toys….
Showing off in front of a bemused Dr Phil (for added fun watch the above clip in slow motion as Dr Phil's eyeballs do somersaults) our Beverly Hills princess hero proceeded to explain her love of essential designer clothes along with shopping on Rodeo Drive (don't we all bixches?!!) along with Nicolette 'proudly' rattling off pieces from her designer bag collection, including a couple Chanel bags that cost about $5,000 a piece. 
'Mommy- I want that one. And that one too. Yes, the shiny one next to the security guard!'
Nicolette explained her favorite handbag is her Céline Micro Luggage Tote Bag, which cost a mere $3,000. 
'I keep it on a chair because it's just so special,' she said. 'I literally think of it as my own child.'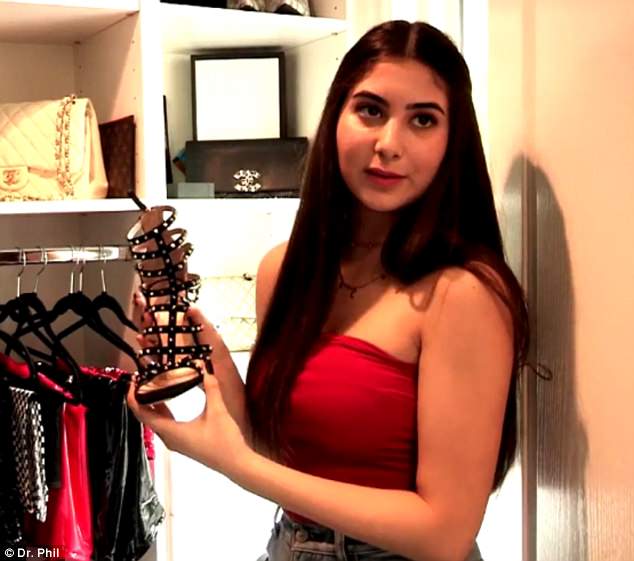 Nicolette Beverly Hills Princess: 'People are going to hate on me, but they wish they were me,' 
And then it came time to show off Nicolettes must have designer footwear….
'These are my favorite pair of heels. They're Valentinos I love them so much,' our collective nightmare gushed while showing off her $1,045 caged leather sandals featuring gold studs. 
At the end of her close tour, Nicolette pulled out her Louis Vuitton Keepall, which retails for $1,420 to $1,860 depending on the size and style.
'I really like this piece. It's Louis Vuitton,' boasted Caligula. 
Nicolette's spending habits are so out of control that mommy estimated giving her private hand made nightmare circa $100,000 in the past year alone.
'I know I am a spoiled brat, but I enjoy the lifestyle, you know? People are going to hate on me, but they wish they were me,' Nicolette explained, faintly aware that she is indeed living the gilded life.  
Realizing she had created her own private live in gobble up diamonds 'monster'. Nina told of trying scaling back her daughter's allowance, only to be annoyed that her teenage brat has put her foot down and refuses to accept her new budget. 
'I feel like a peasant. I can't live like this anymore,' Nicolette explained as Dr Phil's eyes watered. 'I'm always out of money. If you ask me, I think my mom should be giving me at least $2,500 a month just to cover my basic expenses.'
To her credit, Nicolette admitted making her mother's 'life a living hell' (and ours a delicious slow motion car wreck spectacle) when she runs out of money, with Nina tending to give in because she doesn't want to 'deal with the drama.' 
'My mom refers to me as a Beverly Hill brat. It's true. I'm a brat — and I'm not going to change,' she said. 
But shxt gets better…..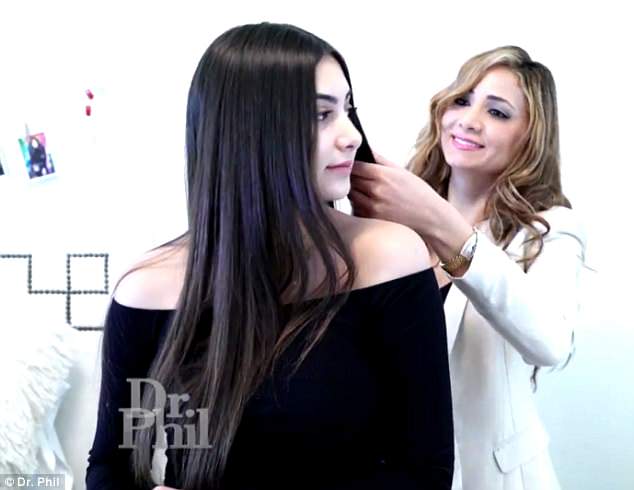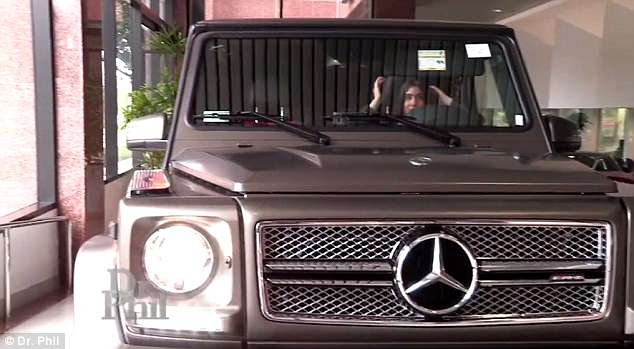 Nicolette Beverly Hills Princess: 'The truth is I blame mommy for all my existential pain….'
Not only does Nicolette want her allowance raised, she also expects her mom to buy her a $231,000 Mercedes-Benz G-Wagen in 'matte black' for her 16th birthday. 
'I'm a princess. I'm definitely worth the price tag,' our collective princess nonchalantly wafted without a hint of irony. 
Dr Phil taking his cues from a groaning audience took to pointing that Nina had essentially compromising her daughter's values, while making her feel like she has no self-worth without material goods just to make herself feel better.
And that's when we all realized that this was really all about Nina, her own lack of self esteem, self worth, lack of parenting skills and her sense of propriety and guiding her child into a healthy sense of reality and responsibility. The Kardashians and pimp momma of course need not apply.
Pleading for her own thrashing, Nina confessed not knowing how to properly punish her 15-year-old (no worries Nina, continue reading, I am going to teach you…). Previous efforts including taking Caligula's phone and laptop away have merited little results as Nina only ends up giving them right back because Nicolette 'needs them.'
Here's a hint Nina. Go home tonight and burn them all in kerosene and then when Caligula balls her eyes out, give her the address of the library down the road where she can use the local computers where she can then apply for McDonald's gigs online. It's a rite of passage that will make Nicolette whole and forever thanking you once she gets over herself.
And this is the moment we get into some heavy shxt as Nicolette begins to psycho-analyze her relationship with her mother after insisting her mother 'should have done better,' while insisting Nina never loved her as a child. 
'She says that she cares about me but still, as a child, I was never loved. She just gave me money,' explained our tender hawt mess now breaking down in tears. 
Implores mommy in a baying crescendo, 'I wish I could take things back and make things better,'
Adding, 'If I've done you wrong, I'm really sorry. If I hurt you, I am really sorry. I know you're hurt. I understand your pain, I just want to help fix it for you.'
No wonder your ratings keep going up Dr Phil, you sly bastard!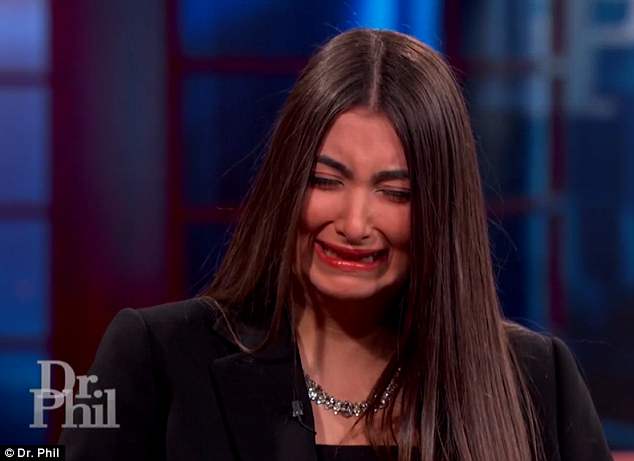 Nicolette Beverly Hills Princess goes to the soup kitchen and discovers she prefers being rich instead.
Other tidbits of information provided which cements the audiences view that deep down, Nicolette is empty, lonely and begging for a huge smack hug from mommy, and that even a gold plated truck will distract her past lunchtime.
Explains the dailymail: Nicolette doesn't even go to high school with other kids her age. She takes online classes because she 'just got traumatized' at her old school.
Although Nina suggested the real issue was her daughter's desire to keep up with her peers' lavish spending, Nicolette insisted that there were other reasons she couldn't 'get into.'
From there, mommy and gold-licking daughter were joined on stage by their friend Joel, who recently moved into Nina and Nicolette's house to watch the teen's spending and to chauffeur her around. Naturally. 
He admitted that the teen has a habit of calling people 'peasants,' while insisting Nicolette was ultimately a lost soul who needed a sober reality check nice person.
'Once you get to know her, she's a great person and I love them both,' Joel said. 
'I'm a great person,' Nicolette interjected. 'I was raised horribly.'
And finally the made for TV sober reality check came when cameras pan to Dr. Phil sending Nicolette to feed the homeless at a shelter near Skid Row in downtown Los Angeles. 
'It was a culture shock and I was scared at first,' told Nicolette of the inconvenient experience, while insisting she was grateful to have the experience. Along with becoming her own national tabloid icon. 
Nicolette says that in an ideal world, she would want her mom to give her $10,000 a month in allowance. #DrPhil https://t.co/onvnAjq2DR

— Dr. Phil (@DrPhil) May 1, 2018