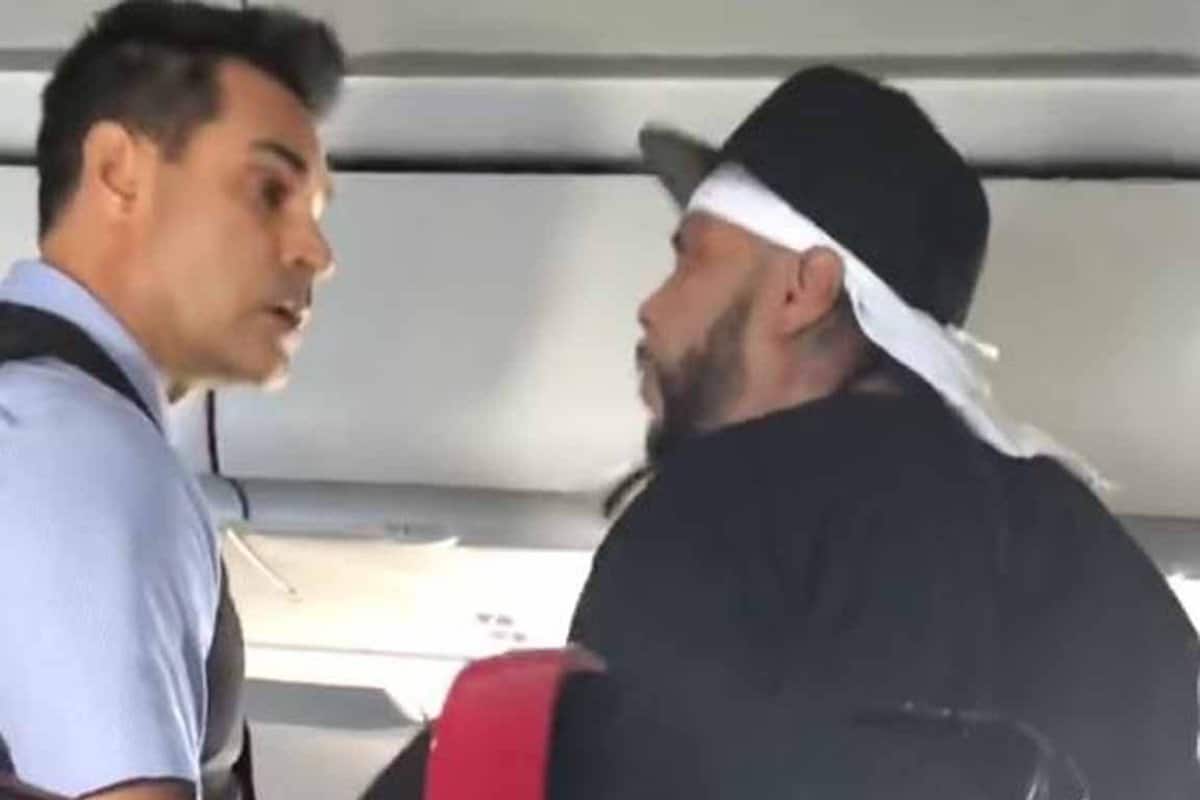 Jason Felix American Airlines drunk passenger: 'Are you my bartender?' A drunken passenger is caught on video by Bill Bolduc as he makes a scene that leads to an on flight brawl. 
Also making his tabloid appearance (and how!) is American Airlines passenger, Jason Felix who created uproar during a recent flight from St Croix to Miami after a drinking episode saw the drunken man belligerently lash out at another passenger after being refused further alcohol.
Footage as filmed by fellow passenger, Bill Bolduc showed Felix repeatedly striking another passenger after they asked Felix to 'calm down' after a flight attendant refused to give our collective hero beer.
Pxssed off, Felix is seen banging on overhead bins (might as well get the whole plane's attention…) while ranting at other passengers, demanding another drink during Wednesday's Flight #1293 from St Croix to Miami. 
In the clip (see below), Felix, who is dressed in a mostly black tee shirt with the word 'unity' (naturally…) written across the front, a black hat and a white du-rag, can be seen facing off with a flight attendant. 
The flight attendant tells the inebriated passenger, 'Please sit down. I'm not bringing you any more beers. We'll be there in an hour.'
By this point our collective hero is standing in the aisle, swaggering in disbelief and in desperate search of one more drink. 
Another clip shows the flight attendant and Felix, face to face in the aisle again.
'No more beers,' he tells the passenger.
'Retorts our happy go lucky passenger, 'You my bartender?' 
Responds the hapless flight attendant, 'Yes, I'm your bartender'. 
Jason Felix American Airlines drunk passenger free for all on-flight brawl….
As the above is going on, a man in a blue plaid shirt is seen standing behind Felix, appearing to wait for the opportunity to pass our collective hero. Easier said than done….
Felix sensing he is not going to get that desperate drink, claps his hands announcing, 'That's it, I'm done.'
Further footage now shows the man in plaid punching Felix.
And this is where it gets toxic delicious….
A woman in a grey top can then be seen trying to pull the man in plaid back, while a third man in a white shirt is visible behind our collective hero, holding his arms behind his back. 
The flight attendant comes back into view and calmly approaches the fray, prying the men apart and eventually telling the man in plaid, 'go up there,' and gesturing up the aisle.
And now it's the captain's turn….
After the fight breaks up, the captain comes over the speaker and says, 'The seat belt light is on. Please return immediately to your seats.'
The camera returns to show four Miami-Dade County police officers boarding the plane the captain has landed, proceeding to escorting Felix off the aircraft. 
'We just wanna talk to you outside before we disembark the whole aircraft,' an officer says to Felix.
At first, Felix tries to get the officer to go in front of him, but eventually agrees to deplane.
Bolduc told of the entire situation lasting over an hour, with several passengers forced to try to calm Felix throughout the 'meltdown'.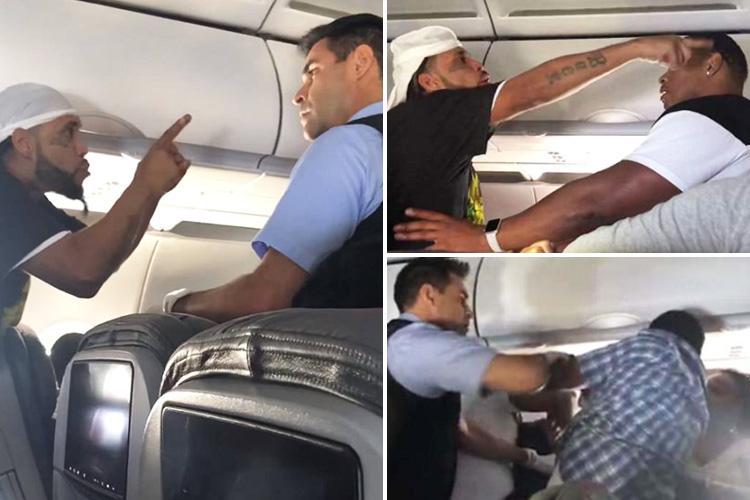 American Airlines praised for handling combustible situation: 
Of note, Bolduc gave high grades to American Airlines as to the way employees sought to handle the 'disruptive' episode. 
Told Bolduc via Local 10 News, 'The flight attendants were very professional and handled a bad situation the best they could. 
'It could have quickly escalated even further if the [flight attendants] didn't maintain their composure,' Bolduc wrote in a comment on his YouTube page. 
'At one point, there was discussion of diverting the aircraft and landing before Miami but we made it there without additional people being hurt.'
Anyone for another drink? Or maybe not….