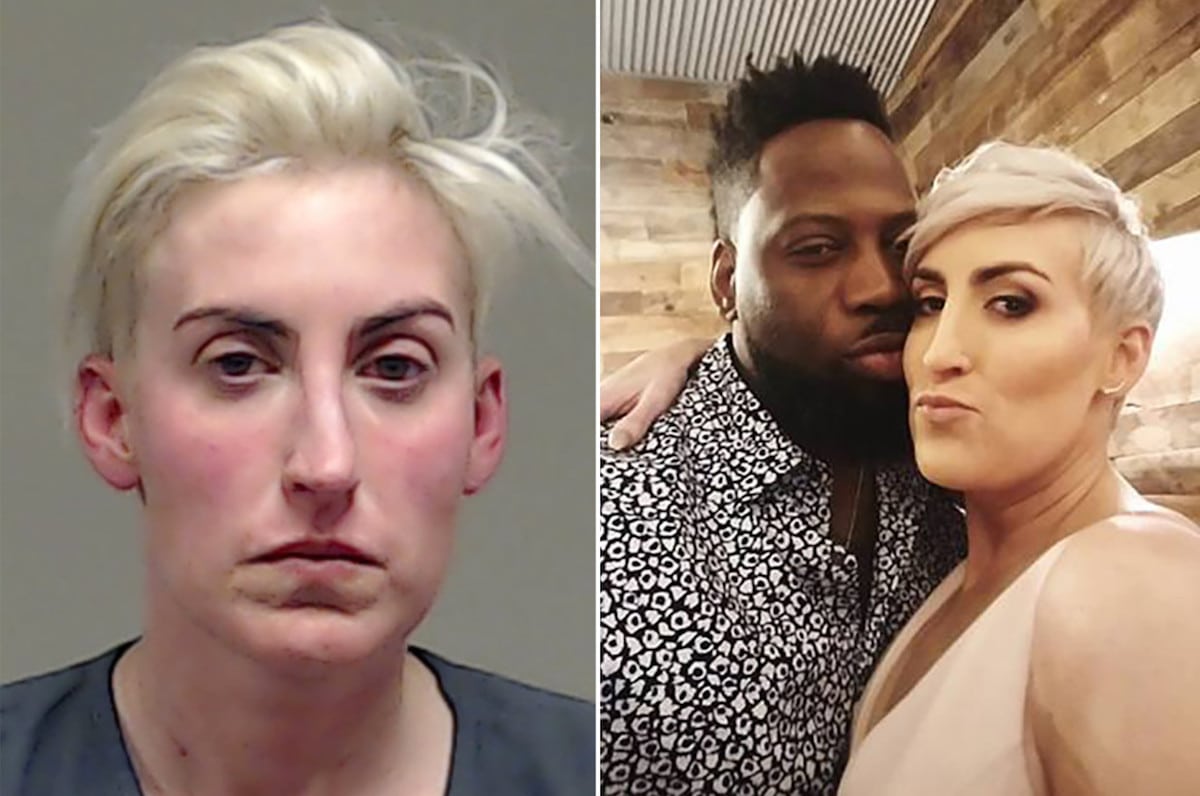 Morgan Leigh Sims a

 McKinney, Texas wife shoots her husband dead multiple times insisting she was only defending herself from ongoing abuse. But does the evidence contradict her? 
A McKinney, Texas woman accused of fatally shooting her husband shortly after their seventh wedding anniversary has claimed she was only defending herself from the man's ongoing abuse.
Morgan Leigh Sims, 33, made the claim about her husband, Daray Vontrell Sims, to a Collin County Sheriff's Office deputy after authorities were called on Friday to the couple's home according to search warrants and affidavits obtained by the Dallas Morning News.
Noted an arrest affidavit, 'When asked what happened, Sims stated that she had 'had been abused, which caused me to defend myself'. 
Notice of the husband's death came after police received a disturbance call from Sim's brother saying his sister had been 'arguing and fighting' with her husband. Police dispatchers then received a call from Morgan Sims' mother, alleging her daughter shot her husband while she and the couple's two children – ages 2 and 6 – were at the home.
Daray Sims, a 37-year-old former football player at Abilene Christian University, was  found inside the home on a bathroom floor that was covered in 'copious amounts of blood,' noted the affidavit.
Collin County Medical Examiner's Office noted the husband dying from multiple gunshot wounds.
Morgan Sims was taken into custody after her brother told dispatchers that he left the residence in a black Range Rover. After telling the deputy she had been abused by her husband, Sims declined to say anything else and asked for an attorney.
A semiautomatic pistol with a magazine and a live round in the chamber was found during a search of Sims' Range Rover. It's unclear if the Walther P22 was the weapon used in the shooting, a sheriff's spokesman later told media.
Deputies also found $9,560 in cash inside the vehicle, pills believed to be Valium and Xanax, and the family's passports.
A search of the couple's home led to deputies recovering two spent .22 cartridge casings and one live .22 cartridge. An empty container of disinfecting wipes and other used cleaning supplies were also found.
Daray Sims, according to Dallas County court records, was arrested in 2014 on suspicion of assault-family violence in DeSoto, where a grand jury ultimately declined to indict him.
Morgan Leigh Sims 7th wedding anniversary post: 'I wouldn't want to do this thing called life without you'. 
The couple celebrated their seventh anniversary earlier this month, according to Morgan Sims' Facebook profile.
'I wouldn't want to do this thing called life without you,' she wrote on April 10. 'We have built a lot together in these years and I am blessed to have done it with you. Marriage and parenting is work, compromise, sacrifice, teamwork, but most importantly love. It's not always sunshine, but if you can weather the storms together it's all worth it.'
Later that day, Sims thanked her husband for a special bird of paradise bouquet and his attention to detail.
'So beautiful,' she wrote. 'Anyone who knows me knows this is absolutely my favorite flower and they were my wedding flowers! So much meaning behind this beautiful arrangement! My husband puts in lots of effort finding these beauties.'
Sims remains held on charges of murder and child endangerment at the Collin County Detention Center in lieu of $500,000 bail, jail records show.