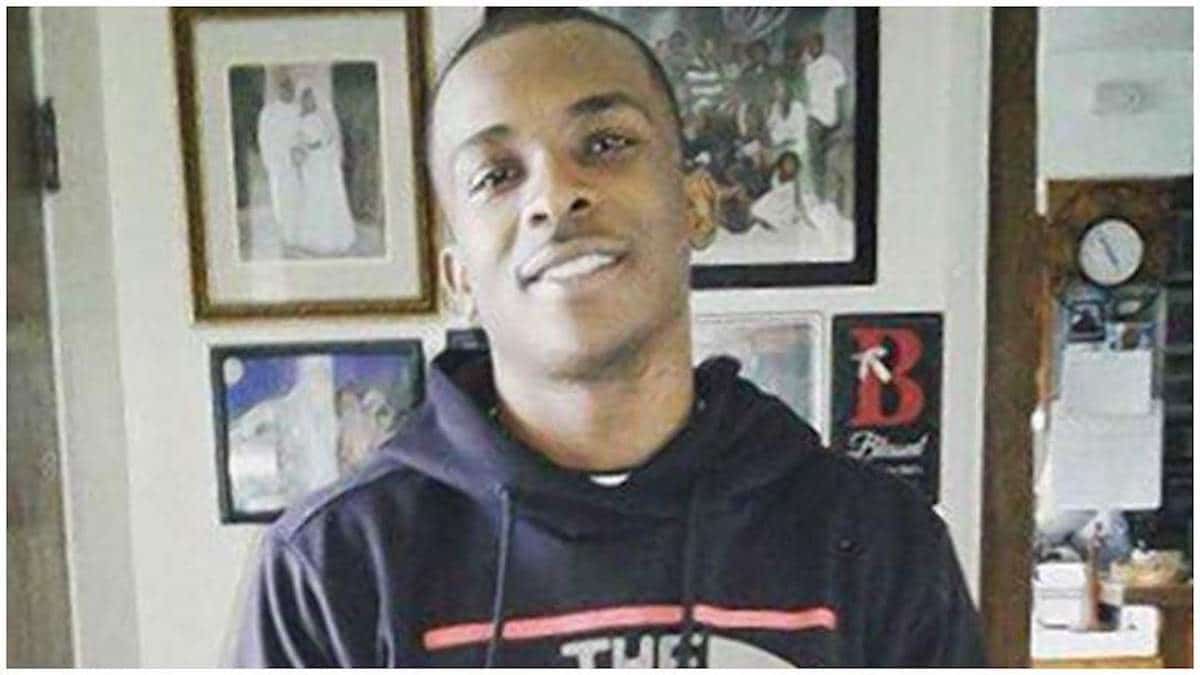 Stephon Alonzo Clark black man gunned down by Sacramento police. A black man's death raises questions whether police used excessive force, once again?
Body camera footage has captured the moment 22 year old African American man, Stephon Alonzo Clark being fatally shot by Sacramento police responding to a 'disturbance' nearby his grandparent's home.
In all, Clark was felled by no less than 20 bullets as two police officers chased the unarmed man into his grandparent's backyard. His crime? He was holding a cellphone that was allegedly confused for being a weapon. His other crime, commentators on the web wondered, was Stephon Clark being a black man.
Matters came to the fore Sunday night when police responded to a call of a person 'wearing a hoodie' breaking car windows nearby the family residence. Upon arriving at the scene, officers encountered Clark (whose legal name was Stephan Clark), who they believed to be armed reported sacbee.
It was while police were responding to the unfolding scene that a Sacramento County Sheriff's Department's helicopter hovering overhead noticed a man making his way into the backyard of a South Sacramento residence circa 9:25 p.m.
From there police were directed to the home, which happened to be the residence of Clarks' grandparents which their grandson shared with them.
Deputies conveyed to responding ground police that an unidentified man had picked up a toolbar and had begun breaking into a window to a home before making his way into the backyard of another residence.
What appeared to be suspicious behavior turned out to be par for the course, with Sequita Thompson, Clarks' grandmother telling the latimes that guests entering their home through the backyard due to their faulty doorbell and the fact that she and her husband have 'poor mobility'.
It's soon after responding police fired at Thompson's grandson, with Clark's grandmother insisting that neither she or her husband heard police issue commands prior to firing off gunshots in her grandson's direction.
Screams one of the pursuing officers on the video clip, 'Hey! Show me your hands! Stop, stop!'
No response, as Clark is seen continuing to flee.
Demands the officer again,  'Show me your hands! Gun, gun, gun!'
From there a barrage of gunfire is heard, with Thompson saying she and her husband along with their seven year old granddaughter diving to the ground for cover.
This is cold blooded execution. They shot #StephonClark 20 times, didn't call an ambulance, & sat asking each other if they were okay.

Meanwhile an unarmed Clark died in his own backyard.?

WARNING GRAPHIC VIDEO#BlackLivesMatter

— Qasim Rashid, Esq. (@MuslimIQ) March 21, 2018
Stephon Alonzo Clark police shooting death: 'Did they have to do that?'
It was only after police entered the family home and began interviewing the family that it eventually became apparent what happened. Confused and unaware what had transpired, and by then kept in the dark by police over several hours, it was only after looking out the window into the family backyard that Thompson saw the deceased body of her grandson lying in a pool of his own blood.
'I opened that curtain and he was dead,' Thompson told via the Bee. 'I started screaming.'
Reiterated the grandmother who is now demanding answers, 'He was at the wrong place at the wrong time in his own backyard?'
Adding, 'C'mon now, they didn't have to do that.'
Sequita Thompson shows us where she found her grandson, 23-year-old Stephon Clark dead in her backyard. @SacPolice says he came at officers with a "toolbar" but Thompson doesn't believe their story. @FOX40 pic.twitter.com/wp8i8zYnEF

— Doug Johnson (@DougJohnsonFX40) March 20, 2018
Sacramento police defend shooting of Clark: 
Responding to claims that cops had fired capriciously at Clark, Sacramento police released a statement saying that officers giving Clark commands to stop and show his hands, only for Clark to 'immediately' flee.
It's from there that responding police chased Clark to the backyard, where authorities say he turned and advanced toward the officers 'while holding an object which was extended in front of him,' reported the latimes.
'The officers believed the suspect was pointing a firearm at them. Fearing for their safety, the officers fired their duty weapons striking the suspect multiple times,' noted a Sacramento Police news release. 'The involved officers held their position for approximately five minutes, until additional officers arrived. Officers approached the suspect, handcuffed him and began life saving efforts.'
Stephan Clark was pronounced dead at the scene.
Cops press release told of Clark, being caught breaking into three cars and shattering the glass door of a neighbor's home.
"@NAACP @NAACP_LDF @CaNaacp this is Stephon Alonzo Clark father of two; Husband and provider for his family gunned down in his grandmothers back yard by @SacPolice he was shot at 9:18 and his family wasn't even notified until 4am. Please help his family get justice." pic.twitter.com/IEtDNL6Zw6

— 3️⃣ (@g3_ftl) March 19, 2018
Stephon Alonzo Clark shooting death: Just another death down to prejudice, bias and disregard of black life? 
Clark's brother, Stevante Clark said Stephon was a father of two sons, aged 1 and 3, and having been released from county jail about a month earlier, conceding that his brother had 'issues' with the law.
Reported sacbee: 'A search of Sacramento Superior Court records found four related cases for a Stephan Alonzo Clark. The most recent were two felony counts of domestic abuse, to which Clark – who preferred to go by the name Stephon – pleaded guilty and agreed to complete a treatment program. The court record also shows a 2008 robbery charge, and charges in 2013 for possession of a firearm and possession of a controlled substance.'
Despite Clark's prior criminal history, the question remained, did police go overboard in using a torrent of gunfire to bring down a fleeing suspect who turned out to be of no immediate danger?
'I viewed the videos carefully,' told Sacramento Mayor Darrell Steinberg via twitter. 'Based on the videos alone, I cannot second guess the split-second decisions of our officers and I'm not going to do that. The investigation must be completed. We need more information in addition to the video before we can render any final conclusions.'
Clark's shooting death and police's response to what many in the African American community regard as murder has led to a volley of disconcert being expressed.
Told community activist Berry Accius via the Bee, 'This is a moment of truth'.
Accius like many in the community wonder if police force was excessive, with many also wondering why is it that police force is habitually excessive when it comes to the African American community? Which is to wonder about police bias, prejudice and the adage that 'it's always a black man who perpetrates violent crimes'. Or is it?
Reiterated Accius, 'This is definitely where transparency, accountability and justice are really going to be put in full display with this new regime of policing. I think a lot of us in the community have been told there will be a whole other way of how the police in Sacramento police the community, especially black and brown people, and this will be the test.'
And then there were these comments on twitter that also captured this author's attention. See what you think?
Stephon Alonzo Clark, 22, the father of two sons. They failed you. Shot at you 20 times then reloaded their weapons as if you would survive that lynching. Police reform won't change the culture that's embedded in this corrupt system. We have to end the police system. pic.twitter.com/TePD65NlGz

— Ohun Ashe (@Ohun_Ashe) March 22, 2018
My heart aches every time this happens.

22 years old. A fucking cell phone.

If you're not angry, you're not paying attention. #StephonClark #BlackLivesMatter https://t.co/PoeFAKhecA

— kayla seguin (@mlleseguin) March 21, 2018
Just can't stop killing unarmed Black men!! #StephonClark https://t.co/nNved16X3J

— Victor Morgan (@vmorgan2427) March 21, 2018
This is me, standing in my backyard.
This is my phone, in my hand.#StephonClark was MURDERED by cops, in his own backyard, because they mistook his cellphone for a crowbar.

I DO NOT want to die in my backyard, phone in hand.
BETTER TRAINING IS NEEDED.#ReleaseTheBodycam pic.twitter.com/iC2skSoBIV

— BrooklynDad_Defiant! (@mmpadellan) March 21, 2018
This is cold blooded execution. They shot #StephonClark 20 times, didn't call an ambulance, & sat asking each other if they were okay.

Meanwhile an unarmed Clark died in his own backyard.?

WARNING GRAPHIC VIDEO#BlackLivesMatter

— Qasim Rashid, Esq. (@MuslimIQ) March 21, 2018