Dr William Thomas O'Byrne mystery death: A UAB doctor dies after being assaulted while in Mexico as authorities have yet to identify cause of death or perpetrators. 
A UAB doctor has died after being viciously assaulted while on holiday in Mexico.
Pronounced dead on Wednesday was Dr William Thomas O'Byrne, 54, who'd been on life support after being flown back to the United States following an allged beating last week. 
Puerto Vallarta authorities said O'Byrne, an anesthesiologist who specialized in critical care at UAB had been traveling with friends when he became separated, leading to the man being beaten and 'left for dead in a ditch'. 
Friends were able to locate the missing doctor, managing to get him to a local hospital before being airlifted to Birmingham, Alabama. 
How and who assaulted O'Byne continues to remain not understood.
Noted one commentator on the web, 'Mexico has a per capita murder rate twice that of Alabama which has the 3rd highest rate in the US. However Birmingham has a murder rate over 50% higher than Mexico.'
Of note, a report via al.com told of US authorities yet to corroborate the initial account relating to O'Byrne' beating death. US authorities said if any crime happened, the law enforcement jurisdiction would be in Mexico.
A spokesman at the U.S. Embassy in Mexico City said they are aware of the case, and are working to gather information for release.
UAB officials to date have provided few details relating to O'Byne's death.
Read a statement, 'At the request of the family, we have been asked not to release any information'.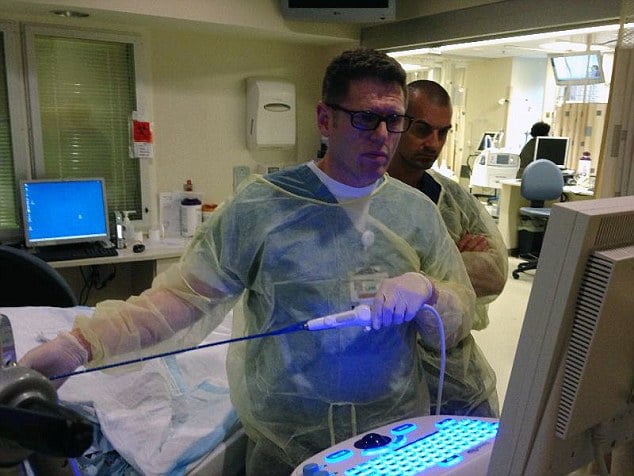 Dr William Thomas O'Byrne much beloved medic with questions over safety to travel to Mexico. 
O'Byrne, a Blount County native, graduated from the University of South Alabama College of Medicine in 1997. He most recently worked UAB Hospital, where he was also an associate professor.
Dr. Jason Hall, an anesthesiology resident at Duke, said O'Byrne was a special man.
'Like he was to so many medical students and residents before me, he was my mentor and friend,' Hall said via al.com. 'He was a gifted physician trained both in medicine and anesthesiology with fellowship training in critical care. He showed kindness and genuine concern for his patients above and beyond that of other physicians.'
Hall said O'Byrne always demonstrated the utmost respect for his colleagues and co-workers.
Reiterated Hall, 'His passing is a terrible loss for the medical community, and he will be truly missed. His friendship and advice has comforted and motivated me throughout my medical training, and I can only hope to live up to the example he set for all physicians.'
The U.S. State Department is currently advising citizens not to travel to several parts of Mexico due to crime.
While Puerto Vallarta itself is considered safe, the State Department says citizens should 'reconsider travel' to elsewhere in the state of Jalisco.
The neighboring states of Colima and Michoacán are under 'do not travel' warnings.