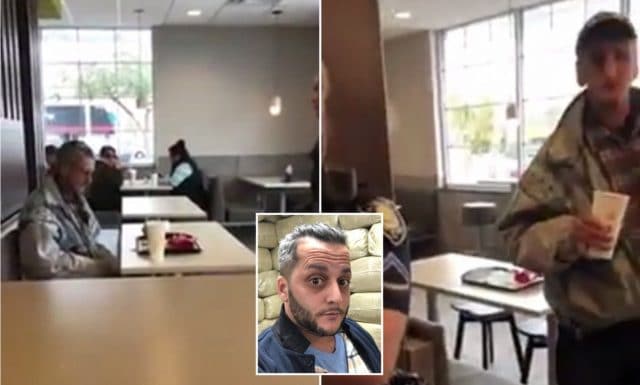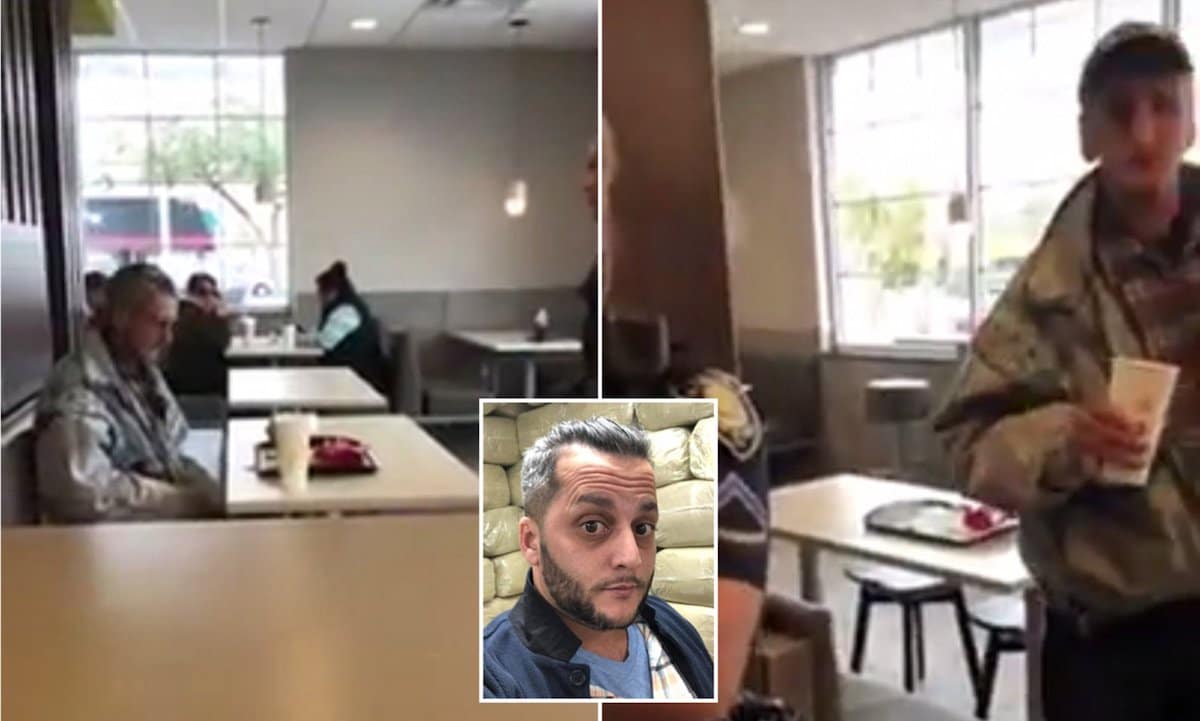 Yossi Gallo Good Samaritan thrown out of Myrtle Beach McDonald's by cop after buying a homeless man a meal: social media responds after video goes viral. 
Disconcert has come to the fore after video showing a cop throwing out a Good Samaritan at a McDonald's store after treating a homeless man to a meal.
Soon after purchasing the meal, staff at the Myrtle Beach, South Carolina fast food outlet called cops demanding both the Good Samaritan, Yossi Gallo and the homeless man leave.
Video as filmed by Gallo captured the moment Myrtle Beach police officer, Assia Sououd arriving telling the homeless man to leave, without finishing his meal, following employee and customer complaints.
During the filming, an irate Gallo confronted the female police officer and management for, 'treating the man so poorly'.
Eventually Gallo was also asked to leave for disorderly conduct, and ended up taking the unidentified man to another eatery. 
Yossi Gallo Good Samaritan video didn't capture events as they happened officials insist:
Come Thursday night, the video which has generated more than 51 million views on Facebook, led to open outcry, with social media users reacting angrily to the law enforcement response.
Myrtle Beach mayor Brenda Bethune and police insist the film didn't accurately portray exactly what happened and have defended the officer's response. 
According to the dailymail, the owner of the McDonald's location said that Gallo has behaved improperly on prior occasions and that this was not the first time he was asked to leave. 
In the video, Officer Sououd can be heard telling the homeless man he needed to leave because he was asking McDonald's customers for money.
Gallo said the homeless man didn't ask him for money, and he couldn't understand why they couldn't finish their meals.
The restaurant manager then tells Gallo to stop yelling and says he is being disorderly.
The incident began after Gallo said he invited an unidentified man believed to be homeless into a McDonald's.
Gallo paid for a meal, which the man then began eating at a table inside the restaurant.
'I waved him down, and I said, "Hey, are you hungry?" and he said, "Yes",' Gallo told WMBF-TV. 
'So I went in there with him, and as soon as we went inside, the lady at the register says, "You're not getting food." She tells him he's not getting food.'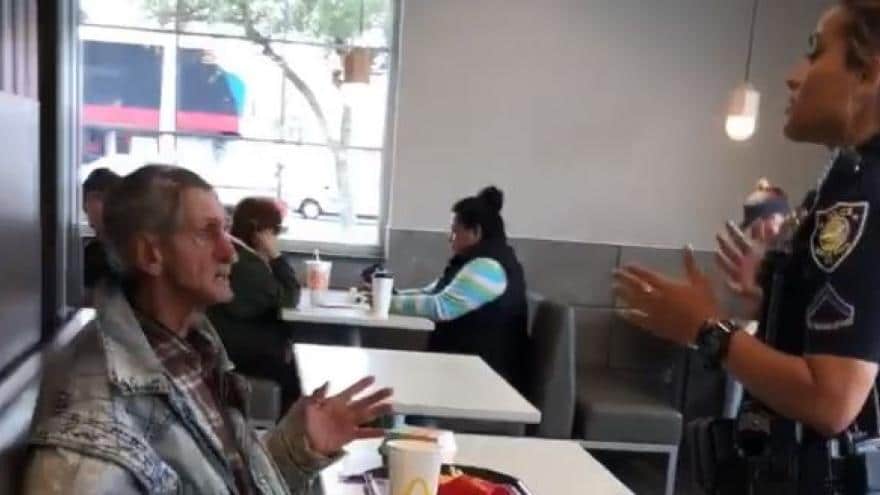 Officer Assia Sououd tells homeless man he needs to leave:
Gallo said he was so angered by the cashier's actions that he began to record the incident on his cell phone.
In the video, Officer Sououd is seen telling the homeless man that he needed to leave the restaurant after he was done eating. 
Gallo is then heard in the video yelling at McDonald's employees.
'You guys suck. He didn't even ask me for food. I brought him from outside. You guys suck,' Gallo is heard saying.
Moments later, a McDonald's employee who is believed to be the branch manager comes over to Gallo and asks him to keep his voice down.
'Calm your voice,' he tells Gallo in the video. 'That's what I'm asking you to do.'
'This is how I talk. I talk loud. If the officer has a problem with that, the officer's going to arrest me,' Gallo responded.
'Sir, you're being disorderly,' the employee said.
The officer then tells Gallo that she was called to the restaurant because 'multiple people have complained' about the man asking for money.
The manager once again comes over to Gallo and asks him to quiet down only for Gallo to respond, 'You guys suck.'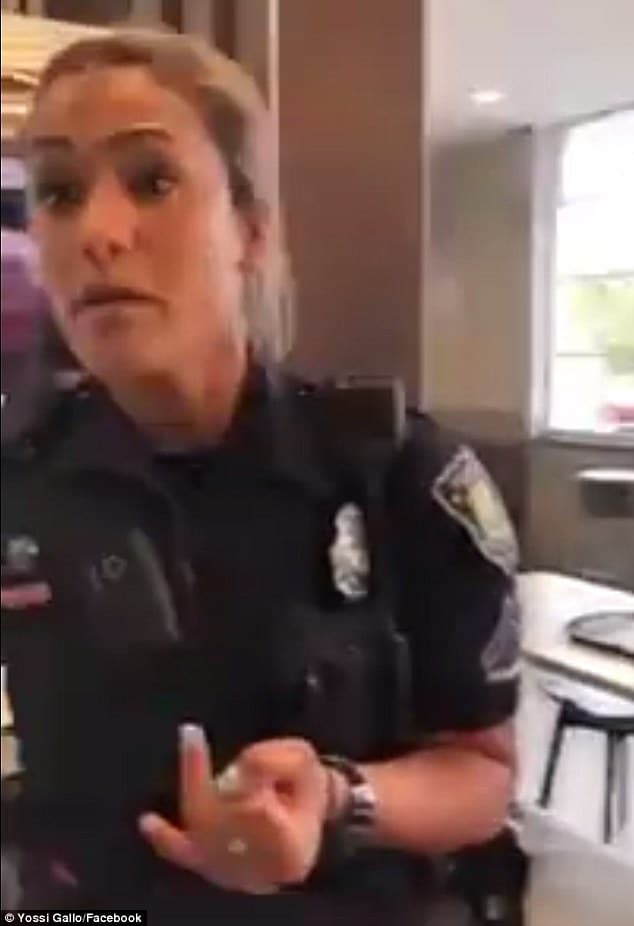 Officer Assia Sououd: 'I am the law'
Officer Assia Sououd and the homeless man are then seen having a conversation. It appeared that she was waiting for him to finish his meal before escorting him out of the restaurant.
Sououd then asks Gallo to leave the restaurant even as he continues filming.
When Gallo asks the officer if he could get a refund for his food, she says: 'That's not me. I'm not civil court.'
'[The manager] wants you removed,' the officer tells Gallo. 'You have to go. That's all.' 
Gallo then asks for the name of the manager that wanted him evicted from the restaurant.
The manager then walks out and appears to hand Gallo an envelope.
'Can I get your name please?' Gallo asks the manager, who doesn't reply.
'I'm getting kicked out of here because I gave a homeless guy food,' Gallo is then heard telling other customers in the restaurant.
The officer then confronts Gallo again and tells him that he needed to leave.
'I am the law,' she is heard telling Gallo. 'You need to get your stuff and leave. If you want a refund, you gotta go through corporate.'
But it doesn't end there.
Assia Sououd is the Myrtle Beach police officer featured in the video kicking a homeless man out of @McDonalds (along with Yossi Gallo, the guy who paid for the meal and filmed the video). I am sure this helps your rep #mvsu_rys18pic.twitter.com/30oQRGx4rF

— P. Went To Jared (@chillin662) March 1, 2018
A history of prior disturbances?
Gallo then approaches the cashier register asking for a reprinted receipt. 
After finally getting his receipt, Gallo is escorted out of the restaurant by Officer Sououd.
Gallo then invites the homeless man into his car and offers to buy him food elsewhere – as the officer watches them leave.
'You know what you're doing is wrong,' Gallo yells at the officer as he gets into his car in the parking lot. 'Deep inside you, you know that.' 
Myrtle Beach police told WMBF-TV that an officer was called to the premises after a McDonald's employee complained about a man who was asking them for money in the parking lot.
When the officer arrived, she was told that the man had gone inside and sat down to eat.
The employee asked the officer to issue a trespass warning to the man and that he be asked to leave.
'The officer advised the male of the request made by the business and issued the warning,' Myrtle Beach Police Captain Joey Crosby said. 
'A bystander, who was videotaping the incident, was also trespassed from the location, at the request of the manager, for what management deemed as disorderly behavior.' 
Joel Pellicci Jr, who owns the McDonald's franchise where the incident took place, released a statement saying: 'At my restaurant, the goal is to provide our customers with a positive and welcoming experience each time they visit. 
'Unfortunately, the individual in this video has a history of disruptive behavior and has been asked to leave by management and police on several occasions.'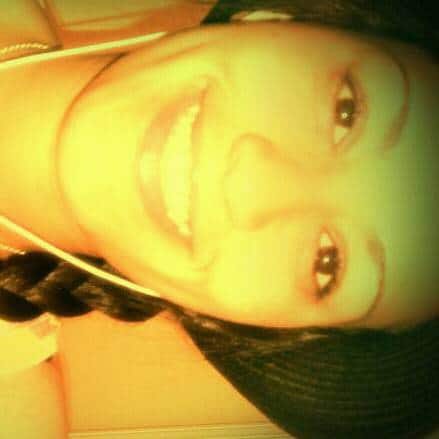 Officer Assia Sououd savaged by social media:
After Yossi Gallo posted the video on Facebook, a number of social media users left misogynistic comments about the officer.
It was reported that the officer's Sououd private Facebook page was inundated by trolls who left angry messages.
Sououd reportedly either changed the privacy settings on her Facebook page or deleted it altogether.
Gallo later said he did not agree with those who left crude comments about the officer.
'I think that's completely wrong,' Gallo said via WMBF. 
'Completely wrong. I do believe that she was doing her job. 
'I do believe that she was doing her job. She did nothing wrong. I don't have any anger towards her in any way.'
Gallo asked Facebook users to refrain from trolling the officer.
'I would say please definitely leave her alone,' he said. 
'She was very polite. She was doing her job. 
'I wouldn't want anyone to speak badly of her. She was very nice actually.'
Facebook users flooded the McDonald's location's page with one-star reviews.