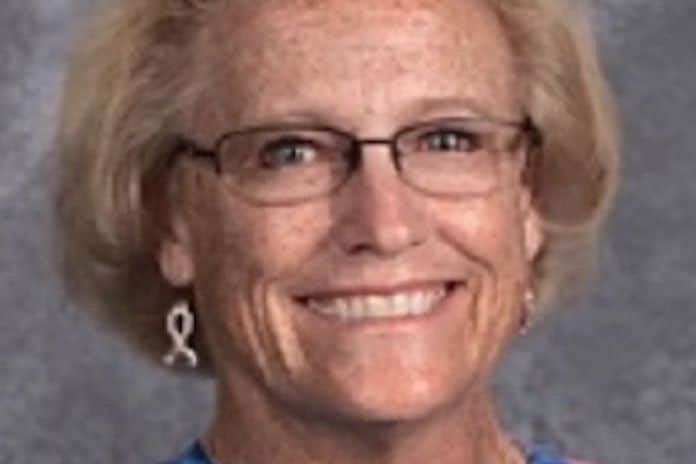 Karen Smith Colorado physical education teacher placed on 

paid administrative leave after assaulting student refusing to stand for the Pledge of Allegiance.
Karen Smith a Colorado physical education teacher has been placed on paid administrative leave after allegedly assaulting a student after refusing to stand for the Pledge of Allegiance.
A report via CBS Denver confirmed the 20 year veteran middle school teacher 'assaulting' the student at Lafayette's, Angevine Middle School circa noon, Thursday.
Come Saturday, no charges had been filed against the 'strict' teacher.
It wasn't immediately clear why the student had declined to stand for the Pledge of Allegiance, and whether they may have been using the occasion as a symbol of protest as has been the case of the NFL league.
'I am reaching out to you tonight to let you know that we will have a substitute teacher working with some of our PE classes for the time being,' Principal Mike Medina said in a letter sent home to parents on Thursday night.
'While I cannot share much information, following an incident today at school, Ms. Smith was placed on paid administrative leave. We are working closely with our partners at the Lafayette Police department,' the letter read.
'We believe in due process and therefore ask that everyone respect Ms. Smith's privacy at this time.'
Karen Smith Angevine Middle School pledge of allegiance scandal: A case blown out of proportion?
Of note, a report via The Denver Post told of school district policy giving students the choice of sitting or standing for the Pledge of Allegiance. The media outlet went on to quote a parent saying, there hadn't been any previous altercations involving the teacher. 
Two other parents who spoke to CBS Denver off camera said they believe the story has been 'blown out of proportion' and expressed disappointment.
And then there were these comments on the web that made this author wonder, see what you think?
'It is shocking how so many Americans do not know our freedoms and laws. No one has to stand, no one has to participate, even in school. For decades it has been that way. Some religions won't, some individuals don't want to. It is no disrespect to the country. If standing now means support of Trump, I would remain sitting. I love my country. There is more and more ignorance on our rights, rights our military fought fo, and rights hard won in the courts. Our freedoms, our choices, is what makes us great.'
'No one should legislate my patriotism and how I choose to express it.'
'I'M WITH HER !!! Just another spoiled brat looking for attention.'
'Why do you liberal freaks think it is ok to continue to bash our country?'
'We can ALL thank Colin Kaepernick for dividing our GREAT Nation!'