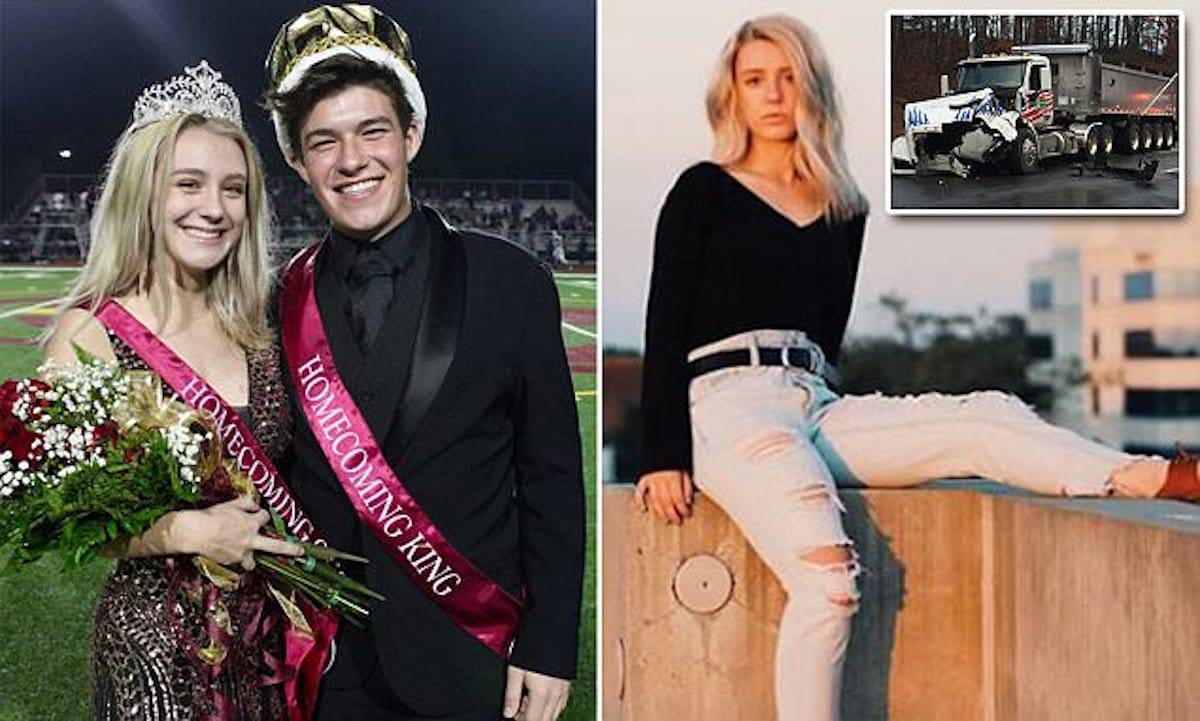 Grace Elizabeth Sheer a Dawson County, Georgia homecoming queen is killed in a Monday morning car crash after failing to negotiate a notorious sharp curve near school.
Fellow students, friends and family are grappling with the death of Grace Elizabeth Sheer after the Georgia homecoming queen was killed in a crash just one mile away from school.
AJC reported the popular 18 year old senior at Dawson County High School dying when her 2002 Honda CRV 'failed to negotiate' a curve near State Highway 53 and Buddy Burt Road at about 7:30 a.m. Monday. Sheer, who was traveling east, then overcorrected and lost control of her vehicle, crashing into an oncoming tractor trailer, Georgia State Patrol officials said.
The impact of the collision sent Sheer's SUV down an embankment. She later died from her injuries. Truck driver Edwin Kincannon, 42, of Cartersville, was not injured. Both drivers were wearing seat belts at the time, authorities said.
Grace Sheer, who was named her high school's homecoming queen earlier this year, was remembered as one of the most popular personalities at the 1,000-student school in Dawsonville, classmates told WSB-TV.
Told student, Darren Johnson, 'Obviously it was sad,'
Adding, 'No high schooler can expect that to happen.'
Grace Elizabeth Sheer: A death that could've been averted…
Some students, meanwhile, told the station that the location where Sheer lost control of her SUV is a 'sharp curve' that can be dangerous.
'It's not safe,' student Zach Bishop said.
The accident follows local residents saying county officials should consider lowering the speed limit of 55 mph along the stretch of highway, with one resident saying, 'fatal accidents along the bend are way too common.' 
'It's a recipe for disaster,' local resident, Dell Conner said. 'We have to slow down in this curve. This is the most dangerous strip in Dawson County on Highway 53.'
In addition to being selected as homecoming queen, Sheer was also an honor student at Dawson County High School and a member of the girls' soccer team, according to a GoFundMe page created to help offset funeral costs.