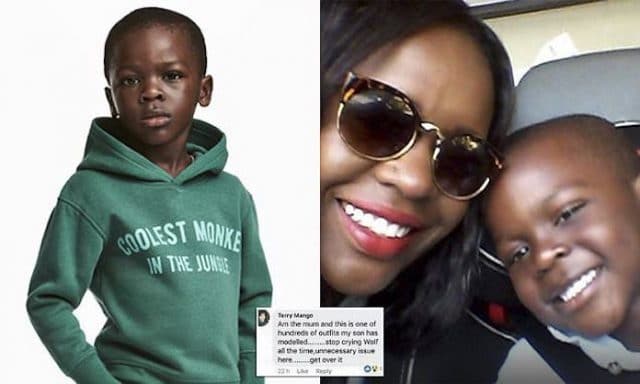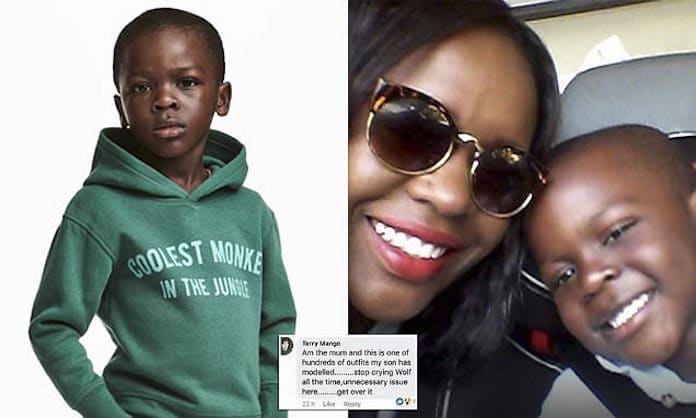 Terry Mango the mother of H&M child model weighs in after the fashion retailer is forced to take the campaign down after celebrity and social media grand-standing. 
Terry Mango the mother of the child model at the center of the H&M campaign, 'Coolest monkey in the jungle' has stepped forward, branding the backlash against the purported racist advert as 'unnecessary'.
In a series of Facebook posts, Mango who hails from Stockholm, Sweden urged critics, including social warrior brigade high profile musicians and sports stars – to 'get over it' and to 'stop crying wolf'. 
So 'offended' have some members of the celebrity circuit become, they have had their PR machines 'signaling' they have gone off the rails, with Canadian entertainer, The Weeknd, who has collaborated and modeled for H&M releasing a statement saying that he was cutting all ties with the 'racist' retailer. Indeed. 
The faux outrage has since prompted H&M to remove the image from its UK and US websites and to issue a statement saying it was not 'deeply sorry'.  
Estimates of sales of the 'offensive' H&M shirt and other itinerary in recent days has yet to be made, with some wondering if it has only exponentially boosted the retailer's bottom line.
Taking her turn to address the dizzy back and forth arguments that the advert was race baiting or at best insensitive to racial prejudices (contingent in whose eyes, and presumably not in most young children's eyes who forever remain too innocent…and who the shirts were designed for) Mango sought to weigh in, essentially calling out the 'me too' brigade of social signaling ('….see I care about race issues- keep voting up my share box')
In a series of posts, Mango, who moved to Sweden from Nigeria, took direct umbrage with naysayers. 
Wrote Mango in an instagram post: 'Am the mum and this is one of hundreds of outfits my son has modeled… stop crying wolf all the time, unnecessary issue here… get over it [sic].'
H&M 'coolest monkey in the jungle' campaign: What makes any image racist? 
The comment was met with surprise by some social media users, who questioned why the child model's mother was endorsing the 'racist' image. 
Clarifying her stance, Terry Mango explained she 'really doesn't understand' the issue, adding: 'Not coz am choosing not to but because it's not my way of thinking sorry [sic].' In a separate post she added: 'Everyone is entitled to their opinion.' 
Despite the image being pulled from H&M's UK and US websites, the image was still shared thousands of times on social media, while continuing to draw comments across the board.
Even those who doubted the brand was being derogatory admitted there should have been more awareness of how the image could be perceived.
The campaign group Models Of Diversity, which pushes for more diversification across the industry, said H&M should be 'ashamed'. 
Should they though really? Since when is a retailer responsible for anyone's perception and racial bias? It may be one thing to bring out a shirt with a picture of a hooded KKK member setting a black man on fire but another thing all together releasing an image of a 'play animal' winking its 'cool factor'. 
That said, aware of the overwhelming fury against it, fueled and fanned by the establishment 'liberal elite' media, the fashion retailer went on to post another apology, this time on Instagram, writing, 'We understand that many people are upset about the image of the children's hoodie. We, who work at H&M, can only agree. 
'We're deeply sorry that the picture was taken and we also regret the actual print. 
'Therefore, we've not only removed the image from our channels but also the garment from our product offering.'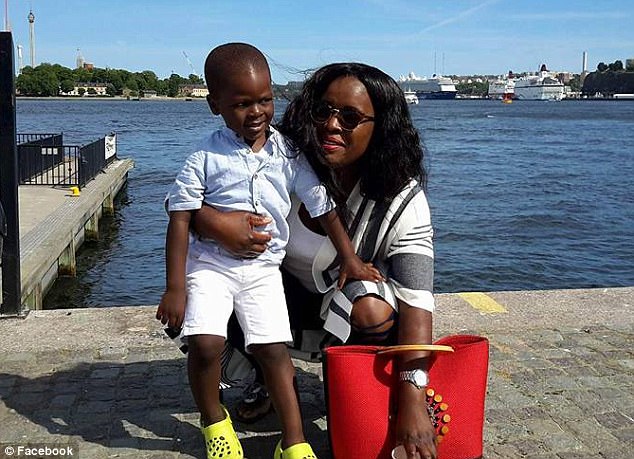 The web weighs in whether H&M' coolest monkey in the jungle' campaign was racist or not: 
And then there were these sampling of responses on the web that made this author wonder, see what you think?
'She is clearly pimping out her child and is a horrible danger to his safety.  Now she is selling away his self respect.  Next thing we know she will be selling his virginity, if she hasn't already.  If anyone knows her will you PLEASE call the local child protective agency now before it is too late!'
'Oh, supporting violence? Why? Because she was raised in Sweden and has not the mentality of Americans?'
'Children of all races have been called monkey affectionately.'
'You have to be a racist to see racism in everything.. Desperately attacking everyone and everything to distract from their own inadequacies, and without the intellect to realize that most people do not share their warped view of reality.'
'My problem with this whole situation is that there is nothing wrong with the hoodie until it's added to a black person. That means that the only reason it looks racist is because people are projecting their own stigmas onto this child.'
'These celebrities want attention and nothing at all. Please fight over important issues.'
'It's just next level marketing, trolling the 'libtards' for outrage publicity.'
'The ones who yell the loudest seem to be the true racists – funny that.'
'Let the boy and his mom decide – if they dont find it offensive then you shouldn't either.'
'Have we reached peak 'librul' hysteria yet?'