Rylee Marie Dodge a three year old Oklahoma girl is 

mauled to death by pit bull dog after father

 

brings pet dog home. Why didn't the father know better? 
Rylee Marie Dodge a three year old Duncan, Oklahoma girl has did after being mauled to death, in yet another instance of a pit bull dog attack.
A report via ABC7 News told of the toddler being home and watched by her grandmother when she was fatally attacked on Sunday.
Despite being rushed to hospital, the girl's father, Jason Dodge, told of his daughter later dying of her injuries.
According to the father, he had bought the pit-bull named Remington, from a friend just five days before the attack.
Police shot and killed the dog, which they described as mixed breed, when they arrived on the scene.
At the time of the attack, the father said his mother was watching Rylee at his home, while he went to visit his brother. 
At some point the father got a phone call, with Dodge saying all he heard were the words 'daughter' and 'dog' before racing home to find his daughter had been attacked.   
Told the father,  'I picked her up and carried her, I ran out the front door, and I threw her in the passenger seat [of my truck],'
'I went to go to the hospital and then the ambulance came. They took her out of my truck.' 
But it was too late for Rylee Marie.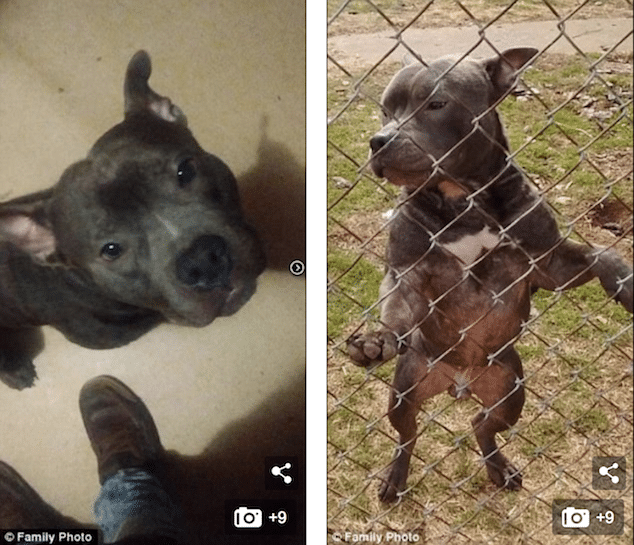 What led to Jason Dodge bringing home a pit bull dog given their 'controversial' nature?
'There was nothing they could do, absolutely nothing,' Dodge said, of the Emergency Medical Services team and the doctors who tried to save her at the hospital.
Offered Dodge, 'Rylee Marie was a fun-loving little girl, who loved cats and dogs.'
Police got the call about the attack at around 3 pm Central. 
When police arrived on the scene, the dog charged an officer, who then shot and killed the dog, according to OK News.
Dodge said he told officers to kill the pet.
'I was like, "Kill this dog. Just shoot it down or I will,"' Dodge said. 
'And he did, he shot it in the back yard.' 
To date it wasn't immediately clear what led to the father bringing home the pit bull mix, known for having a 'controversial reputation' especially around young children, even in domestic settings.
Offered Dodge about first bringing home the pit bull mix, 'I was very cautious about it because I don't just bring random dogs into my home,' 
'I took my son over there and the dog did'nt attack him. It loved him, gave him a hug, licked him on the face. [Then I] brought him here, my son came outside all day and played with him, [and the dog] did'nt do nothing to him.' 
Two days later, though, his daughter was killed by the dog.
Reiterated Dodge, 'I'm just too depressed right now to talk much more. I just miss her so much.'  
Rylee Marie Dodge's father speaks out: 
Posted the father on Facebook on Monday, 'Really missing you Rylee Marie dodge!' 
'I'm so sorry this happened to you baby girl. I know I promised you I'd never let anything happen to you and I failed at it. I will always love you, that's a promise. I'll never let up! Miss you baby girl you're my everything baby girl. Daddy really wishes you was here!! I don't know what I'm going to do without that beautiful smile and my kisses an hugs. Love you, R.IP. Rylee Marie.'
Responded one commentator, 'Pit bulls are not worth the risk. There is no other breed of dog that kills more human beings, no breed more likely to kill children. Sadly, you now know that for a fact. Sending prayers for Rylee.'
Duncan Police Department continue to investigate the 'incident'. 
And then there were the following comments on the web that caught this author's attention, see what you think?
'The pit bull coalition continues to convince the public that these are great family dogs. Just remember, all you pit bull lovers, that every time you proselytize how great these dogs are, you are in an indirect way, aiding in continuing the removal of children's faces, mauling and in most cases, death,'
'Please stop saying on social media, to friends and family what great family dogs they make. If this poor parent wasn't convinced by his friend what a great family dog his pit bull would make, and the friend wasnt convinced the same by the overall pit bull coalition, this child and thousands others, would be alive today. Did you know insurance companies don't insure homes with those dogs?'
'Pit bull owners always claim their dog "Killler was like a son to us" and would never hurt a flea – as if their stupidity should excuse the death or mauling of someone else.'
'The father was stupid for bringing this unpredictably dangerous type of dog home. These pit bull mauling stories happen over and over again. When will people learn?'
'He might as well have left his daughter with a Tiger. People this irresponsible should never be allowed to procreate.'