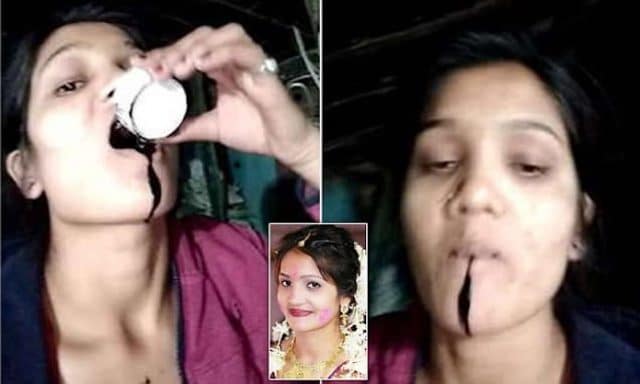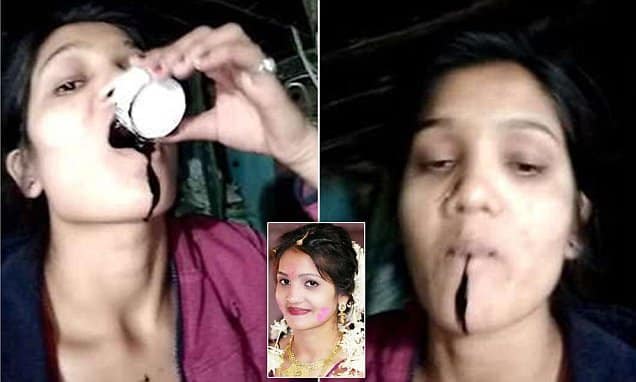 Nisha Devidas an India bride to be films herself drinking poison and sending the video of her dying moments to a blackmailing boyfriend who had taunted her. 
Indian bride to be, Nisha Devidas filmed herself fatally drinking poison and sending the clip to her ex boyfriend after he allegedly blackmailed her.
In the video clip, the bride is seen drinking a thick black substance at her home in the village of Rohini in the western Indian state of Maharashtra, leading to her almost instant death.
At the time, Nisha was ten days away from getting married to an unnamed man before taking her own life.
According to Nisha's brother, Ravi Kavle, Nisha had become, 'sick of being blackmailed,' by her ex-boyfriend Nikhil Borkar and decided to take her own life.  
She was discovered by an unknown person and rushed to the District General Hospital in Bhandara but was declared dead on arrival.
Her grieving brother Ravi was quoted by local media as saying: 'My sister's wedding was due on February 4 but she embraced death just ten days before her marriage.
'A youth named Nikhil Borkar is responsible for my sister's death. He lured my sister on the pretext of marriage, then used her and started blackmailing her.'
He said his sister took her own life because she was 'fed up and defeated' awith the brother demanding that Nikhil be 'immediately arrested'.
Police say they are investigating Nisha's death. It wasn't clear whether they had interviewed he ex boyfriend.
The nature of the alleged blackmail was not stated reported the UK's Sun.