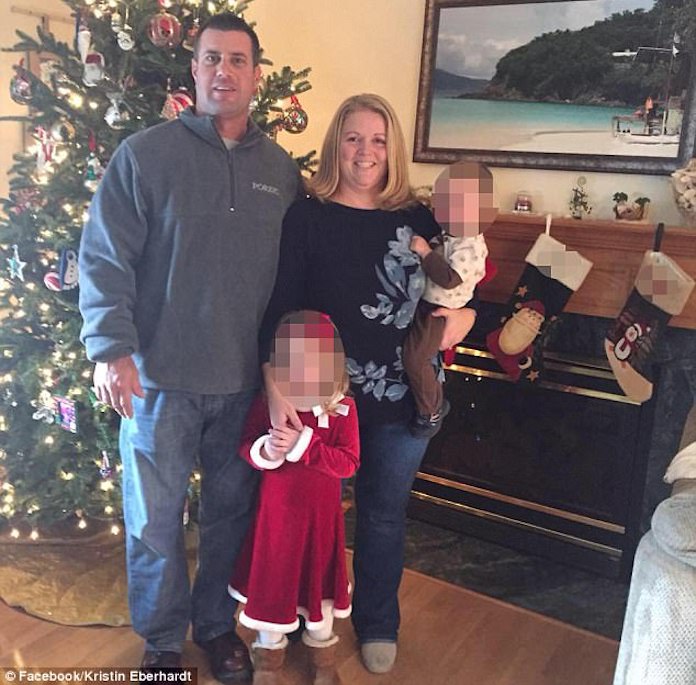 What led to Matthew Eberhardt a Northampton husband fatally shooting his wife then self in mystery murder suicide? No motive given.
Matthew Eberhardt a 45 year old Pennsylvania man has killed his wife before fatally shooting himself in a suspected murder suicide.
Mortally gunned down was 42 year old woman, Kristin Eberhardt on the doorsteps of the couple's Northampton, Penn. home.
The murder suicide Tuesday night came three days after the couple had 'celebrated' their daughter's fifth birthday reported the Morning Call.
Kristin died of multiple gunshot wounds and her husband died from a self-inflicted gunshot wound, according to county Coroner Zachary Lysek.
The couple had lived in the home together for eight years and also had a one-year-old son, who survives them.
Both children have been placed in the care of relatives, Northampton County authorities  said.
WFMZ reports that both children were inside the home during the shootings.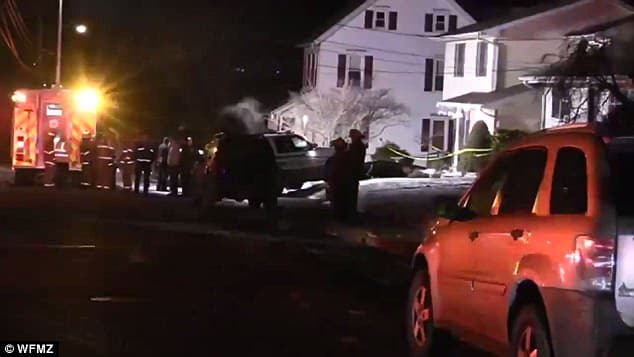 Matthew Eberhardt and wife Kristin: Happy and sociable family
Neighbors described a 'happy and sociable' family (define happy) that had just thrown their daughter a birthday party over the weekend and were shocked by the murder-suicide.
One neighbor described the husband as 'a super-nice, down-to-earth guy' while saying the man's wife was 'very nice'.
Neighbors said that Matthew had operated an excavator for a construction company.
Kristin had been employed at Porzio Life Sciences LLC as a senior regulatory analyst and had been with her company for more than a decade.
'She was a very dedicated, wonderful young woman,' the firm's managing partner told Lehigh Valley Live.
'Our heart breaks for the family, but particularly for those two children,' Vito A Gagliardi Jr added.
The couple told neighbors had also just recently bought a new car together.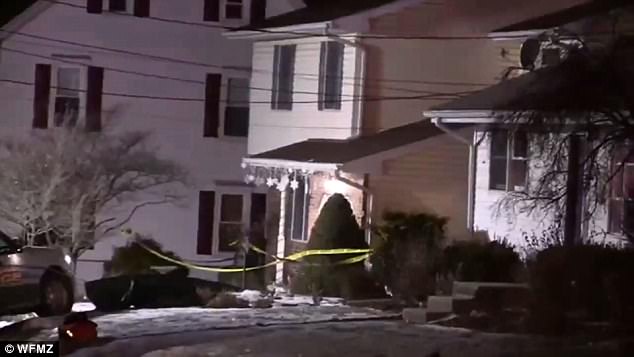 Matthew Eberhardt mystery murder suicide motive: 
A regard of the wife's Facebook page showed both Matthew Eberhardt and Kristin and their two children in front of their Christmas tree in a recent post.
The family's lawn was adorned with Christmas decorations, including inflatable reindeer, which remained standing as of the morning after the husband and wife's murder suicide deaths. 
To date police have not pointed to any possible motive while court documents didn't list the experiencing any financial hardship, nor any criminal or civil liens. Family and friends did not mention any outside affairs going on. 
It remained unclear if Eberhardt had been depressed and whether the husband had been on any medications.