Harley Barber a University of Alabama, Alpha Phi sorority sister has been expelled following the posting of a racist tirade on social media. 
Harley Barber a 19 year old University of Alabama college student has been expelled following the Alpha Phi sorority sister posting 'racist' language in social media posts on Martin Luther King Jr. day on Monday.
The expulsion comes after the Tuscaloosa university found itself inundated with demands for the freshman's ouster following Monday's widely reviled social media video posts which saw Barber using the word, 'n*gga' ad infinitum. 
Following her ouster, Barber, a Marlton, N.J native told the nypost she was 'very sorry' and now making the track back north.
'I did something really, really bad,' told Barber. 'I don't know what to do and I feel horrible. I'm wrong and there's just no excuse for what I did. … I feel so, so bad and I am so sorry.'
Barber posted the videos to her 'finsta,' or 'fake' Instagram, a type of secondary account users sometimes create to show a less filtered image of their lives than a curated, straight-forward Instagram.
Peep her finsta lmaoooo im dead ..she bold. Gottta love Alabama women pic.twitter.com/eFZDZDjsCj

— Tabarius da Feminist (@TabisBack) January 16, 2018
In Barber's first video, the sorority sister appeared to talk to a bathroom mirror after turning off the sink faucet.
'We do not waste water,' Barber goes on to say in the video. 'We don't waste water because of people in Syria. I love how I act like I love black people because I f–king hate n—–s. So, that's really interesting — I f—king hate n—–s, but I just saved the f–king n—–s by shutting that water off.'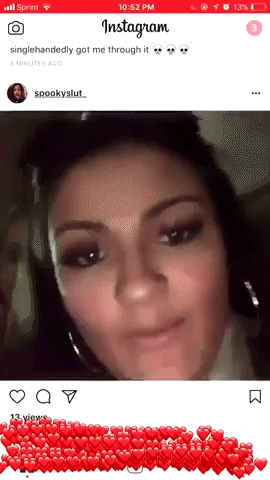 Harley Barber Instagram rant: 'I'm in the south now bitch!'
A second video followed which saw Barber addresses backlash to her initial video.
Explains Barber staring into the camera, 'I've wanted to be in Alpha Phi since f–king high school and nobody f—king understands how much I love Alpha Phi,'
Adding, 'And now someone wants to save my finsta because I said n—-r? You know what? N—-r, n—-r, n—-r. I don't care if it's Martin Luther King Day.'
Continued Barber, 'I'm in the South now, bitch,'
'So everyone can f–k off. I'm from New Jersey, so I can say n—-r as much as I want.'
Of note, Barber's rant was supported by a crowd of seemingly drunken white sorority girls who laugh and appear to be cheering her on in the background.
Both videos ended up going viral, sparking outrage, prompting sorority Alpha Phi to expel Barber before the University did the same reported AL.com.
'Alpha Phi is a diverse, values-based organization and condemns the language and opinions in these videos,' Linda Kahangi, the executive director of Alpha Phi International, said in a statement. 'They are offensive and hateful to both our own members and to other members of the Greek and campus community. The [University of Alabama] chapter leadership and supporting alumnae moved quickly to address the offense, and Ms. Barber is no longer a member of Alpha Phi.' 
N.J.com reported Barber being a student at Camden Catholic High School, but failing to graduate from the private school, citing Camden Catholic President Mary Whipskey. 
A screenshot of an apology appears to be that from Barber was come Tuesday was shared on Twitter by Elijah Cotto, who said he went to Camden Catholic High School with Barber.
'I am so sorry for the things that I said. I was ignorant and did not understand the impact that this word had on people,' said the statement attributed to Barber. 'I am so sorry to anyone I offended I am not a good representation of this chapter.' 
Followed the university in a tweeted post, 'These remarks are ignorant and disturbing and in no way reflect the values of The University of Alabama,'
Adding, 'This unfortunate behavior has been reported to the Office of Student Conduct as it does not align with the community expectations of students at the Capstone.'
Yet to be necessarily understood is whether Barber's 'comments' were purely her own expression and views of race matters or that of other sorority sisters at the University of Alabama….?