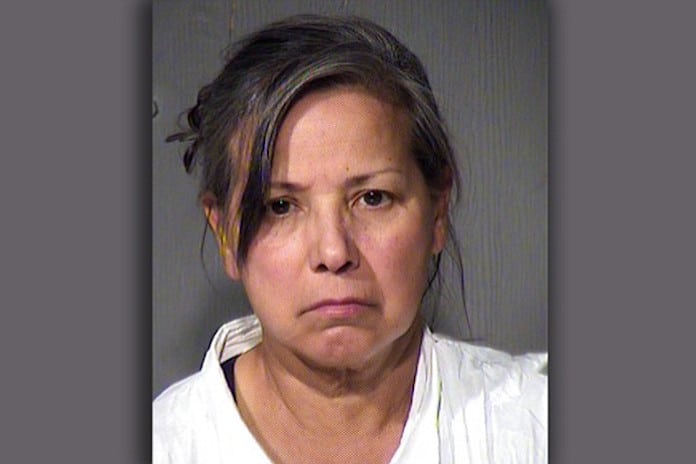 Elizabeth Ann Ramirez a 59 year old Arizona woman snaps and strangles her 80 year old mother to death after being told she wasn't allowed to borrow her car.
Elizabeth Ann Ramirez a 59 year old Chandler, Arizona woman has been arrested after strangling her 80 year old mother after being told she was not allowed to borrow her car on Tuesday.
A press statement released by the the Chandler Police Department told of Elizabeth Ramirez, calling 911 around 1:30 p.m. to report that she 'snapped' and killed her mother.
When officers arrived at the home, Ramirez led them to the body her mother, identified by police as Bertha Gutierrez.
Ramirez told police she 'just snapped' after a fight with her mother because she wouldn't lend her the car. Police said Ramirez is mentally ill.
At the time of calling 911, a police statement described Ramirez telling the dispatcher that she wouldn't perform CPR to try to revive her mother.
Upon being asked if her mother was dead, Ramirez replied: 'I hope so.'
Court documents obtained by FOX10 Phoenix show that Ramirez was arrested for DUI a day before strangling her mother to death. 
Ramirez has since been booked into the Maricopa County Jail on one count of second-degree murder with bond set at $1 million.
Ashley Pinhero, who has lived next to Gutierrez for three years, described the incident as 'shocking'.
Adding, 'It's really sad because, you know, somebody who could do that do that to their own mother, considering the circumstances especially.'
It remained unclear as to what may have brought on the daughter's alleged mental illness and what treatment had been afforded to the afflicted woman. Also not understood was the nature of dynamics between daughter and mother and whether there had been previous instances of domestic abuse.