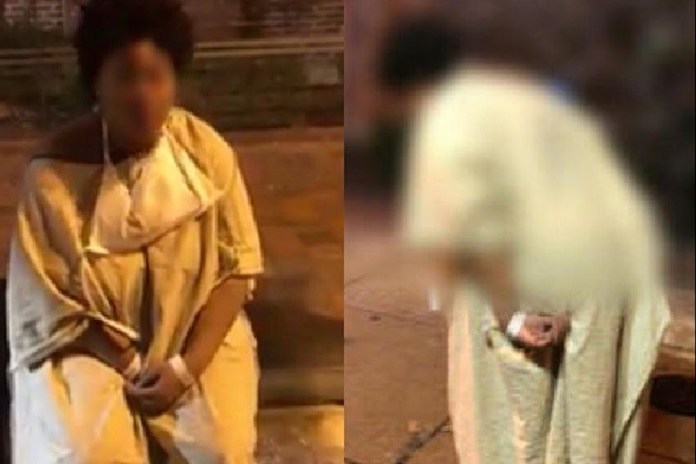 Baltimore patient dumping: How did one University of Maryland Medical Center Midtown Campus hospital patient end up being escorted onto the street in freezing cold and left for dead?
Also making the rounds on America's collective conscious is a video of what appears to be a mentally ill woman wearing only a thin gown having been momentarily dumped out in the freezing cold by staff at a Baltimore hospital.
The footage as taken by Imamu Baraka, a local psychotherapist shows the moment the incapacitated individual was left to fend for herself in 30 Fahrenheit degree weather in Charm City, Tuesday night.
'Is this what healthcare in Baltimore City has come to?' he captioned the video. 'You can do better. You must do better.'
Baraka's footage showed the unidentified woman being hustled out of the University of Maryland Medical Center Midtown Campus by four security guards who left her at a bus stop with her 'plastic bag' belongings strewn on the street.
'Ya'll are okay with leaving that woman out there like that?' Baraka can be heard asking as they walk away. 'Ya'll are just going to leave this lady out here with no clothes on?'
The hospital workers continue walking back into the hospital.
Baraka is seen approaching the woman, who had bloody gashes on her forehead and swaying in place as she yells and groans.
A regard of the woman shows her not wearing any shoes, only purple socks, and her loosely tied hospital gown appears to be falling off.
Baraka comments it was just 30 degrees out as he filmed himself leading the woman to a seat at the bus stop.
He then called an ambulance who took her back to the hospital she had just been kicked out off, he said. 
Yes kids does it get any more tragic?
Baltimore patient dumping: 

University of Maryland Medical Center Midtown Campus, 'we're fake sorry'. 
The University of Maryland Medical Center Midtown Campus has since verified the video and responded they are 'investigating'.
'We share the shock and disappointment of many who have viewed the video showing the discharge of a patient from the Emergency Department of UMMC Midtown the night of January 9,' they said in a Facebook statement. 'This unfortunate event is not representative of our patient-centered mission. For this, we are truly sorry.'
The hospital spokeswoman declined saying what the woman had been treated for, citing patient privacy laws. Never mind her rights to sanctity, assistance and compassion.
Assuming such notions matter….
Come Thursday,  Dr. Mohan Suntha, the CEO and president of the University Maryland Medical Center apologized, telling via the baltimoresun, "We take full responsibility for this failure,'
Adding, 'We do not believe what happened defines who we are as an organization.'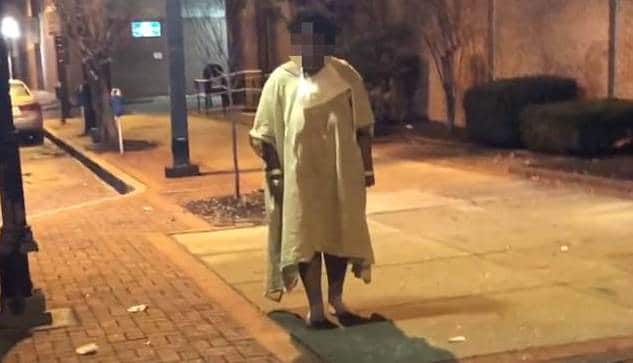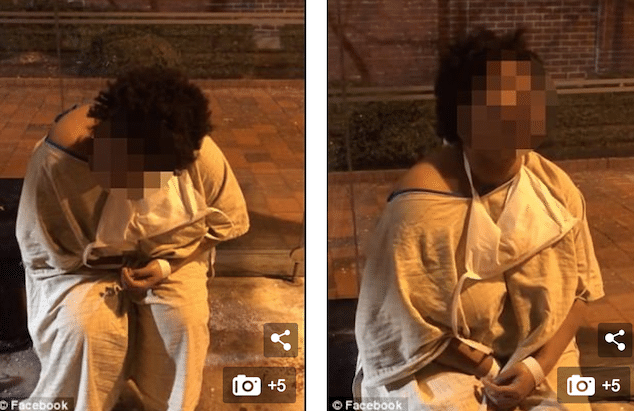 Hospital patient dumping: Against the law, but tell that to medical facilities ….
Of note, the Emergency Medical Treatment and Labor Act, a federal law mandates  anyone coming to an emergency department to be stabilized and treated, regardless of their insurance status or ability to pay. Hospitals and physicians caught violating the law can face a fine up to $50,000 per violation and are subject to lawsuits.
No word yet whether what actions, penalties or suit has been launched against the medical facility ….
And then there were these sample comments that caught this author's attention, see what you think?
'I wonder if this isn't the first person they have done this to. Investigation needs to be done and heads need to roll !!!'
'Our hospitals are at a breaking point…they cannot afford to keep paying for all of the homeless drug addicts and mentally disabled patients that show up at their doors several times a week because they are struggling…They are not a homeless shelter or drug treatment centers…'
'When people are discharged, they¿re discharged, inner city hospitals have no money for taxis and social programs. This is what for profit healthcare looks like.'