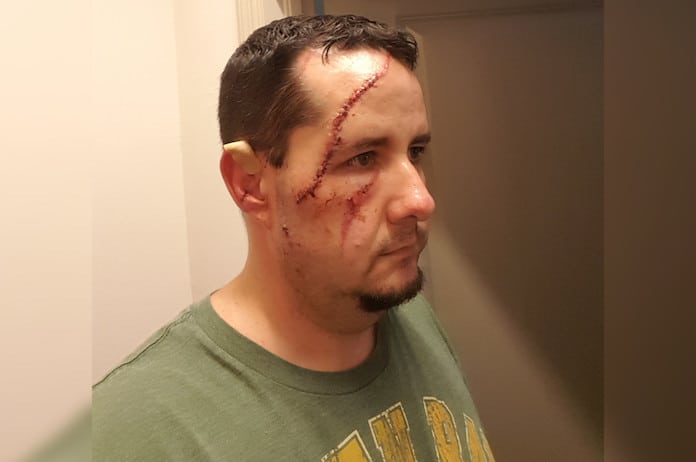 Andrew Meunier a South Florida man survives a bear attack, the first in almost four decades as beast vs man takes on heightened dilemma. 
Andrew Meunier, a 41 year old Naples, Florida man has told of being 'happy to be alive,' after being mauled by a 4-foot black bear while taking his dog out for a late-night walk.
The attack according to nbc2 is the first reported attack in the area in four decades.
It all came to pass Tuesday night, just on 11 p.m. when Meunier, a resident of Amberton Townhomes complex just east of Interstate 75, was making his strides when he noticed the 'surprise animal' standing next to him.
'I came outside and he was right there,' Meunier told WINK News. 'And I tried to run but it wasn't fast enough.'
At the time, Meunier remarked upon his dog 'suddenly' running back inside, seconds later it became clear to the dog walker why that may have been the case.
Told Meunier, 'There were three bears total, all standing about five feet tall.'
Meunier managed to get back inside his apartment, where his 7-year-old daughter was sleeping, but not before one of bears attacked him, leaving an 8-inch laceration across his face. He was treated at a hospital, where he underwent a four surgery where he received 41 stitches to close the deep wound.
Reiterated Meunier, 'I'm just happy to be alive,'
Adding, 'It could've been a totally different story.'
A promise to trap the bear and ward off further encroachment: But a realistic goal? 
Carol Lyn Parrish, a spokeswoman for the Florida Fish and Wildlife Conservation Commission confirmed the agency receiving 13 calls regarding human-bear interactions in the area around the Amberton Townhomes complex since October.
The 'inter-actions' have ranged from complaints of bears rummaging through trash to bears being spotted in back yards.
'We're concerned about the bear and the action that has taken place,' Parrish told via WINK News. 'But these are residential areas. You're going to have homes, you're going to have schools, so you're going to have that occasional human-bear interaction, too.'
The bear that attacked Meunier has not been caught, but trapping efforts to capture it will continue, Parrish told via the nypost. 
Offered Parrish, 'We're going to keep trying to remove that bear'.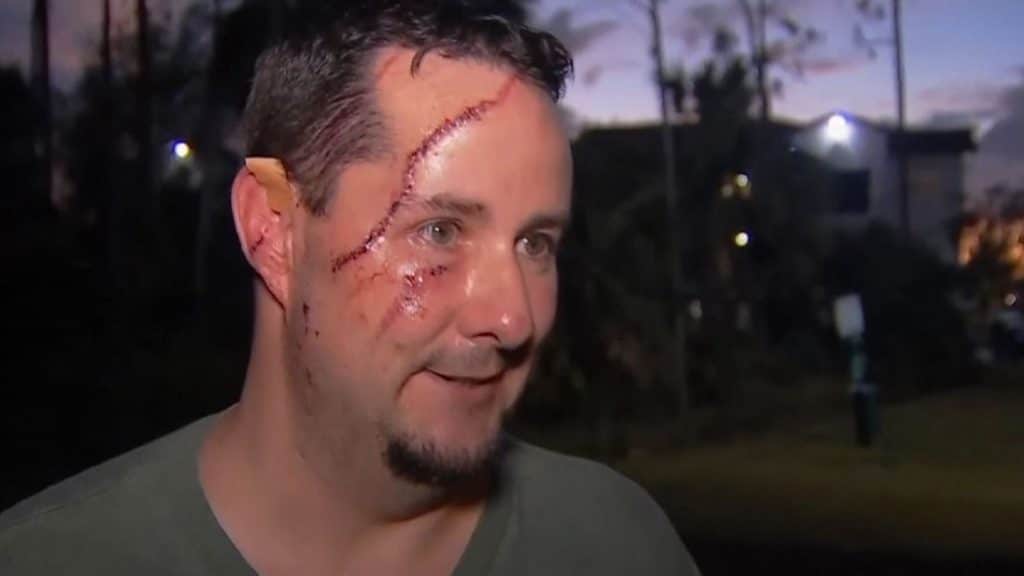 While Andrew Meunier may have survived a bear attack, neighbors and locals are in fear and trepidation….
One of Meunier's neighbors said he's seen a female bear and her cubs roaming around the apartment complex recently.
'Any bear to me is big, but I have to say this one here is probably between 250 to 300 pounds,' Kirk Amerine told WFTX. 'And like I said, she's had three cubs around with her.'
While local resident, Christian Pugh, told of recording a video of bears going through the trash bins outside his home–but shortly after he recorded it, one of the bears rushed toward him.
Adult black bears in Florida, according to the state wildlife commission, typically weigh between 250 and 400 pounds. Adult females normally weigh between 125 and 250 pounds. 
Welcome to the ongoing dilemma, where bears are now finding themselves forced to 'explore' man's own backyard, as its own natural habitat continues to be eradicated with man's passing over-reach….