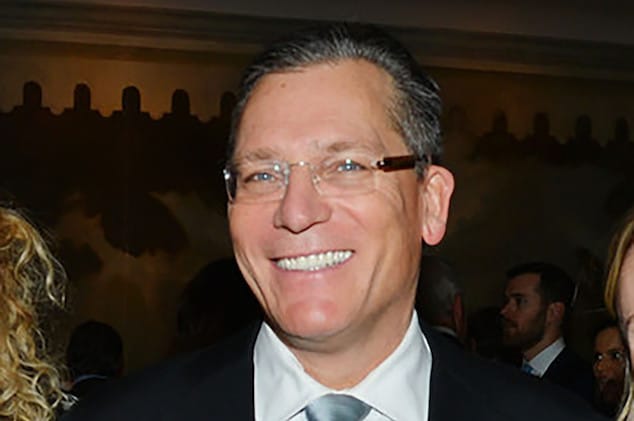 What led to Dr Dean Lorich a prominent Manhattan trauma surgeon apparently plunging a knife close to his heart while home alone with one of his daughters?
Dr Dean Lorich, 54, a notable Manhattan 'trauma' surgeon was Sunday early afternoon found dead in his Upper East side apartment with a knife sticking in his chest in a now suspected suicide.
The nypost reported the well to do medic, who once treated singer Bono following a bike accident, being found lying face up on the bathroom floor of his Park Avenue home circa 1pm.
Upon discovering her father, the girl ran downstairs and told the doorman, who in turn called 911.
Police said Lorich's wife and older daughter were out at the time, with the wife playing tennis.
There were no signs of forced entry at the man's tony 96th st tony apartment, and police sources said it appeared to be suicide. It did not appear that Lorich left a suicide note.
It wasn't immediately clear what circumstances may have led to the highly regarded surgeon doctor taking his own life. 
That said a report via the nydailynews cited a police source saying, 'He was under some personal stress.'
Cops found the 54-year-old doctor's body in the bathroom. The knife was near his heart, a source said.
Dr Dean Lorich lawsuit for botched treatments:
Come Monday afternoon it would be revealed that Lorich was in the middle of a legal tangle with former Giants running back, Michael Cox, who filed a lawsuit claiming the doctor 'botched treatments ruined his career'.
A report via the nydailynews told os the ex-footballer saying he'd been under Dr. Dean Lorich's care since the fall of 2014, according to a lawsuit filed in Manhattan Supreme Court.
Cox, now 29, suffered a broken leg during the Nov. 9, 2014 Giants-Seahawks game in Seattle, his lawyer, Steven North, told the tabloid. Cox was in his second season with the Giants at the time of this injury.
While Lorich fixed Cox's fractured fibula, or calf bone, he didn't properly treat his injured talus, a major ankle bone, North charged.
'It was not even addressed during the subsequent office visits by cleaning it out,' North claimed.
'It got worse and worse and worse to a point where ultimately, Michael went to different doctors, had multiple surgeries, and his career was ruined — he cannot play football anymore.'
Cox, who was 26 at the time, is still recuperating and looking for work in the sports industry, North said.
Cox, who had a four-year, $2.3 million contract with the Giants, North said, is seeking unspecified damages.
North said Lorich likely wouldn't have been responsible for paying any possible settlement to Cox, explaining the physician was covered by the hospital's insurance policy.
Dr Dean Lorich a history of valor service:
Lorich, a father of three girls, was the associate director of the Orthopedic Trauma Service at Hospital for Special Surgery and the Chief of the Orthopedic Trauma Service at NewYork-Presbyterian Hospital. 
Told Matt Long, 51, a firefighter who was run over by a bus on Dec. 22, 2005 and treated by the trauma surgeon, 'He was a good doctor, and a good man.'
Adding, He saved and helped so many people. He gave me back my life, and my family and I are all devastated.'
'He came to my wedding. He was part of my life…This guy did so much for me.'
Along with coming to the aid of some of NYC's finest and esteemed residents, Lorich also volunteered to operate in Germany on soldiers injured in combat and led a relief effort in Haiti for 2010 earthquake victims, according to The Hospital for Special Surgery website.
It wasn't clear if Lorich may have ran afoul with the hospital where he worked, being under review or accused of serious allegations. It wasn't also clear if the man was under medication or had been depressed?
Why is this happening way too often.
Physician suicides.https://t.co/AXv9d28u8b

— chadi nabhan MD, MBA (@chadinabhan) December 11, 2017