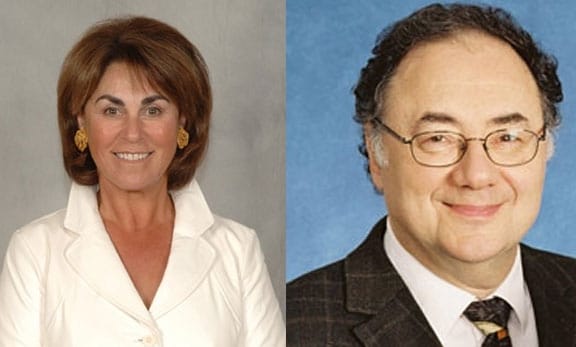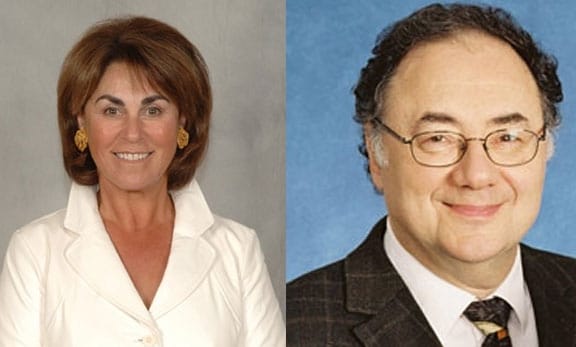 Barry Sherman and wife found dead: Speculation mounts as to the 'suspicious' deaths of a Canadian billionaire and drugmaker embroiled in litigation. 
The deaths of Canadian billionaire, Bernard 'Barry' Sherman, 75, and his wife, Honey, 70, who were discovered deceased at their Toronto mansion has led to local authorities launching an investigation after deeming their 'sudden demise' as suspicious.
Notice of the couple's deaths came after a realtor agent showing off the house to potential buyers discovered them hanging from rails, side-by-side, next to their indoor swimming pool reported the Toronto Sun. Police declined to confirm the report.
Offered Ontario, Const. David Hopkinson, 'The circumstances of their death appear suspicious and we are treating it that way.'
According to CNBC, Hopkinson said police were called to the Shermans' home in an upscale neighborhood of north Toronto just before noon on Friday in response to a 'medical complaint.'
He declined to say whether the bodies showed signs of trauma while declining to provide details on the time or cause of death. Authorities declined to say whether they were considering the philanthropist couple's deaths as a 'crime scene'.
Hopkinson said the deaths are not currently being treated as homicides, adding that more investigation will be necessary.
Homicide detectives later told reporters gathered outside the home that there were no signs of forced entry.
However, sources working close to the investigation told the Toronto Sun that it may have been a murder-suicide.
They believe Honey could have been killed in a different location at the sprawling property on Old Colony Rd.
She was then moved to the spot where she was found with her husband.
Inspector Bryan Bott of the Toronto Police Service told the Toronto Sun that 'at this time we are not searching for any suspects.'
Ontario Health Minister Eric Hoskins sent a tweet expressing shock at the death of his 'dear friends,' who he described as 'wonderful human beings.'
'I am beyond words right now,' Hoskins wrote in his tweet. 'Incredible philanthropists, great leaders in health care. A very, very sad day.'
Const. David Hopkinson if Toronto Police said they are calling deaths of Honey and Barry Sherman suspicious pic.twitter.com/MJ577PeIdq

— Joe Warmington (@joe_warmington) December 15, 2017
Barry Sherman Canadian billionaire drugmaker's rise to fortune
Barry Sherman was the chairman of generic drug maker Apotex, which he founded in 1974 with two employees after using his mother's life savings to buy out a similar business started by his uncle.
It went on to become the largest Canadian-owned pharmaceutical company after introducing large numbers of low-cost generic drugs that took market share from branded pharmaceuticals.
He stepped down as chief executive in 2012 but remained executive chairman.
Forbes estimated Sherman's fortune at $3.2 billion.
Along the way, the entrepreneur amassed a vast fortune, which Canadian Business magazine estimated at $3.65 billion to make him the 15th richest Canadian, as well as lawsuits from family members who alleged they got cut out of a share of the company.
The company has more than 10,000 people in research, development, manufacturing and distribution facilities world-wide, with more than 6,000 employees at its Canadian operations.
Sherman has also been an active philanthropist, including donating $39 million to the United Jewish Appeal. He had also become an active fundraiser for Prime Minister Justin Trudeau's Liberal party in recent years, but was criticized for holding a pay-for-access fundraiser in August 2015 that included Trudeau while being registered as a lobbyist.
Apotex called news of the deaths 'tragic.'
Read a company statement, 'All of us at Apotex are deeply shocked and saddened by this news and our thoughts and prayers are with the family at this time.'
People from across the country are reacting to the deaths of Toronto billionaire philanthropists Barry and Honey Sherman.

We review what has been confirmed, and what questions remain unanswered. pic.twitter.com/KQMuENHaiC

— Natasha Fatah? (@NatashaFatah) December 16, 2017
Barry Sherman Canadian billionaire drugmaker embroiled in constant litigation.
That said, Barry Sherman's fortunes didn't come without reticence, with the Sherman's gains coming at the expense of larger pharmaceutical companies. The Globe and Mail obituary described him as a 'ruthless fighter capable of waging as many as many as 100 lawsuits at a time against business rivals.'
Some of the conflicts over the years were familial. For more than a decade, Barry Sherman had been involved in an acrimonious legal battle with three cousins and the widow of a fourth — sons of the uncle who instructed him in the generic-drug business that preceded Apotex. That uncle, Louis Winter, died suddenly in 1965, 17 days before his wife died.
At the legal fight's lowest point, Winter's sons accused their now-billionaire cousin of plotting to kill Winter. They said he used handouts to silence them and that they deserved a stake in Apotex.
The cousins alleged that Apotex was founded in part using proceeds from Sherman's later sale of Empire Laboratories, their father's pharmaceutical company and that they were therefore owed a share of Apotex.
The original suit was dismissed in 2015, but reinstated a year later, according to Forbes. A judge ruled in favor of Sherman in September, but the cousins have appealed.
On Saturday, it was unclear what Sherman's death would mean for the suit — or for his company.
The address where the bodies were found was recently listed for sale for C$7 million $5.4 million. Neighbors confirmed that the property was the couple's home. 
The property boasts five bedrooms, nine bathrooms, two swimming pools and space for 14 cars. 
There is also a sauna, hot tub and tennis courts.
A report via the Globe and Mail cited neighbor, Sarah Alvi as having known the Shermans for four years. She said that she last saw them two weeks ago, when they had an open house – and could not imagine anything like this happening to a pair she described as the 'best neighbors' and the pride of the neighborhood.
'It's heartbreaking. It's shocking,' Alvi said. 'Knowing who they were, it wouldn't come to your mind at all.'
The deceased couple are survived by their four children, including one who just gave them a grandchild.