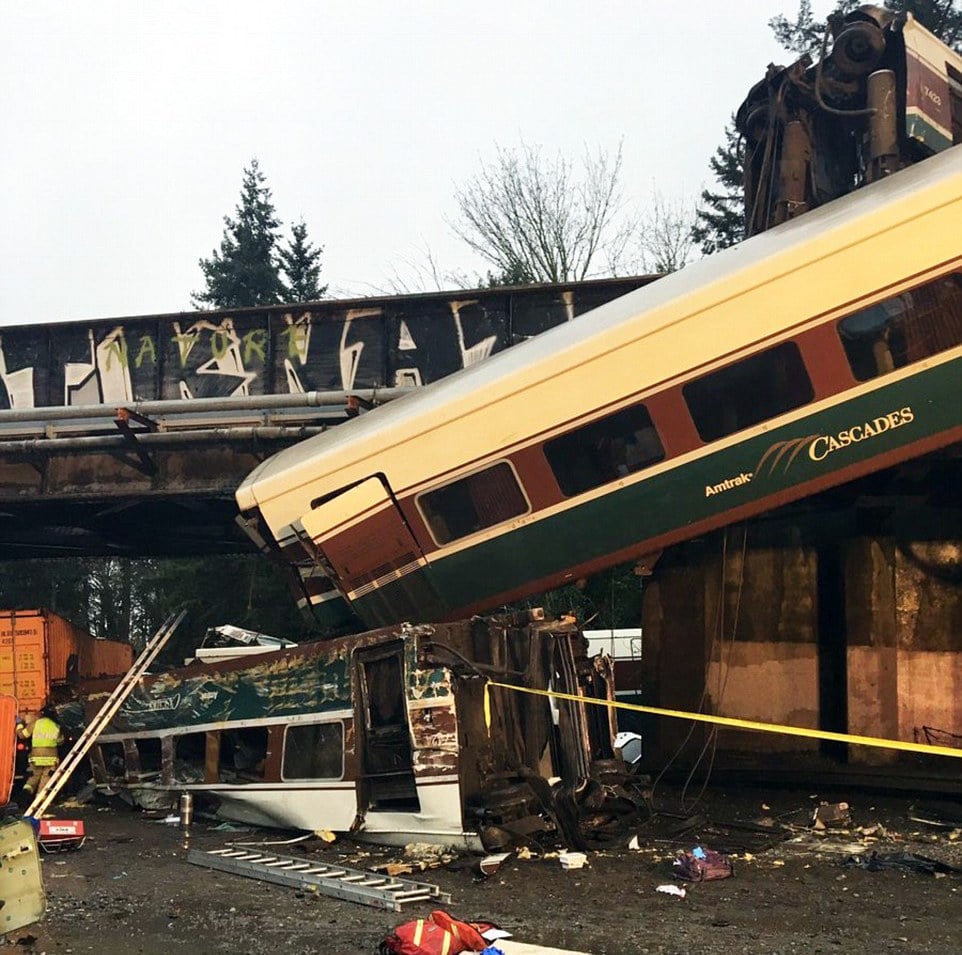 Amtrak train Washington derailment: What caused an inaugural train run from Seattle to Washington to end in tragedy? 6 dead and 77 injured as speculation mounts.
An investigation is underway to determine what led to an Amtrak train making its inaugural run derailing along a Washington state overpass, Monday morning.
The 'incident' led to at least six passenger fatalities and severely injuring others as it crashed onto a highway below. At least two train cars had fallen onto the highway below. Fatalities were expected to rise.
Amtrak released a statement saying there were 78 passengers and five crew members on board the train at the time of the crash, 7:45 a.m. local time.
The train was headed southbound from Seattle, Washington, to Portland, Oregon, on the first trip of a new Amtrak Cascades daily route that went into service at 6 a.m. Monday.
According to WSDOT, the train was running down a new bypass created to avoid slow curves and 'single track tunnels on the BNSF Railway main line tracks near Point Defiance and along southern Puget Sound.'
Monday morning was the first time Amtrak trains used the new Point Defiance Bypass route. It was the culmination of a $181 million project beginning in 2010.
During a late Monday morning press conference, NTSB board member, Bella Dinh-Zarr said it was too early to know what speed the train was going.
A report via the Seattle Times cited a Pierce County Sheriff's Office spokesperson saying all fatalities were on the train and that the injured included passengers on the train along with motorists whose vehicles were struck by the out-of-control rolling stock.
About a dozen victims, including three in critical condition, were being treated at Providence St. Peter Hospital in Olympia, while others had to be rushed to Tacoma, more than 30 miles away. In total, 77 individuals were thought to have gone to hospital following the incident.
'Because traffic is so backed up, a lot of the EMS responders are taking patients to hospitals in Tacoma,' spokesman Chris Thomas said.
NEW: Washington Governor Jay Inslee (@GovInslee) on Amtrak train derailment that reportedly has multiple casualties: "Today's tragic incident in Pierce County is a serious and ongoing emergency." https://t.co/2CyKkppdRE pic.twitter.com/bdfe75V6Ui

— CBS News (@CBSNews) December 18, 2017
All SB lanes of I-5 blocked near Mounts Road in Pierce County due to derailed train car. Avoid area! pic.twitter.com/SBH7dCc6yg

— WSDOT Tacoma Traffic (@wsdot_tacoma) December 18, 2017
Amtrak Washington train derailment: 'this line were supposed to be upgraded to be able to handle higher speeds'.
KIRO 7 TV reported some of the train's passengers being trapped inside, with state police saying a 'rescue operation' was still underway shortly before 1 p.m. EST, more than two hours after the crash.
Told passenger Chris Karnes via CBS News, 'We had just passed the city of DuPont and it seemed like we were going around a curve,'
'All of a sudden, we felt this rocking and creaking noise, and it felt like we were heading down a hill. The next thing we know, we're being slammed into the front of our seats, windows are breaking, we stop, and there's water gushing out of the train. People were screaming.'
Karnes said that at least seven cars derailed, and that passengers had to kick out the train's windows to escape when the emergency doors failed to open.
Adding, 'The tracks for this line were supposed to be upgraded to be able to handle higher speeds,'
'I'm not sure what happened at this juncture.'
Karnes noted the train traveling its normal speed of about 79 mph, before feeling the train jolt.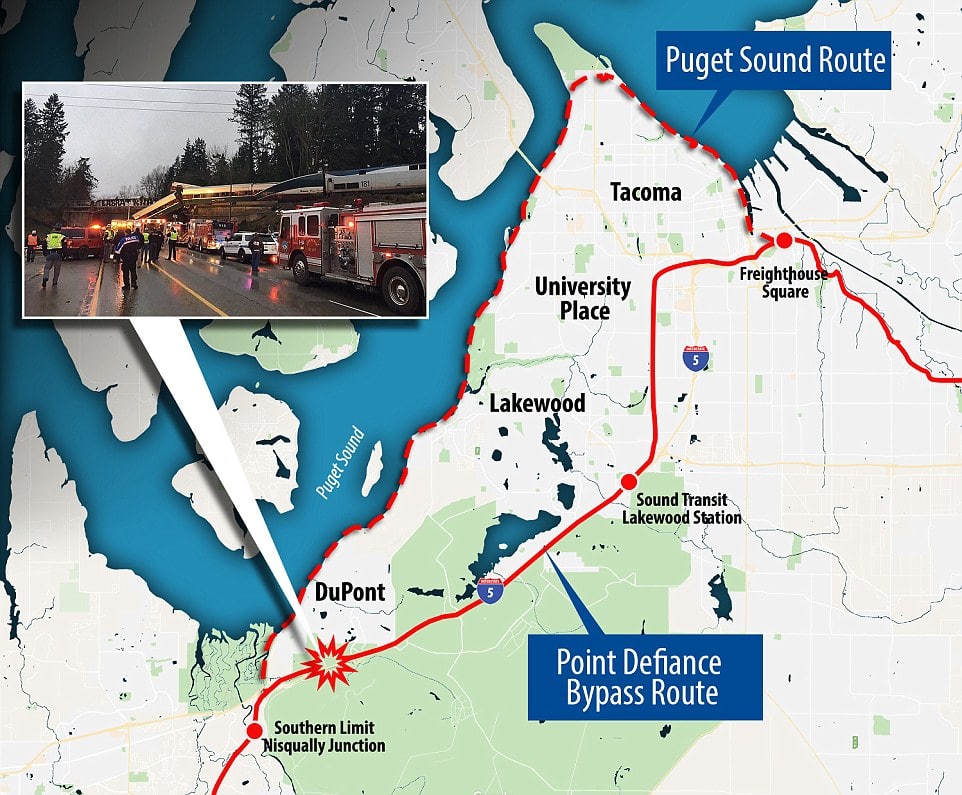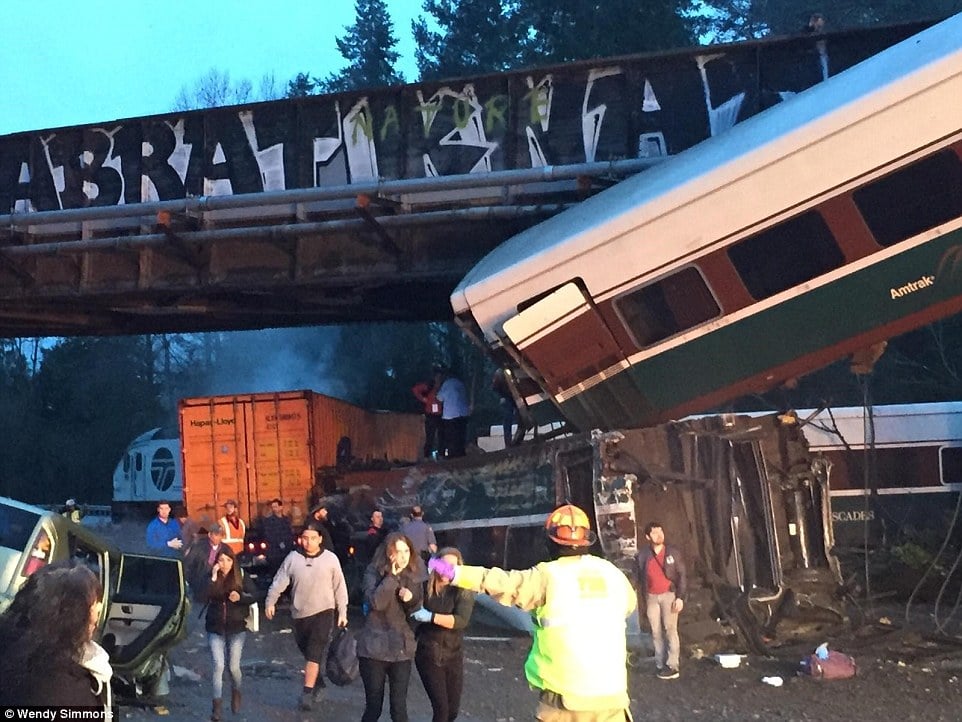 Amtrak Washington train derailment: new system designed to warn of impediments was switched off.
The new route was established as part of a $181 million project that included a new Amtrak station in Tacoma and installation of high-speed rails known as the 'Point Defiance Bypass'.
The new tracks run near the US Army's Joint Base Lewis-McChord, which last week posted an online warning that 'trains traveling about 80 miles per hour' would be passing through local railroad crossings 14 or more times a day.
Sounding off on an ominous warning, the mayor of Lakewood, Don Anderson had recently as last week reported KOMO said, 'it was a matter of time before these high speed trains kill someone.'
He'd asked the DOT presenters to do better. Anderson requested grade separations – such as overpasses be included to keep trains away from cars and pedestrians.
'Come back when there is that accident, and try to justify not putting in those safety enhancements, or you can go back now and advocate for the money to do it, because this project was never needed and endangers our citizens,' Anderson said.
An official who was briefed on the investigation but not authorized to discuss it publicly told the Associated Press on condition of anonymity that preliminary signs indicate the Amtrak train may have struck something on the track before going off the rails.
The official said because the tracks were new it was unlikely to be a maintenance issue.
In addition, the new high-tech Positive Train Control (PTC) system that each of the brand Amtrak Cascade engines are equipped with was not switched on.
The PTC computer system which prevents a train from exceeding a speed limit and can detect objects or collisions ahead is fitted to all the new Charger locomotives on the Seattle to Portland line.
However, according to CNN, at a conference call today, Amtrak President and Co-CEO Richard Anderson said Positive Train Control was not activated on the tracks at the time. It wasn't revealed why the 'warning system' hadn't been switched on.
Meanwhile others have wondered whether Monday's 'incident' may have been the result of deliberate sabotage, pointing fingers at militant left group, ANTIFA, who have allegedly used such 'terror tactics' in the past. Authorities declined to comment on the speculation.
Law enforcement needs to take a long hard look at #ANTIFA and their allied groups during the investigation into this fatal Amtrak derailment.

They've used concrete to obstruct train tracks as a terror tactic in that same region. pic.twitter.com/1p2gmoNZMs

— John Cardillo (@johncardillo) December 18, 2017
More photos from scene of Amtrak train derailment- https://t.co/icnGKdNPXJ pic.twitter.com/KowdEuz6ym

— Breaking911 (@Breaking911) December 18, 2017
CHILLING WARNING: Mayor of Lakewood, Washington issued warning just two weeks before deadly Washington State Amtrak train derailment. "Come back when there is that accident and try to justify not putting in those safety enhancements." https://t.co/xBnEpSFvTG pic.twitter.com/5KGt52ckoK

— Tim Williams (@realtimwilliams) December 18, 2017