What led to Brittany Robinson, a Pennsylvania mother hiding her pregnancy from family members before burying hr new born under the porch? 
Brittany Robinson a 23 year old Lawrence County, Pennsylvania woman has been arrested after a family member discovered her newborn baby dead under the porch of the family home.
The discovery of the newborn baby came whilst Patterson's father was hanging up Christmas lights, Sunday afternoon.
The man immediately called 911 after discovering the seven-pound, 19 inch long child inside a bag tucked in the crawlspace of his Shenango Township home. 
Upon her arrest, Robinson was charged with criminal homicide, abuse of a corpse, tampering with evidence and concealing the death of a child.
State police said the child was wrapped in a t-shirt and put in the plastic bag. 
Robinson told police that she had severe stomach pains while at work Friday, before returning to give birth at the family bathroom according to WTAE. 
She told police the baby not having a heartbeat or a pulse, with the newborn mother wrapping the boy in a black shirt and putting him in the bottom drawer of a dresser on the porch.
Robinson then claimed that she was unable to sleep on Saturday and went check on the baby.
The newborn was still not breathing so she moved him to the crawl space. Her father discovered the baby while Robinson was at work on Sunday. 
It wasn't clear why the mother at no stage notified a family member or authorities.
Robinson acknowledged having gone to work two shifts at her place of work before the deceased child was discovered underneath the family porch.
It was indicated Robinson worked as a cashier at local discount retailer, 'Big Lots'.
Robinson told police not knowing she was pregnant, with neither the woman's family members knowing she was pregnant either reported the Pittsburgh Post-Gazette.
'Everybody that's been to that scene that was present who had to observe that has had a rough day,' Lt. Eric Hermick of the Pennsylvania State Police told WPXI.
Police said they believe the baby was born alive and may have lived one day, with investigators since coming across evidence indicating that the mother knew that she was indeed pregnant. 
'When you seen this baby, it's not what everybody envisions as you see there's a baby that appears to be dead or decomp,' Hermick said.
'This baby was in excellent physical condition. It still looked like it was alive at the scene.'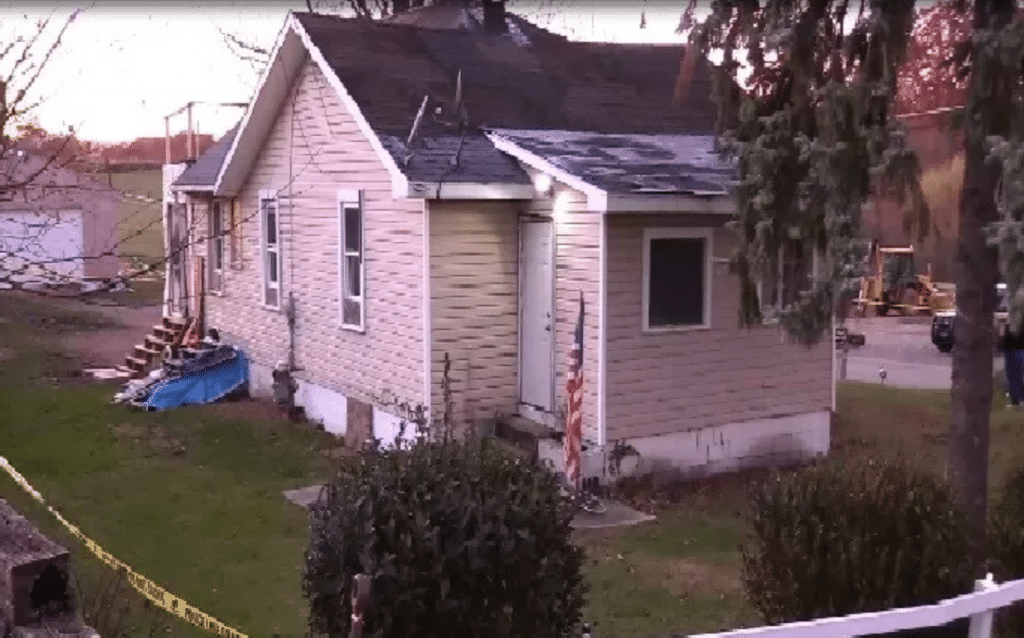 Now: Brittany Robinson, the 23yo woman accused in the death of her newborn baby boy, arrives at a Lawrence County district judge's office for her arraignment. #KDKA pic.twitter.com/GDyOtnxMwD

— Lisa Washington (@LisaWashing) November 27, 2017
Brittany Robinson newborn baby may have lived one day before death:
Robinson's family told police they weren't aware Brittany was pregnant, saying that the woman 'kept it a secret,' Hermick said. Her relatives are now cooperating with investigators, who noted that Robinson is already a mother.
'Once again, she has an 8-year-old child as well at this time, so she's familiar with being pregnant and how this all occurs,' Hermick said. 'So that's part of our case as well.'
An autopsy had been scheduled for Monday night to determine the exact cause of death. Robinson went to a hospital Sunday for treatment related to childbirth. 
She was discharged early Monday morning and immediately taken into custody.
Authorities said the investigation is ongoing as they begin to piece together the chain of events leading up to the baby boy's death.
Offered Hermick, 'Laws protect mothers who have babies who don't want them,' Hermick told the station. 
'They can drop them off at a police station or hospital. Here's a case here where, quite frankly, the baby looks like it was fine and just left to die'. 
Police said Robinson, who was picked up by cops for questioning while working at a department store, admitted to investigators she didn't call police after the boy's birth because she was afraid.
TONIGHT AT 6: The latest on the case of a newborn baby found dead at a home in Shenango Township. Brittany Robinson, who police say is the mother of the newborn, is charged with criminal homicide. @CBSPittsburgh #KDKA pic.twitter.com/wQJ2xLp2QA

— Amy Wadas (@AmyWadas) November 27, 2017
Appearing in court on Monday, Robinson was denied bail, with a preliminary hearing scheduled for next week. The mother remains held at the Lawrence County jail.
Brittany Robinson covered her face as she left the magisterial district judge's office. Bail was denied for Robinson who cried as she sat in the courtroom. She's charged with criminal homicide, concealing the death of a child, abuse of a corpse and tampering with evidence. #KDKA pic.twitter.com/je8G3FjYeD

— Lisa Washington (@LisaWashing) November 27, 2017