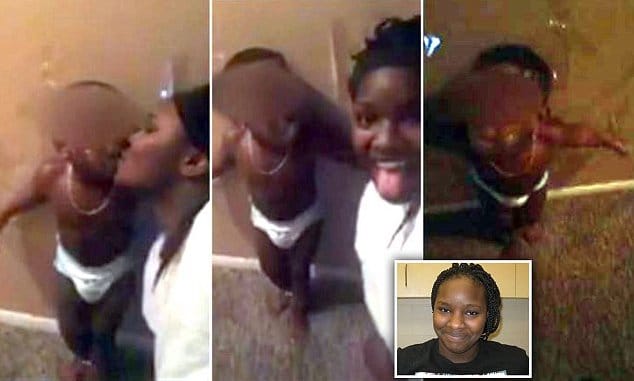 Shayla Rudolph an Ohio mom who taped her toddler son to wall has pleads guilty to child endangering, but may avoid jail all together. 
Shayla D. Rudolph a 19 year old Ohio mother who was arrested after taping her two year old toddler son to the wall has pled guilty to attempted child endangering.
The incident which took place at her Reynoldsburg, Columbus home in early January, was live streamed on Facebook- leading to wide disconcert among viewers.
Upon her guilty plea on Monday, the woman now faces the prospect of up to 18 months jail The Columbus Dispatch reported. But there is a catch, the mother may also avoid having to serve any jail all together- more on that below.
Matters came to the fore, when Rudolph posted a video on Jan. 1 that showing her son stuck to the wall, with packaging tape over his head and arms. The child could be heard crying in the background despite tape also covering his mouth.
Told the mother to her incredulous Facebook audience, 'You can't clean without them running around, tearing up? Tape them to the wall,'
'You can't cook or none of that because they're running around? Tape them to the wall.'
Rudolph went on to refer herself (do you suppose?) as 'the best mommy in the whole world' before threatening her son to 'sit still' or she'd get more tape.
Of note, police said the boy had been taped up on the wall for about 15 minutes.
But then came the denial.
Exclusive: arrest of mom Shayla Rudolph by @ReynoldsburgPD after she taped 2yo son to wall on FB live. She's now facing felony charges. pic.twitter.com/vzm0980dnU

— Lisa Rantala (@rantalawsyx) January 19, 2017
Shayla Rudolph, 'I'm the best mom and I can hang him upside down if I want to!'
When contacted by children's services about the video, Rudolph told them it was a joke. In a second Facebook Live video, the mother said, 'Go ahead and call Children's Services now, they can go ahead and take 'em.'
But there was also a third video too.
In a third follow up video, Rudolph claimed she could punish her son however she wanted, even hanging him upside down if necessary.
Rudolph was arrested by authorities on Jan. 19 and her son was taken into the custody of children's services. 
Rudolph was initially indicted on charges of child-endangerment and abduction, but pleaded guilty to a less severe felony charge as part of her plea agreement. The original charges against the woman could have resulted in five years jail. 
She reportedly will be sentenced by a judge on Dec. 1 and could potentially avoid prison. The judge will review a pre-sentencing investigation report and decide whether probation would be more appropriate. Indeed.