Pavel Luzyanin a disgruntled customer stabs Russian barber to death over bad $3.50 haircut after being mocked by friends.
Russian man, Pavel Luzyanin has been arrested after stabbing to death popular barber, Dany-Dastan Adkhamov, 24, after complaining he had given him a 'bad haircut'.
Video released by local authorities (see below) showed Luzyanin chasing the hairdresser into the street and stabbing him three times with a meat skewer in the chest.
Upon his arrest the disgruntled customer said he had taken 'revenge' after being mocked by friends over 'his new look'.
The cost of the haircut was 200 rubles, translating into $3.50 USD.
A report via the dailymail told of the footage being caught on CCTV in the town of Troitsk, 23 miles south of Moscow.
After the attack Luzyanin walked away as his victim staggered to his feet before being helped by a passing cyclist.
Seeing that Adkhamov was still alive, footage showed Luzyanin calmly walking back and stabbing his victim in the neck with the barbecue skewer.
He did so in front of bystanders who did nothing to deter him, according to police.
The barber, told police died before an ambulance arrived.
It wasn't immediately clear why bystanders declined to assist Adkhamov who hailed from Uzbekistan, an area historically regarded with derision and prejudice by locals.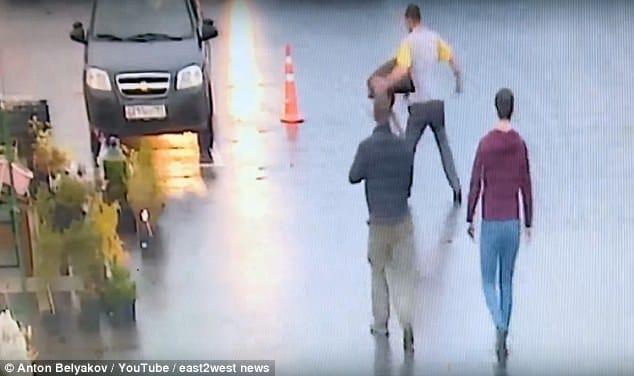 The victim, known to his friends as Danya, reported local press was an 'illegal immigrant' who had set up a thriving business with many regular customers offering cut price haircuts.
Luzyanin had come for a haircut on Friday, and had left seemingly happy with his haircut. But he had returned next day furious over it.
Adkhamov agreed to improve the cut – and he went away again.
But his friends at a nearby car repair shop told him his hair was 'cut like a prisoner'.
Vengeful Luzyanin told friends he 'could not bear' the mockery, and he returned to seek out the barber.
Told a witness, 'The client just grabbed Danya, pushed him out into the street and stabbed three times with a meat skewer'.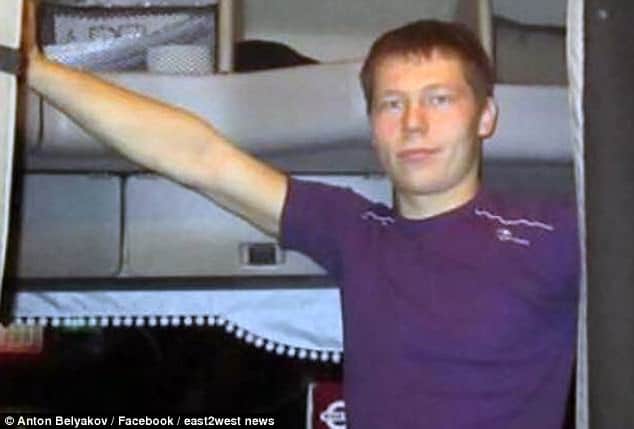 Pavel Luzyanin: well regarded but had a 'drinking problem'.
Luzyanin, 28, was stopped and detained by road traffic police soon after the killing as he sought to leave Moscow region, said Russian senator Anton Belyakov in a Facebook post.
Police revealed he had been jailed previously for robbery and car theft.
Told a friend of Luzyanin's: 'I've known Pavel for about five years. In general he is a kind and helpful guy, but his drinking habit never did him good.
'And now, instead of finishing with that KAMAZ truck he was repairing, he did such a horrible thing.'
The barber's death has led to Adkhamov's clients raising money to send his body back to his family in Uzbekistan.
One said the barber had 'golden hands' and could have got a job at a top salon if he had not been an illegal migrant worker
He was his mother's only son, and she depended on the money he sent home.
'He worked hard and he always gave the best possible results,' told one loyal customer, Alexey, an ex-Russian army officer, now a businessman.