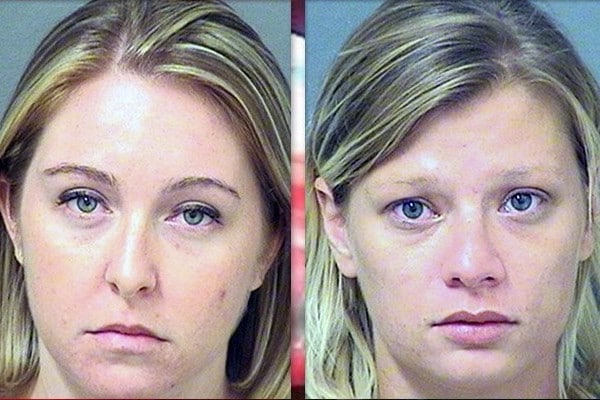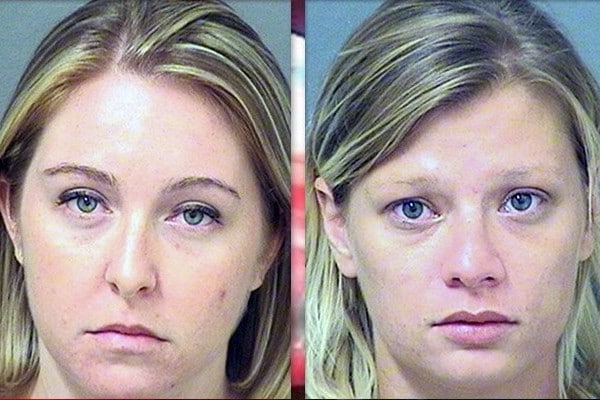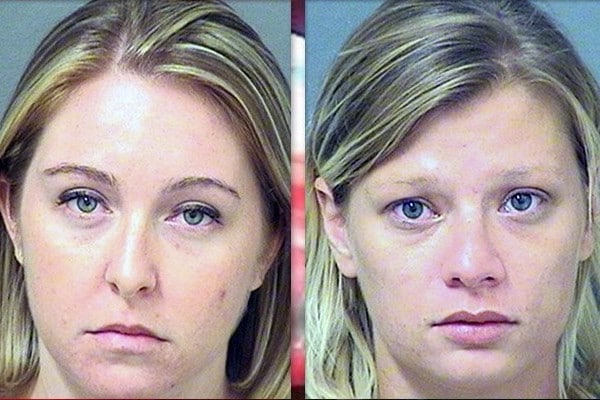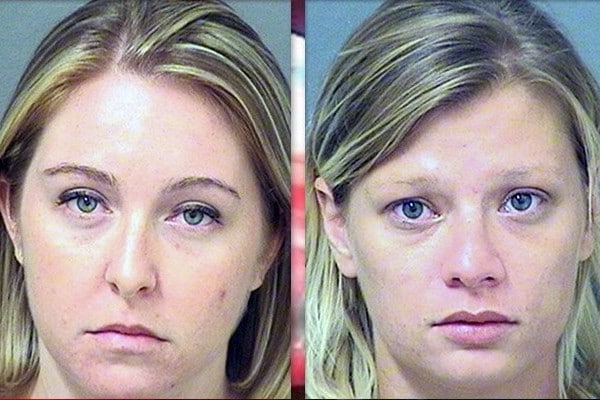 Kristen Leigh O'Connor and June Schweinhart, two Florida mothers are arrested after overdosing on heroin with their infant children in the backseat.
Two Boynton Beach, Florida mothers have been taken into custody after overdosing on heroin in a car while their infant children sat in the backseat, Thursday.
Booked were, Kristen Leigh O'Connor, 28 and June Schweinhart, 29 who admitted overdosing after picking up $60 worth of heroin from O'Connor's drug dealer.
At the time, each woman's respective child were sitting unawares in O'Connor's SUV as the moms went to town.
'For whatever reason, they decided yesterday to buy heroin and then snorted it while inside the car with their children,' the Boynton Beach Police Department wrote on Facebook on Friday.
The mothers, told cops had bonded during a drug treatment program during their respective pregnancies.
Things began getting get out of hand when one of the mothers began overdosing, with the other calling 911 for help. But then she started convulsing, according to cops.
'Oh my God, oh my God,' O'Connor said she heard Schweinhart say, according to the Palm Beach Post.
A passerby saw what was going on and took the phone and spoke with the dispatcher.
Kristen Leigh O'Connor and June Schweinhart: One of many parents caught up in the rising trend of opiod addiction.
The Florida Department of Children and Families took custody of the babies before turning them over to relatives. O'Connor and Schweinhart were charged with child neglect and taken to jail after being released from the hospital.
A judge ruled Friday that O'Connor can be with her child only when the baby's grandmother is present.
The babies were one month and two months old, respectively, the arrest affidavit noted.
'We hope this serves as a wake-up call for these moms, and that they seek further treatment for their addiction,' cops said.
Child neglect is a third-degree felony punishable by up to five years in prison.
The mother's arrests comes after a string of opiod addictions has led to parents overdosing in the presence of their children. The persistence use of the highly addictive narcotics shows no sign of abating.
Notes the American Society of Addiction Medicine : Of the 20.5 million Americans 12 or older that had a substance use disorder in 2015, 2 million had a substance use disorder involving prescription pain relievers and 591,000 had a substance use disorder involving heroin. It is estimated that 23% of individuals who use heroin develop opioid addiction.