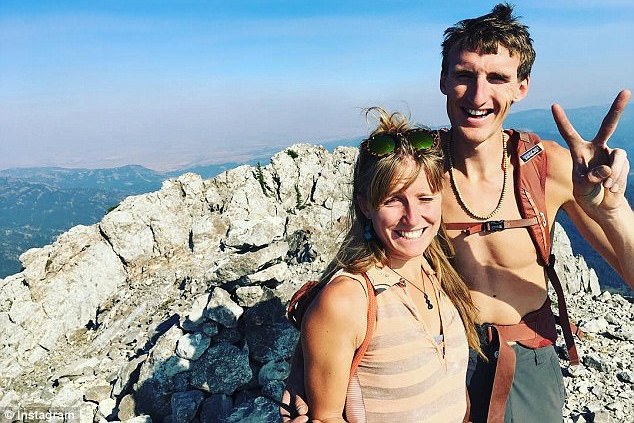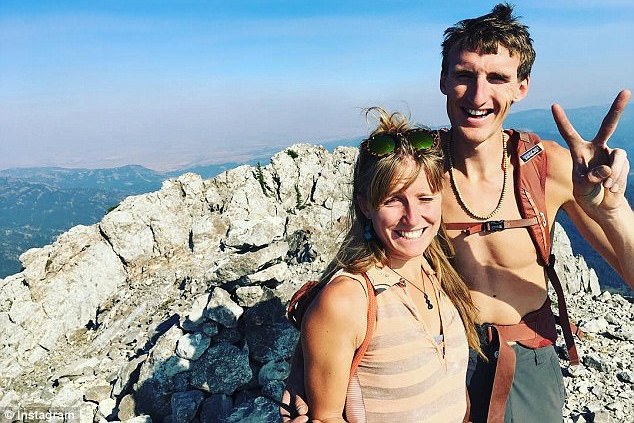 Hayden Kennedy an acclaimed mountain climber commits suicide over the avalanche death of girlfriend Inge Perkins. Wrestling with guilty feelings weeks ahead.
Hayden Kennedy a renowned mountain climber has committed suicide just one day after surviving an avalanche that killed his girlfriend, Inge Perkins.
Kennedy, 27, of Carbondale, Colorado, was skiing with Perkins, 23, at Imp Peak in Bozeman, Montana, on Saturday when they triggered an avalanche, according to the Gallatin County Sheriff's Office.
Perkins, an avid climber and ski mountaineer, was buried 3 feet under the avalanche measuring 150 feet by 300 feet, the sheriff's office said.
Kennedy, hailed as one of the world's greatest alpinists, was only partially buried and managed to dig himself out and search for Perkins.
Unable to find her, Kennedy hiked out of the area.
Doug Chabot, of the Gallatin National Forest Avalanche Center, told Outside Magazine that Kennedy left a note with 'incredibly clear directions for where to find her' in lieu of calling 911.
As a rescue team set out to look for Perkins on Sunday, Kennedy committed suicide at his home in Bozeman, according to the Denver Post.
The 27-year-old's father, legendary climber Michael Kennedy, issued a statement Tuesday that read, 'Inge Perkin's body was recovered by the Gallatin County Search & Rescue at the base of Mt. Imp on October 9th.'
Adding, 'Hayden survived the avalanche but not the unbearable loss of his partner in life. He chose to end his life. Myself and his mother Julie sorrowfully respect his decision.'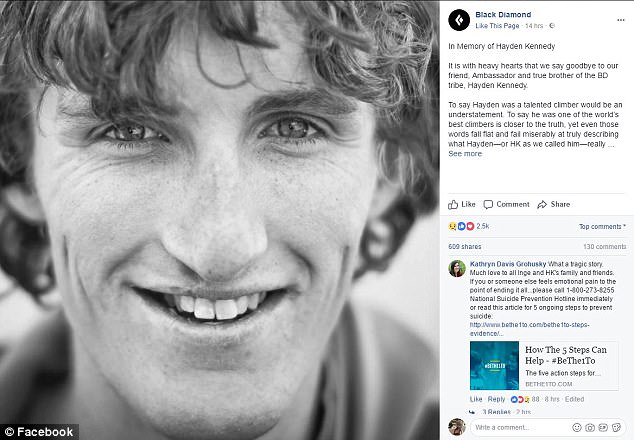 Hayden Kennedy suicide: An accomplished mountain climber is revered.
Kennedy's suicide death comes after the climber having recently moved to Bozeman to work towards his EMT certification, with Perkins enrolled at Montana State University, where she was studying mathematics and education.
Perkins, who grew up traversing the mountains of Montana and Norway with her parents, hoped to continue pursuing her passion for climbing and skiing around the world, she wrote in her biography on Mystery Ranch. Among her accolades, the avid climber  won the Montana Bouldering Championships among other competitions. 
Hayden Kennedy, who famously climbed Cerro Torre of Patagonia in South America in 2012, was remembered by his family as an 'uncensored soul whose accomplishments as a mountaineer were always secondary to his deep friendships and mindfulness'.
The deaths of Kennedy and Inge has since confounded the climbing world, with footwear company SCARPA posting on Facebook, 'These two young adventurers inspired us all to push our limits and most importantly, have fun doing it.'
'Excelling at running, climbing, and skiing, the pair was always living life to the fullest and showing the world just how that's done,' the tribute continued.
Hayden Kennedy suicide: But there were warning signs the mountain climber had been wrestling with his conscience. 
But there were warning signs that the world and risks of mountain climbing had been taking a toll on Kennedy, with the climber writing weeks before this weekend's tragedy of his reservations.
Wrote Kennedy on the blog Evening Sends, 'Over the last few years, however, as I've watched too many friends go to the mountains only to never return, I've realized something painful.'
'It's not just the memorable summits and crux moves that are fleeting. Friends and climbing partners are fleeting, too. This is the painful reality of our sport, and I'm unsure what to make of it. Climbing is either a beautiful gift or a curse,' he said.
Kennedy's post continued with an anecdote about climbing a 'big-wall route in Mexico,' an "incredible" experience with three good mountain climbing friends, two of whom would later die.
'There's no easy way to say this, but half that team is now dead,' Kennedy wrote. 'Justin [Griffin] died in Nepal in 2015. And Kyle [Dempster], along with his partner, Scott Adamson, vanished while climbing on a remote peak in north Pakistan a year later. I think about Kyle and Justin all the time. Their absence from this world is felt by so many who are left in a wake of confusion, anger, and frustration.'
One wonders how much guilt Kennedy, who was once considered possibly the 'best young climber on the planet' by Elevation Outdoors was able to bear as he pushed hard to win the summit. And the toll that was left behind as those who dared to keep up…