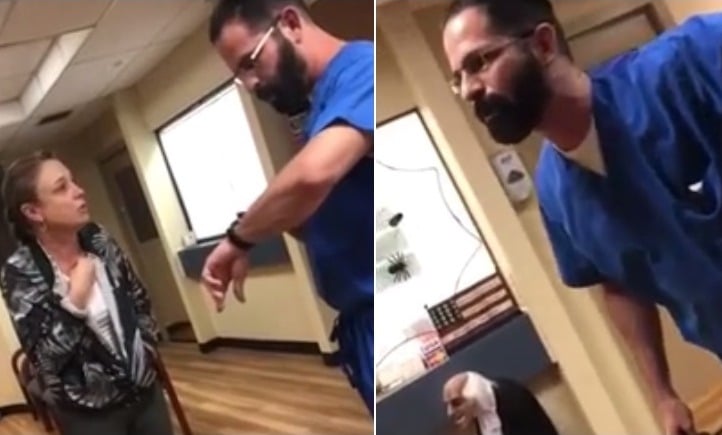 Dr Peter Gallogly a Florida doctor comes under heavy rebuke after he is filmed lambasting patient, Jessica Stipe and refusing to serve her. The state of healthcare. 
Going viral is a video of a Gainesville, Florida doctor, Dr Peter Gallogly screaming at female patient, Jessica Stipe after the woman complained of being made to wait an extraordinary time after seeking treatment of what she believed to be pneumonia. 
Screams the man after being confronted by Stipe, 'Get the fxck out of my office!'
The exchange caught on cellphone by Stipes' daughter (see below) came as the ill mother had arrived for a 6.30pm appointment at the Gainesville After Hours Clinic on Monday.
Come 7.45pm, Stipe, 38, who had yet to be accommodated by Gallogly, and who by now had 'thrown up in a trash can,' sought a refund from the doctor.
Retorts Gallogly, 'Do you want to be seen or not?'
In turn the ill woman responds she wants to go home and get into bed, which elicits a disparaging 'telling off' by Gallogly.
Screamed the physician, 'Then fine, get the hell out, get your money and get the hell out, see you later.'
Dr Peter Gallogly takes Jessica Stipe's phone as he is accused of trying to erase video.
The dispute continues as Stipe's daughter reassures her mom that it's okay and she had been filming the whole thing as she says to the doctor: 'Okay you can get out of her face.'
Gallogly is filmed continuing to yell at Stipe, with the family doctor bellowing: 'Go to the ER and wait nine hours!'
Adding, 'get the f*** out of my office. Now.' 
At this point the daughter points the camera directly to the doctor, asking the irate physician: 'What's your name?' only for Gallogly to aggressively slam the phone out of her hand and confiscating it.
Upon the cellphone, an i-phone 7 worth $300 being taken, the daughter demanded her phone back, leading to a scuffle with the daughter being shoved. From there, Stipe claims Gallogly turned down the hallway with her daughter's phone.
Stipe went on to tell via WCJB-TV that she thought Gallogly tried deleting the video before throwing the phone back to her daughter.
It was soon after the Jessica Stipe's encounter with Gallogly was shared on social media leading to an avalanche of criticism of the doctor.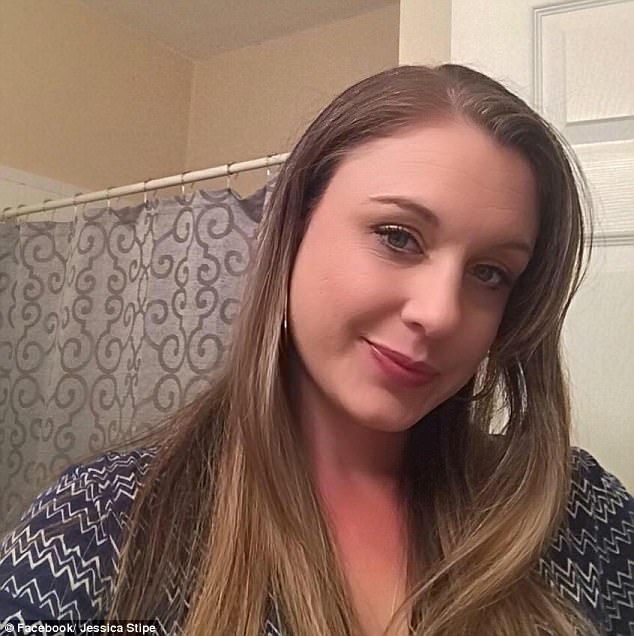 No love lost for Dr Gallogly as video is seen 472, 000 come Thursday night: 
Told Stiple in a Facebook post, which has been shared 2.3k times and viewed over 472K times: 'I asked for my co pay back so I could leave and go back home to bed and try to be seen elsewhere tomorrow because I'm just that miserable.'
'The Dr was mad I wanted my co pay back and was unhappy with having to wait so long and proceeded to cuss me out.'
The post in turn led to a vociferous condemnation of Gallogly, with one commentator posting, 'Call them back and demand to speak with a supervisor and he needs to be reported to professional standards board as well medical if he is a physician!'
While another posted, 'This is infuriating. No one should ever be treated like that and for him to grab her phone. Heck no. He needs to be fired.'
Responding to the outcry against him (do you suppose…?), Dr Gallogly released a statement on Wednesday where he told via CBS, the video 'had been heavily edited and taken out of context.'
Reiterated Gallogly, 'Ms. Stipe had been increasingly belligerent and abusive to the office staff, cursing and threatening them with violence, because she was unwell and had been waiting to see me for more than an hour.'
'I went to the front desk only because after Ms. Stipe received her refund, she refused to leave the office, and continued her abusive behavior towards staff.'
Gallogly claims by the time he finally came to the waiting room Stipe and her daughter continued hurling abuse, where they 'cursed and threatened him.'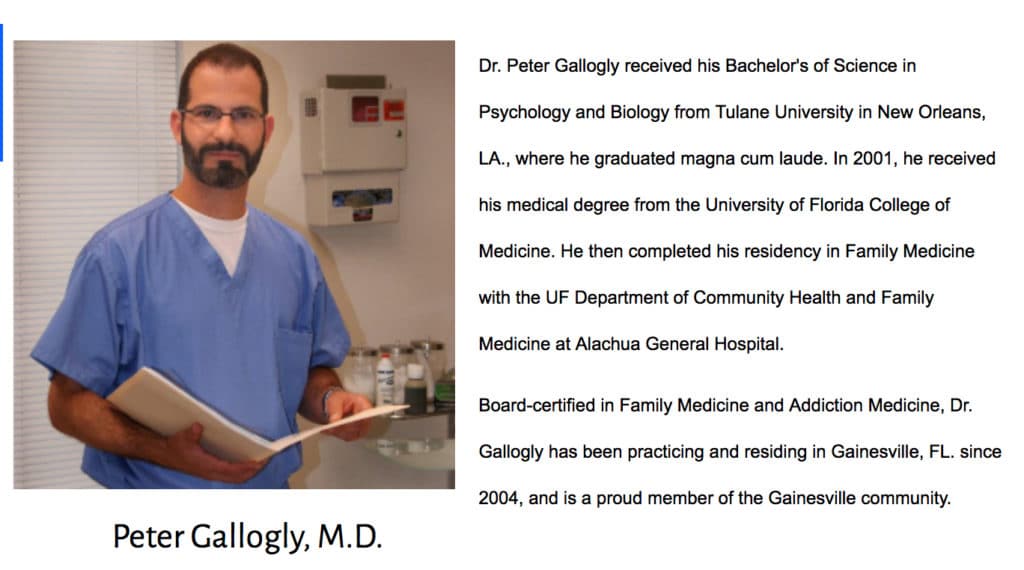 Dr Peter Gallogly statement: 'I was simply trying to protect my staff.'
A since-deleted page on the Gainesville After-Hours Clinic's website said Gallogly graduated from the University of Florida College of Medicine in 2001 and completed his residency in family medicine at Alachua General Hospital.
While not making an attempt  defend his behavior, Gallogly concedes having lost his temper: 'While not an excuse for my behavior, a basic reason for my reaction is that I simply regard my staff as family, and I over-reacted to defend them.'
In the video the doctor also says that Stipe was seen to and even had a urine sample taken.
Stipe stands by her story as she said: 'I don't want anybody else in my community or any other community to receive that type of care or behavior towards them.'
Gallogly said the situation continued even after Stipe received her refund, however she still would not leave, according to The Gainesville Sun.
A follow up police report says the officer who responded to the clinic watched the video and had no reason to believe Gallogly struck or pushed Stipe's daughter.
Stipe said on Facebook: 'Gpd is here now but says we can't press assault charges even though it's all on tape because she has no injury .. wtf .. he took her phone and shoved her she is a minor'.
Officer Ben Tobias, a spokesman for the Gainesville Police Department, said a criminal investigation has been launched into Gallogly's actions. 
Of note, Dr Peter Gallogly could be face some serious legal trouble since there are multiple statues in Florida state law that say a doctor can't turn away sick patients under most circumstances.
Yes, the world is insane and it is getting worse every day. No excuse for this kind of behavior #DrPeterGallogly not a doctor I want to see

— NEVER AGAIN (@jonelstr) October 12, 2017
Dr Peter Gallogly and the state of healthcare: The internet weighs in.
And then there were these affirmations of Dr Gallogly on the web prior to Monday's 'incident.'
Wrote Kelly Dunbar, 'Dr. Gallogly is an excellent doctor with the patience to listen and find out what is going on with you. He and his staff were excellent and got me in and out quickly,'.
While Morton Wolfson wrote, 'I have been seeing Dr. Gallogly for many years. I met him at the Gainesville After Hours Clinic. He is a great Doctor, he always resolves my issues and I would recommend him to any one.'
Followed up with new comments since Monday.
Wrote one individual, 'Watch the video of Peter Gallogly MD abusing a patent and her daughter today. I'm sharing this video to be sure no one else brings their business to you. It's a sad world when the doctor can not keep his cool. His license needs to be pulled.'
While one commentator wrote, 'Go somewhere else. Disgusting.'
And then another, 'Healthcare is this country is truly going down the tubes.'