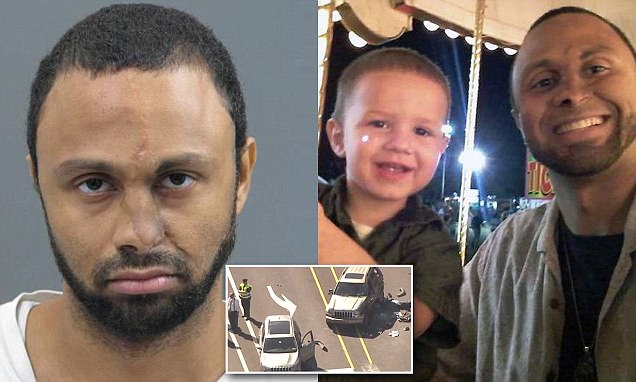 Christopher Kuhn: A NJ father has been charged with third degree murder after fleeing a car crash scene only to leave his toddler son to die.  
Christopher Kuhn a 27 year old Hamilton, New Jersey father has been arrested after the man's two year old son died during a bungled theft after fleeing a local Walmart.
Having made off with a pair of $228 speakers, Kuhn ended up flipping the vehicle he fled in. At the time, the man's two year old son, Quad was sitting with him. It would be determined that the father failed to secure the boy in the car seat during Tuesday's accident reported WPVI-TV.
Instead of strapping his son into a car seat as he fled, Kuhn concealed his license plate with a sweatshirt before quickly driving away. Shortly after, the speeding father ran a red light, crashing into two other vehicles.
Upon his arrest, Kuhn was charged with third degree murder, homicide by vehicle and related charges following the death of his toddler son in Tullytown, following Tuesday's crash, just after noon.
Mackenzy Trievel: Christopher Kuhn abused me for years and left our son for dead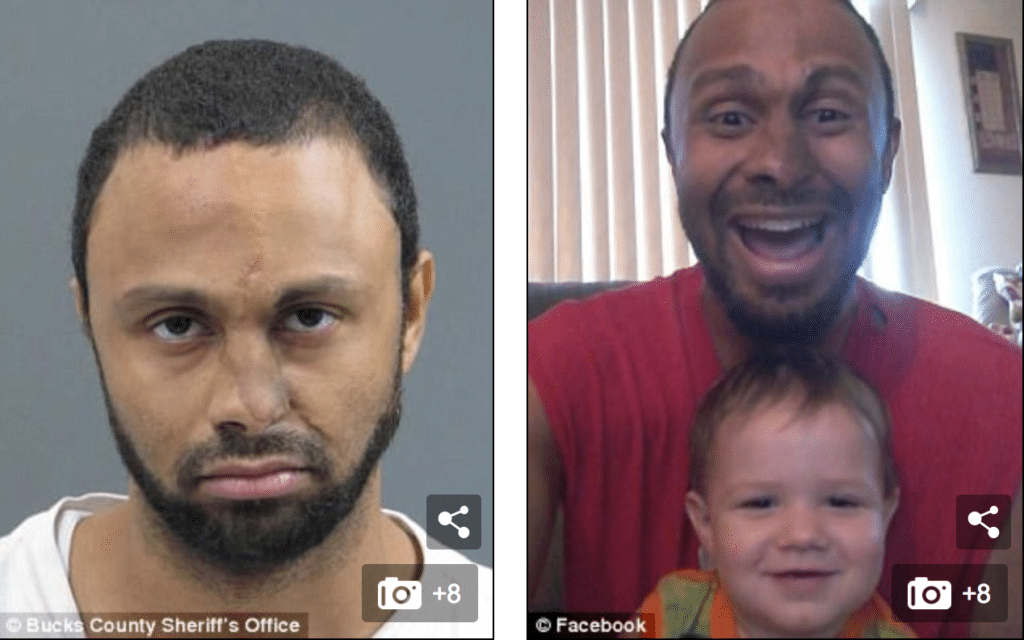 Christopher Kuhn flees crime scene: Father neglects to properly secure toddler son.
Authorities say the father had been holding a small child when he left Walmart on Levittown Parkway after security personnel tried detaining the man after failing to pay for $228 worth of merchandise.

As he was fleeing the scene, Kuhn, driving a Jeep SUV, ran a red light on Route 13, hitting another vehicle and rolling over. The young boy was ejected from the Jeep, while Kuhn continued to flee the scene by foot, according to the Bucks County District Attorney's office.
A probable arrest affidavit noted Kuhn, 'pausing to look at his injured son on the roadway' before running off. Officers ran after him, catching and arresting him, while others tended to the toddler.
The boy was taken to Lower Bucks Hospital, where he was pronounced dead.
The suspect's Jeep was not being chased by police vehicles at the time of the crash, authorities said.
Offered, Bob James with the Buck's County DA's office, 'It's unreal. How can a dad choose even his own freedom over the health and safety and welfare of his own kid.'
Witnesses told police the child had climbed into the rear driver's side of the Jeep and he was not secured in a child safety seat at the time of the crash. Police later found a child safety seat in the rear seat of the Jeep.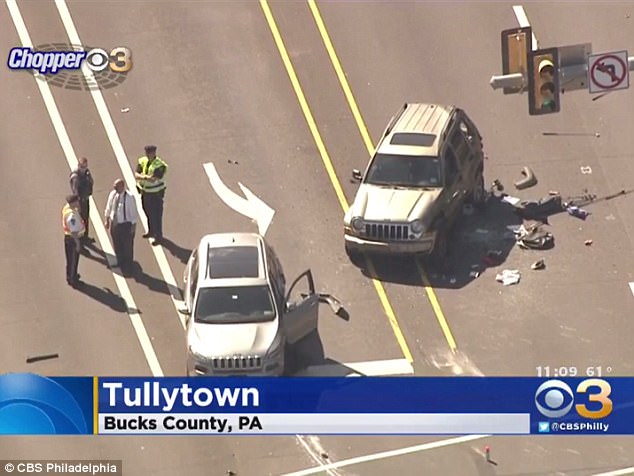 Christopher Kuhn NJ father: A history of previous infractions and crime.
Bucks County Courier Times reported at the time of Tuesday's car crash, Kuhn had been driving with a suspended license.
But it gets grimmer, a report via the Trentonian told of Kuhn in 2016, allegedly strangling, biting and holding a screwdriver to his ex-girlfriend's neck while she held his 9-month-old child. He had also threatened to kill her in a previous incident.
It wasn't immediately clear if the child involved in this incident was the same involved in Tuesday's crash.
Court records show Kuhn being arraigned late Tuesday with bail set at $5 million. He is being held at the Bucks County prison, with a preliminary hearing on Oct. 10.
Following Quad's death, the child's mother, Kenzy Trievel, posted the following on Facebook:
Qadan's mom wrote on Facebook, 'He saved my life and I wish I could have saved his I would give anything to hold him again. He was the light to my life and ill never forget all the laughs and smiles we shared I just can't believe this happened to you. I love you with all my heart I hope your laughing and having the best time. all I ever wanted was for you to be happy. Mommy misses you so much and loves you with all my heart'