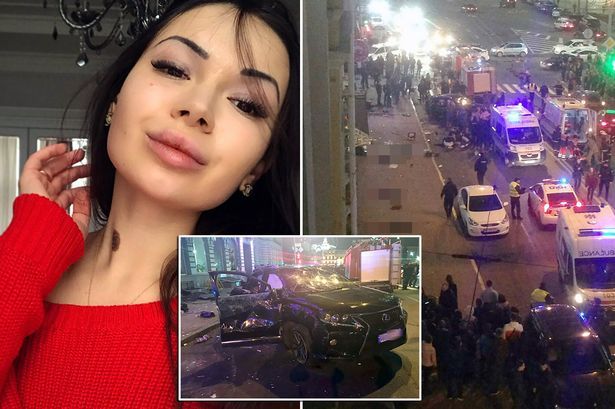 Alyona Zaitseva a Ukrainian heiress crashes her luxury Lexas car killing five pedestrians after jumping red lights. Fears that powerful daughter will avoid prosecution.
Video has been released (see below) of the moment 20 year old Ukrainian heiress, Alyona Zaitseva crashing her car into pedestrians, after 'jumping a red light'.
The incident which happened on one of the most busiest streets of Karkiv, Sumskaya Street led to five persons dying as pedestrians had made their way along the pavement.
Upon having crashed in her Lexus, Zaitseva's armed bodyguards drove up in two jeeps and protected the woman from a furious crowd who'd witnessed the crash. The dead reported local media included a 15 year old school girl.
'It's like a war zone,' said one onlooker who was trying to care for the injured.
Zaitseva, the daughter of local energy company multi-millionaire Vasily Zaitsev, was uninjured.
Among the scores seriously injured was a seven months pregnant woman. Her condition was since being admitted to hospital was grave.
The five people killed in the crash have been named as mother and daughter Alla Sokol, 46, and Anastasiya Sokol, 19, Alexander Evteev, 27, Nina Kobiseva, 28, and Elena Usmanova.
Dozens others were injured, including three individuals who remain in comas.
Latest reports told of Zaitseva, at the time of crash traveling more than 60 mph in an area with a maximum limit of 35 mph. Surveillance footage confirmed the heiress had been racing against another car in the city center.
CCTV shows a line of cars in a junction getting a green light, when suddenly Zaitseva's Lexus comes speeding in the right-hand corner, smashing into a Volkswagen and spinning into a crowd off-camera.
Zaitseva a student was detained initially for three days before being released. Police said she was found not to have been drinking before the crash reported the dailymail.
According to eyewitnesses, there were girlfriends sitting with her in the car. Witnesses told of the woman being 'pretty drunk'.   
Local bloggers expressed fears that because of her powerful father, Zaitseva she will be exonerated despite claims that she sped through the red light. The woman's half brother had previously occupied the role of city prosecutor. 
Local media also revealed Zaitseva having eight previous motoring fines, four of which were for speeding, in the two years of her being a licensed driver.
If convicted, the heiress faces up to ten years in jail.