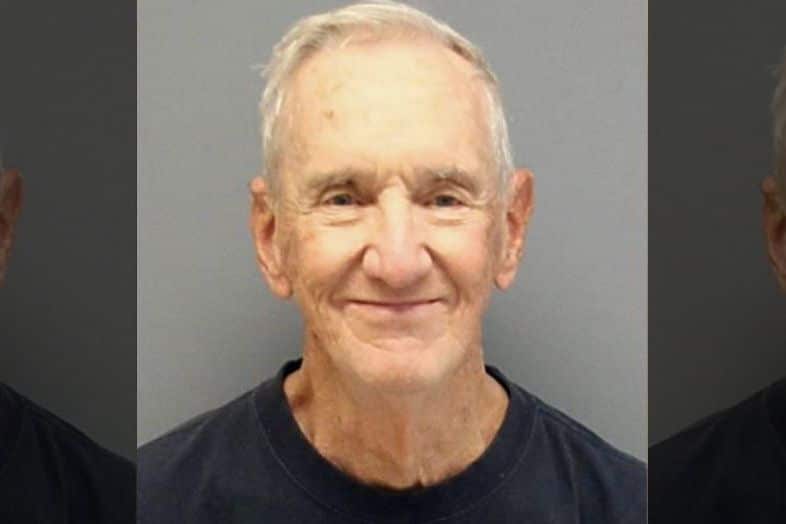 Alan Richard Schmitt a 77 year old Virginia man arrested after strangling online date who refused to give back $400 of gifts he'd bought her (on their first date). 
Alan Richard Schmitt a 77 year old Colonial Beach, Virginia man has been accused of allegedly strangling his 23 year old online female date upon their first meeting.
The man's arrest came at the Newport Newson home of the un-named woman, Tuesday night after Schmitt allegedly attacking her.
The budding romantics meeting came following a series of chats on dating site, 'Plenty of Misery Fish.'
According to WAVY.com matters devolved when the woman quickly realized Schmitt was anything but who'd he claimed to be online, having said he was much younger than he actually was.
In turn the woman said she wasn't interested in dating Schmitt and only wanted to be friends.
Despite the woman's remonstrations, the online date was able to persuade the woman to accompany him to the mall- which is when things soon began to go awry.
During their visit to the mall, Schmitt bought his 'female date' $400 worth of clothes, before the pair returning to the woman's home.
Yes kids you know what's going to happen next …
Alan Richard Schmitt: Can I buy your friendship for $400 and then some?
Upon arriving at the woman's home and bidding the man good night, Schmitt demanded the woman return the items he had just purchased her including the shirt she was wearing.
In turn, according to a criminal complaint the woman informed Schmitt that he could not have the shirt back. In turn, Schmitt 'grabbed her around the neck,' and 'threw her to the ground.'
From there Schmitt 'got on top of her' and 'proceeded to choke her, causing her to struggle to breathe.'
During the struggle, the woman told a Newport News Police officer her necklaces were torn off.
Officer Jeffery Cumming of who wrote the complaint went on to write, 'I observed her necklaces were in pieces, and there were small bleeding scratches around her neck.'
Schmitt, meanwhile, said that when 'he went to get the clothes back, they started to argue.'
At that point, he said, she 'stepped in front of him and pushed him in his face' and 'he lost his balance and reached out, grabbing [her] by the neck.'
Schmitt was 'unsure as to how she ended up on the ground as well,' according to his statement. 
He has been charged with felony strangling of another causing wounds or injury and is detained at Newport News City Jail, with the septuagenarian scheduled to return to court on November 14. Indeed.