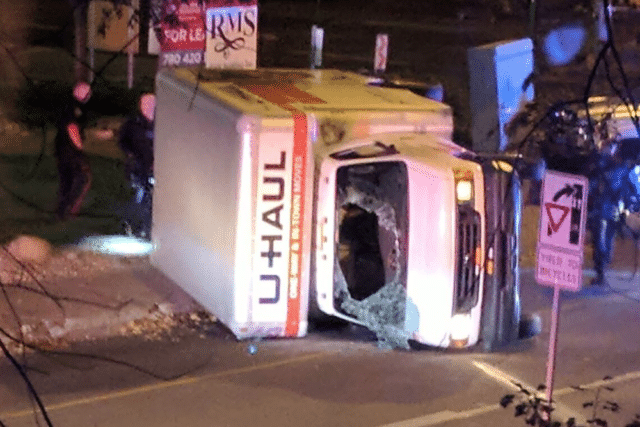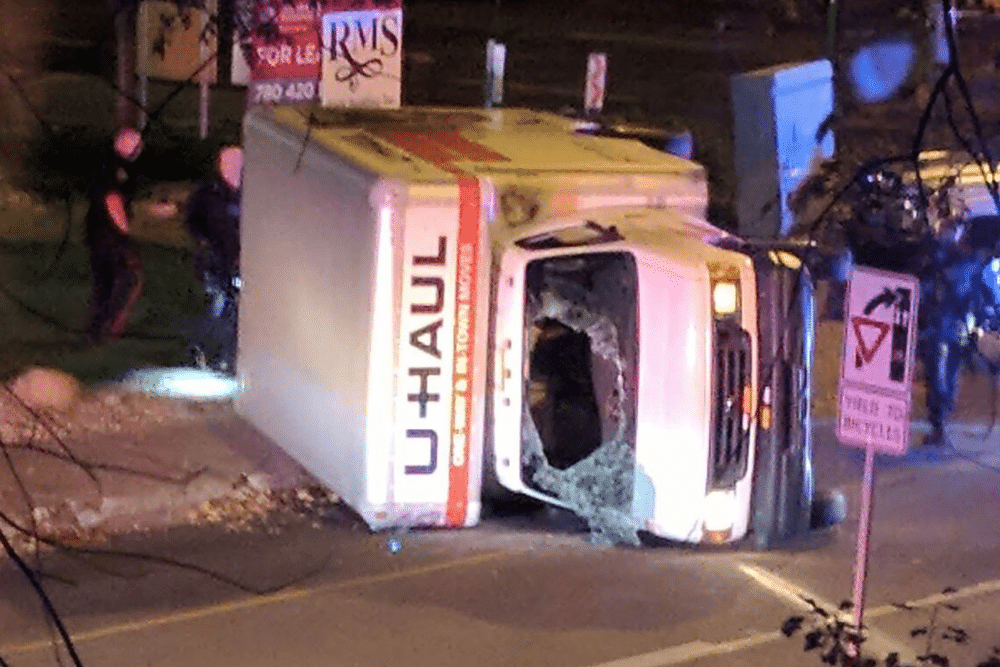 What led to Abdulahi Hasan Sharif a Somali refugee engaging in two incidents of terrorism in Edmonton, Alberta, Canada? Had been on police radar.
Abdulahi Hasan Sharif has been identified as the individual caught on surveillance footage, Saturday night, plowing down an Edmonton, Alberta, Canadian police officer while driving a car before alighting and stabbing the cop several times.
Upon attacking the police officer, circa 8.15pm as he stood guard near a CFL football game, at Commonwealth Stadium, Sharif, 30, evaded police after fleeing by foot. The injured police officer was taken to hospital and treated for non life-threatening injuries. 
Social media named the injured officer as Const. Mike Chernyk.
A report via CBC told of an Islamic State flag being found in the front seat of the car and seized as evidence. It wasn't clear how or why Sharif came to be driving with the Islamic terror flag in his white Chevrolet vehicle.
Come midnight, the man struck once again after fleeing from a traffic stop in a U-Haul truck, only to purposefully strike five pedestrians, four critically, before crashing and being taken into custody.
A report via the edmontonjournal identified Sharif as an Edmonton resident of Somali origin. It is thought the man is a refugee claimant. It wasn't immediately clear how long he had been in Canada and where he had been prior to arriving in Canada.
WARNING: Disturbing images.
Edmonton police released security video showing the terror attack where an officer was rammed with car, stabbed pic.twitter.com/UlvB8TBdjI

— Globalnews.ca (@globalnews) October 1, 2017
Abdulahi Hasan Sharif Somali refugee was investigated in 2015 after espousing extremist ideology. 
Come Sunday afternoon, Edmonton police released a press release in which they said the suspect was known to both RCMP and police.
RCMP K Division Assistant Commissioner Marlin Degrand told of a 2015 complaint being lodged against Sharif, after 'espousing extremist ideology'.
At the time, Sharif was interviewed by the Integrated National Security Enforcement Team (INSET) only to be released after it was determined that there was 'insufficient evidence' to make an arrest. Police said Sharif was deemed 'not a threat.'
Police declined to speculate what led to the wanted man later driving a U-Haul truck a few hours after knifing Const. Mike Chernyk.
RCMP, #yeg police say they investigated 30-yr-old Abdulahi Hasan Sharif in 2015 for 'espousing extremist ideology.' https://t.co/ZKFHM085Tv pic.twitter.com/5SFFOkMGKX

— CBC Edmonton (@CBCEdmonton) October 1, 2017
Abdulahi Hasan Sharif Edmonton terror attack: Lone wolf attack?
While Sharif is yet to be charged, police said the Somalian was under arrest for offenses including participation in a terrorist attack, commission of an offense for a terrorist group, five counts of attempted murder, dangerous driving, criminal flight causing bodily harm, and possession of a weapon for a dangerous purpose.
During press questioning, police said they believe Sharif acted alone.
Of the injured pedestrians, following the second altercation Saturday evening, police described the victims' injuries ranging from 'broken arms to brain bleeds.'
One person who was listed in critical condition has been upgraded to stable. Two others have been released from hospital. The fourth victim suffered a fractured skull but has regained consciousness.
Asked if the attacks had been part of a broader terrorist attack, Canada officials said they believed it to be a lone wolf attack.
The attack has since led to members from Edmonton's Muslim community strongly condemning the attack and calling for solidarity within the community.