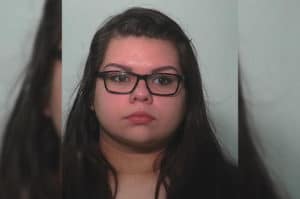 Sarai Rodriguez-Miranda an Indiana teen remains on the run after attempting to poison breast milk to kill her niece.
Police have told of Sarai Rodriguez-Miranda a 19 year old, Fort Wayne, Indiana woman plotting to kill her brother's eleven week old baby using poisonous breast milk.
The teen who on Monday had an arrest warrant placed against her remains on the run after her mother notified authorities of her plan reported WANE.
The run-away teen now faces charges of attempted murder.
The murder plot comes after Rodriguez-Miranda, who lived with her mother, became upset when her brother, his fiance and their baby girl were allowed to live in the home.
According to the affidavit for probable cause, the investigation into the daughter began in January of this year after Rodriguez-Miranda's grandmother read a text message conversation between her daughter and her daughter's boyfriend on her cell phone. The affidavit indicated that Rodriguez-Miranda used her grandmother's cell phone and that the grandmother monitored the usage.
Recovered texts included Rodriguez-Miranda saying she was 'so excited' about her scheme to crush Excedrin, an an over-the-counter headache pain reliever, and put it into the baby's breast milk bottles, the Journal Gazette reported.
Wrote the teen in one text, 'I put the stuff in a made bottle in the fridge.'
While another text read, 'Yeah I thought it was funny that I don't have an ounce of guilt.'
Upon finding the messages, Rodriguez-Miranda's mom went to examine the bottles and found the breast milk was an off color, authorities said,
The infant was immediately brought to the emergency room for examination, but didn't show any signs of poisoning.
The family turned over the bottles to police. Toxicologists conducted between January 10-12 tested the breast milk and found it contained acetaminophen, caffeine and aspirin — substances in Excedrin.
One bottle contained the equivalent of nine Excedrin tablets, which is enough to kill an adult.
Indiana State Police Lab technicians positively identified 2,240 mg of acetaminophen in the bottle, when 900 mg would have been toxic to the infant, who weighed just under 10 pounds at the time of the incident.
Rodriguez-Miranda, meanwhile, reportedly sent messages about her plan not working.
'Why didn't that baby die dude thats dumb,' the run-away teen texted. 
Adding, 'I hope she dies. I don't feel bad about it bc she was destined to grow up [expletive] or be abused. I'd never be suspect I know but I hope it works.'
Police say Rodriguez-Miranda fled town mid January when she heard about the investigation. She and her boyfriend are believed to be in Michigan. 
If she is apprehended, Rodriguez-Miranda will be detained on $50,000 bail.