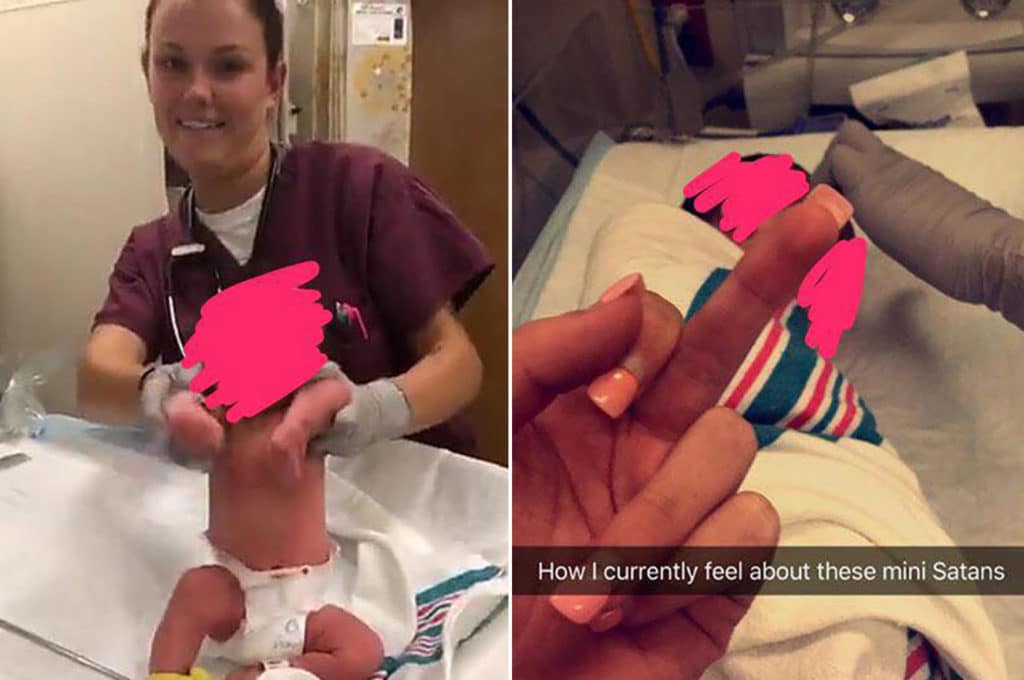 Allyson Thompson and Joanie Barrett identified as Jacksonville naval hospital staffers forcing newborn baby to dance to rap music, while calling another, 'mini Satan.'
Allyson Thompson and Joanie Barrett have been identified as the two female navy staffers at a Florida Navy hospital who posted 'inappropriate' photos and videos of newborn babies.
One video showed them (see below) forcing a newborn baby to dance to rap music, while one photo referenced the newborn babies as 'mini Satans'.
Pursuant to a social media post going viral, the Navy sailors, stationed at Naval Hospital Jacksonville were removed from patient care.
Read a statement issued from hospital's commanding officer, Captain David Collins, 'We are aware of a video / photo posted online. It's outrageous, unacceptable, incredibly unprofessional, and cannot be tolerated'.
Adding, 'We have identified the staff members involved.They have been removed from patient care and they will be handled by the legal system and military justice. We've notified the patient's parents.'
Of note, despite Thompson and Barrett having been described as navy nurses the pair are actually hospital corpsman. Demands have since been made to be court martialled and charged. 
Sean Cronin, a Jacksonville area attorney who has filed medical malpractice suits dozens of times against the Naval Hospital, told WJXT-TV that the corpsman are the equivalent of civilian certified nurses assistants. They are supervised by doctors and nurses and are not licensed.
Allyson Thompson and Joanie Barrett: Navy Hospital policy up in smoke?
In the video, one of the staffers, identified as Allyson Jeanette Thompson, 21 is seen to making a new-born baby dance to 50 Cent's 2003 hit "In Da Club". Thompson can be seen gleefully swinging the baby's arm as the song plays.
Her partner in crime, Barrett, 23, filming the scene can be heard saying, 'We're going to hell.'
But there's more.
Another photo posted to social media shows a middle finger being directed a newborn baby. Reads a caption, 'How I currently feel about these mini Satans.'
According to WJAX-TV, the babies depicted in the video and photos were only hours old.
The outlet reported Thompson initially posting the 'contentious' images and video to Snapchat. They were later shared on Facebook by a former high school classmate.
'A girl I went to high school with is a navy nurse and this is how her and her shitty friend treat the babies that have just been born,' the classmate wrote. 'My blood is literally boiling and I want to snitch bc that is someone's child. The first pic is her friend who is making the baby dance and she's playing rap music in the background. I'm LIVID and I'm snitching bc she should get fired from her job but idk how to go about it. Pissed isn't even the words.'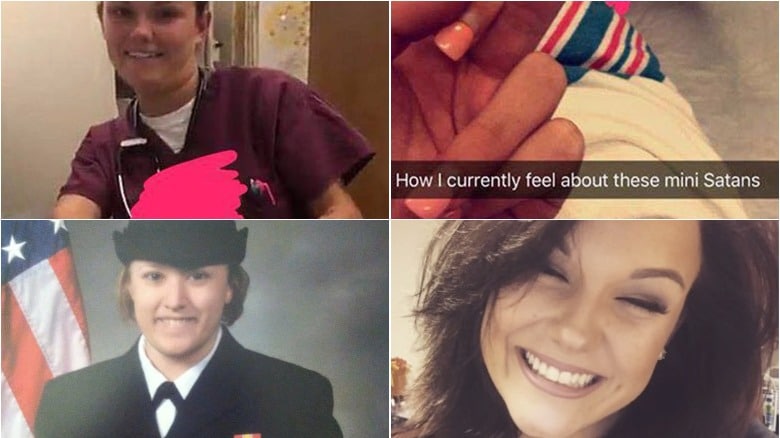 Allyson Thompson and Joanie Barrett become social media pariahs:
The video was also shared on Facebook by Denisa Shellito, a military spouse, and has been shared over 305,000 times.
'I'm just sharing someone's post in hopes that these childish girls get reprimanded and lose their jobs,' Shellito wrote. 'They work at the naval hospital in Jacksonville, FL. Call, email, do whatever it takes to get through to administration!!'
Reacted a variety of commentators, 'What the fxck is wrong with ppl? Your job is to help save lives? If you don't like it get the fuck out of the way & have someone else do it who would appreciate it.' 
Wrote another, 'I'd want to know if someone I'm supposed to trust with the well being of my child was treating them like this!'
While lawyer, Sean Cronin told via WJXT-TV,  'I'm absolutely, utterly shocked. I've never seen anything that is so blatant and malicious'. 
Naval Hospital Jacksonville have since reiterated that an investigation is underway. While navy officials have yet to say to what extent the two women will be reprimanded, speculation is rampant that Thompson and Barrett will face dishonorable discharge from and possible criminal charges, while their supervisors could also face punishment, including firing.
While Thompson and Barrett are to be disciplined, one can't help but wonder to what degree their place of employment, influenced them to display such a cavalier attitude and how supervisors go about training and enforcing protocol?