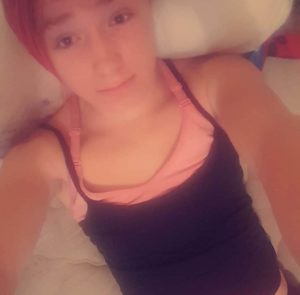 Was the murder and mutilation of Ally Steinfeld a Missouri transgender teen the result of a hate crime? Fourth person arrested. 
Ally Steinfield a  Houston, Missouri teen who had recently come out as transgender was found murdered and mutilated.
Steinfeld, who was born Joseph Matthew Seinfeld, had her eyes gouged out and was stabbed before her body was set on fire.
Charred remains of the trans teen were found in a burn pit and in a bag inside a chicken coop near a mobile home in Cabol, Ozarks last week.
At the time, authorities arrested three individuals, since identified as, Andrew Vrba, 18, Isis Schauer, 18, and 24-year-old Briana Calderas.
All three reported the Houston Herald were charged with first-degree murder and abandonment of a corpse. Vrba and his girlfriend, Isis Schauer, were also booked with armed criminal action charges.
A fourth person has also now been charged with Ally Steinfeld's death reported.
Booked was James Grigsby, 25, of Houston, Missouri, who on Monday was charged with abandonment of a corpse and tampering with evidence.
The victim's sister, Ashleigh Boswell, told the News Leader that Steinfeld had come out as transgender earlier this year and had spoken to the family about undergoing gender-reassignment surgery one day.
Steinfeld who openly shared images of themselves as a female on Facebook, had by now adopted the name of Ally Matthew Steinfeld along with Ally Lee Steinfeld. 
Coming out in May, Ally under the handle, "allyleesteinfeld" posted on Instagram that she was an "mtf," which stands for male-to-female.
In June Ally posted with the caption, 'I am proud to be me I am proud to be trans I am beautiful I don't care what people think.'
Joseph Steinfeld murder leads to three arrests, eyes gouged out for sexual gratification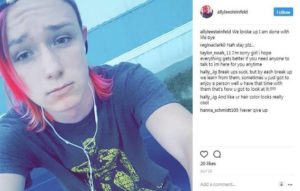 Ally Steinfeld Missouri transgender teen murder: Was it a hate crime? 
Responding to Steinfeld's horrific death, family said they weren't sure if Steinfeld's gender identity was reason for the killing.
'We honestly don't understand why they done it,' Boswell said. 'It just don't make any sense.' 
Linda Camara, a close family friend, told the Kansas City Star she believes that was the case.
Told Camera, 'I still don't know who in their right minds would do something like that. Killing someone is very bad, but I mean to do it … oh my God, to do it like that. Just … I … I … oh, God. I just can't even see someone doing that.'
Of note, Texas County Sheriff James Sigman said they did not consider the killing a hate crime. 
Steinfeld's family reported her missing on September 14. The family says she was last seen with three of the suspects. She was last heard from on September 1. 
Investigators believe the death occurred on September 3, six days before Steinfeld would have turned 18. 
Court records say Vrba admitted to killing Steinfeld at Calderas' mobile home and that the women admitted to helping dispose of the body.
At the time of Steinfeld's disappearance, the teen's mother said, Ally was living with Calderas and the two other suspects booked last week. Prior to moving in with the group, Ally had been previously engaged to a woman.
Steinfeld's family described Ally as 'a very loving, outgoing person' who 'didn't like conflict whatsoever.'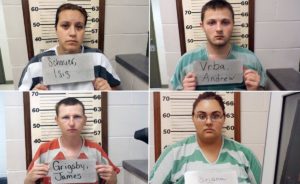 Human Rights Campaign reports Steinfeld's death marks the 21st known case of a trans person killed this year.
The break in the case came when police discovered the female suspects had messaged each other on Facebook about the murder.
Vrba confessed to officers that he had attempted to poison Steinfeld before stabbing Steinfeld to death inside the mobile home and burning her body with the help of the women.  
The female suspects told cops that Vrba had bragged about sexually mutilating the teen and gouging her eyes out. 
All four accused suspects are being held in the Texas County Jail with no bond.  
Human Rights Campaign reports Steinfeld's death marks the 21st known case of a trans person killed this year.
And then there was this condolence courtesy of David Delcour on Facebook that caught this author's eye, 'I'm sorry that hatred has led to this yet again,'
Adding, 'I don't know your family. But to your family I say this. You are loved and you are being hugged from a distance right now. We will not let this happen again. The hatred must stop. My heart breaks right now for you, as it does for your family.'