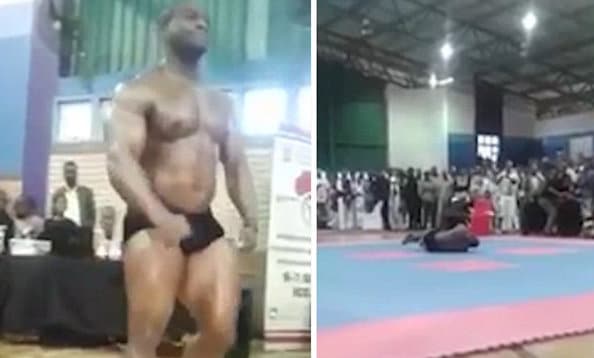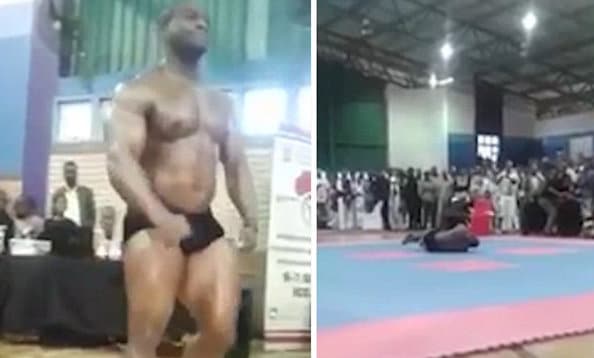 Sifiso Lungelo Thabete a Durban, South African bodybuilder champion dies after botching a back-flip during a Saturday local competition. 
Sifiso Lungelo Thabete a Durban, South African bodybuilder had died after attempting a backflip during a competition.
Live in front of astonished spectators, the acclaimed bodybuilding champion, dressed only in a black Speedo and socks, his muscles flexing overload, walked towards stage, before flinging himself into the air in an attempted backflip only to land awkwardly on his head, breaking his neck.
Cameras continued running as concerned officials raced toward the former junior world champion as he lay motionless on the mat on Saturday.
The severity of what has just happened only dawns on the men as all efforts to assist the bodybuilder lead to nothing. 
The man was soon after pronounced dead upon his arrival at hospital reported news24.com.
The incident had taken place during a local bodybuilding event in Thabethe's hometown of Umlazi, south of Durban.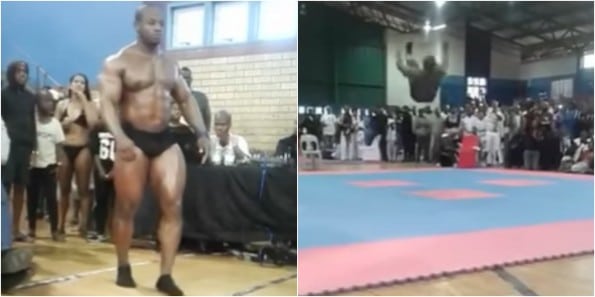 An inquest docket was opened at Umlazi police station for investigation.
According to Body Building South Africa, 'Sifiso had a signature backflip' he liked to perform on stage that adulated spectators and fans.
'We suspect, because he was wearing socks this time, that he slipped or didn't get enough momentum and landed horribly on his head,' BBSA national executive president Wayne Price told News24.
Wrote South African bodybuilding magazine Muscle Evolution of the champion: 'The bodybuilding community was shocked and saddened by the tragic news of the death of Sifiso Lungelo Thabete, a bodybuilder from Umlazi in KwaZulu-Natal, at the weekend.'
It reports that he was tipped for a bright future, having been a former IFBB Junior World Champion in the up to 75kg category.
He had 'impressed the crowd and the judges with unbelievable muscle size and maturity beyond his age' in his most recent competition, it reported.
The man's death has led to family members asking that video of his death not be shared on social media, with some commentators commiserating with the loss, while others expressed disbelief that the muscle builder could fall prey to a 'stupid stunt'.